Artwork by Corey Helms
For our final year-end list feature, LWE correspondent Anton Kipfel highlights five artists who defined 2009
It's likely we all know the events and stories for which 2009 will be remembered: global recession, the first year of Obama's presidency, a seemingly endless stream of celebrity deaths, the stolen Iranian and Afghani elections and Japan's historical shakeup, and Twitter's penetration into almost everything. But when we look back at the year and remember the dance music artists whose significance was widely felt in 2009, whose faces and vinyl sides will spring to mind? This is tricky territory to parse while still standing inside its confines, but a worthwhile pursuit nonetheless — if for no other reason than to see how accurate I am a few years down the line. The producers I chose made artistic decisions whose deep impact is still creating ripples now, perhaps into 2010. My list overlooks many influential artists (special apologies to STL, Fred P., Moritz Von Oswald, Appleblim, et al.) and shouldn't be seen as necessarily an endorsement of each selected, but rather acknowledgment of their importance to the dance music climate created this year. Together yet apart, these individuals contributed to the broader narrative none of us can yet decode; here's my attempt to make some sense of it.

Levon Vincent
If you think back a couple years to the mnml boom, one common trait among the bulk of on-trend tracks defining the sound was clean, almost too perfect sounds which seemed fresh from the Ableton box. For all its claims of being "soulful" or full of emotion, much of the "deep house" which followed in its wake in 2008 was hardly different. In this musical climate, the first time I heard a Levon Vincent track left me a bit confounded: his percussion timbres were almost too rugged, his synth tone austere, and the track's peculiar structure was anything but predictable. What began with "Invisible Bitchslap" was the rise of America's next techno star, a position Vincent earned twice over in 2009. As the Underground Quality crew's gruff techno representative, he's pushed a decidedly ragged but ready sound through PAs around the world this year, often playing the flipside foil to the similarly coarse house tunes of UQ founder, Jus-Ed. He's also the first American to have a track released by Ostgut Ton — the tense call to arms (in the air), "Late Night Jam." He's built tracks like "Solemn Days" which seem ready to swallow clubs whole inside prodigious riffs, tinkered with metallic brain bubblers like "Early Reflections" and cocked a snook at the seriousness of dance music with his irresistible "NY Basement" remix of Mike Dehnert's "Umlaut2." Opting for textures which no preset can conjure, Vincent offered more proof that rougher, more personally made sounds stand tall among so many plasticine clones.
Audio clip: Adobe Flash Player (version 9 or above) is required to play this audio clip. Download the latest version here. You also need to have JavaScript enabled in your browser.

Luciano
It seemed to come from everywhere: Record after record of hand-drummed, vaguely Latin-flavored house music landed in record shops like a plague of locusts, clogging up many clubs' sound systems for much of 2009. I believe this shift in the tides of house music has roots in the sudden reactivation of Luciano's label, Cadenza, in the latter half of 2008, when 12″s steeped in Latin vibes began to flow effusively from its relatively new crop of artists. Luciano's DJ sets shed their legendary dynamic nature to become completely immersed in the style, spreading the Latin bonanza across the world. Ricardo Villalobos and Matt Edwards (aka Radio Slave) also earned their share of the blame by perpetuating what's turned out to be the year's most tenacious trend with their DJ sets and personal releases, not to mention the output of their respective labels. Together, they've all spurred producers from around the Spanish-speaking world and all across Europe to offer their iteration of the form with few thoughts for quality control. It's tempting to peg Luciano, however, as this movement's ringleader: Beyond running rallying point Cadenza, he also released his talented but tame treatise on Latin minimalism to surprising fanfare, complete with eye-watering cover artwork and an accompanying tour documentary DVD — hot on the heels of a documentary on his amigo, studio wizard Villalobos. This was to be Luciano's year, even if many of us are keen to forget the results of his concerted Latin blitz.


Floating Points
Loping through the dance music galaxy somewhere between Planet House, Planet Boogie and the nebulous UK Bass Music constellation, is Samuel Shepherd, one of dance music's brightest new talents. The London-based producer writes his nominally dance-oriented tunes through the lenses of jazz and classical composition yet without their stately air, cramming rather gorgeous melodies and harmonies which swirl 'round your head inside slinky, whimsical rhythms. His youthful earnestness pours fourth in prismatic colors, whether draped over the 2-stepping "K&G Beat/J&W Beat" 12," emanating from inside swinging deep house and boogie of the Vacuum EP, or the result of morphing Real 2 Reel's "Love Me Like This" into one of 2009's catchiest singles. His multifarious skill-set and penchant for performing his work as part of full band afford him the room to expand confidently in so many directions while keeping engrossed adherents orbiting close by. The only sad note in Shepherd's meteoric rise is how it coincides with increasing numbers of amateur producers who feel sanctioned to make loop-heavy edits of cheese-laden funk/soul/jazz records and call them their latest single — a phenomenon which certainly has echoes in house music as well. What people should take away from Floating Points is how fully conceived and thoughtfully executed his compositions can be, even in the case of one his popular edit.
Audio clip: Adobe Flash Player (version 9 or above) is required to play this audio clip. Download the latest version here. You also need to have JavaScript enabled in your browser.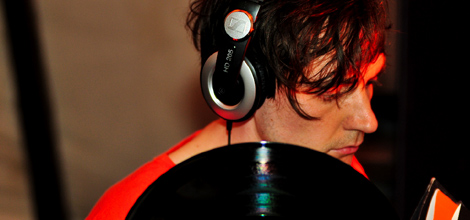 Peter Van Hoesen
I think it says a lot about Brussels-based producer Peter Van Hoesen that he made LWE's Top 5 Breakout Artists of 2008, only to end up a defining figure in 2009. After many years toiling in relative obscurity, PVH has continually exhibited how he's built for the big time with one brawny slab of techno after another. Yet even his fiercest productions are imbued with the sort of studious sound design he's lent to theaters and art installations; it's a level of aesthetic control few bother to exercise — and it shows when comparing his releases with his peers' less carefully groomed material. His time spent at the helm of LWE's podcast series is proof of this writ large and loud. When he wasn't delivering surgical solo strikes for Morse, Komische, or his own Time to Express imprint, he was collaborating to great effect with Yves De Mey as Sendai and shepherding a mind-boggling record from Donato Dozzy & Cio D'or into the marketplace. Taken together, PVH has exhibited how considered rough body music can be, giving audiences more reasons to love his work than back-cracking riffs. If his creative vigilance persists, Peter Van Hoesen is likely to end up on lists like these for years to come.
Audio clip: Adobe Flash Player (version 9 or above) is required to play this audio clip. Download the latest version here. You also need to have JavaScript enabled in your browser.

René Pawlowitz
"Now wait a minute," you might be thinking, "how are you going to bestow this honor on Pawlowitz the year after Shedding the Past put the dance music world on notice?" It's a fair enough concern, but it misses the point: Since releasing his debut long-player (which continues to inspire artists and admirers), Pawlowitz has been on a restrained tear of creativity wherein the Berlin-based producer has put a fresh, forward-thinking face on some of techno, house and breakbeat's best ideas, splintering their boundaries with each new release. As Wax, he captured the lush levity of summery deep house and acerbic charms of serrated techno. As EQD, he scrambled over the ramparts into effervescent, stepping territory with no clear name, underlining his broad aesthetic scope. With Marcel Dettmann as Deuce, Pawlowitz mined the most astringent depths of Ostgut Ton's catalog, setting eardrums ablaze wherever the platter was spun. And he flexed every last creative muscle when amalgamating his pseudonyms on the "Dub Shed Sessions I" 12″, a record whose stellar STP remix offers perhaps his most beautiful, shimmering melodies compounded by earth-shaking bass maneuvers. With only a few releases to his name this year, Pawlowitz's genre-splattering influence reminded producers they need not be fenced into traditional rhythm structures or sounds to satisfy audiences, but that they must keep pushing into the unknown, using the past as stepping stones instead of a convenient home base. I can hardly wait to see what kind of mark he'll leave on 2010.
Audio clip: Adobe Flash Player (version 9 or above) is required to play this audio clip. Download the latest version here. You also need to have JavaScript enabled in your browser.