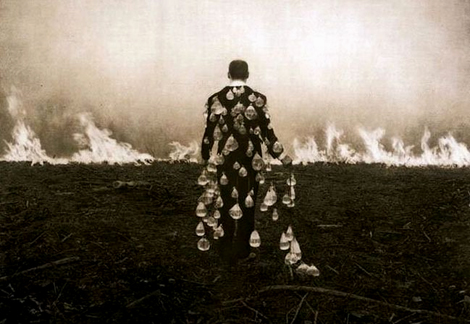 At times 2010 seemed like the year of the reissue. Almost every week there was a mouth-watering release waiting to fill a massive hole in many collections that hit the virtual shelves. At times the flow of classic house and techno was overwhelming, and as the year progressed it only accelerated. Alleviated made a glorious return and Prescription continued it's Classic re-ups. Elsewhere more obscure Chicago releases (Terrance McDonald, Harmony Funk and Virgo) saw the light of day again while New York (Pal Joey, Kerri Chandler, Mood II Swing, et al.) and Detroit (Moodymann, Esseray, Recloose, et al.) had some defining statements served up on fresh platters. Two seminal albums from Chris & Cosey, Chris Carter's cassette album, The Spaces Between, remastered for vinyl, and Charanjit Singh's Synthesizing — Ten Ragas To A Disco Beat shed light on dance music's antecedents. This year fully awakened me to the rich history electronic music has, with more material still waiting to be discovered. For anyone too young to experience these first hand or too broke in this economy to afford the steep prices for used copies, this was your chance to make up some lost ground. Sure the pressings ranged in sound quality from loud and clean legitimacy to poor, straight from vinyl recordings, but in some respects just having a chance to hear the music on record for the first time was a satisfying experience fulfilled. Although this list is sure to overlook some crucial reissues, here are five essentials from 2010.

05. G Strings, The Land Of Dreams
[Seventh Sign Recordings/G Strings]
This mysterious Chicago release was one of only two on the short lived G Strings label back in 1990. As Gridface's Jacob Arnold speculated on the original pressing, "it sounds like they were mastered direct from a cassette tape" and it doesn't sound like Seventh Sign were able to improve on the sound quality much. But there is no denying the raw and emotional power contained on this release. Very much in the style of Ron Trent's "Altered States," these four tracks maneuver through tense synth strings, throbbing bass lines and syncopated drum programming and stand on equal footing. But it's the title track, its quivering synth melodies bestowing an ethereal quality amid growling bass and a flurry of 909 snare crashes, that edges out the rest by a nose. Hats off to the Glasgow label for following up on their lone reissue from last year (Terence Parker's Tribute To Ken Collier) and upping the ante.

04. Mayday, Relics Sampler [Rush Hour Recordings]
It's been roughly 20 years since the world heard fresh music from Derrick May. And although this Mayday sampler from the Relics compilation isn't technically new, it comes in a distinctly fresh package. Its four tracks are laid out for the first time over just one 12″, giving them room to breathe and respective focus on some of May's lesser known tracks. If you never picked up the awesome Relics> album you may have missed hearing these, but there are ostensible ties to other Mayday work. "MS 6" starts off with a muted chord rendering of "It Is What It Is" before launching into start/stop rhythm jerks, spiraling bass notes and flanged percussion. Complex hi-hat patterns and pitch bending strings are notable hallmarks of his material and are executed to perfection on "A Relic" and "Another Relic" (under the Long Ago and Long Long Ago aliases respectively). The former in particular achieving a striking balance between futurism and romanticism that is so rare in techno. Calling this a limited edition at 1000 copies may seem like a slap in the face but there's no telling how precious this will be in another 20 years.

03. Black Rascals, Blaze Theme Track
[Slow To Speak/Sumo Records]
I've never been a huge fan of Blaze, their soulful jazz heavy house always seemed a little too refined for my tastes. But I've always had a hunch that there was some amazing underground cut of theirs just outside the reach of my ears. "Blaze Theme Track" is that piece. It offers a meaty bass line that ambles with an improvisational flare, imparting jazz idioms and vivid colors to what would otherwise be a pedestrian deep house number. A singular organ chord repeats ad infinitum with imperceptible changes while the bass melody dips and darts, moving from high and low tones to heavy and vibrant motifs. Over halfway through a shimmering open hi-hat pattern is revealed magnifying the jazz aesthetic. This addition to Slow To Speak's Core series continued their singular [and single-sided -ed] devotion to celebrating house music's much-loved classics in fine style.

02. Mr. Fingers, Slam Dance [Alleviated]
The four tracks on this release from Larry Heard under his Mr. Fingers moniker had been reissued previously in various forms, but getting an official reissue and remastering from Heard's own Alleviated (via Clone) is just as good as having the original 12″. The real strength of this release is the diversity of the tracks, with each one maintaining an unsurpassed quality while straddling several different moods. From the straight jackin' percussion beatdown that is "Slam Dance" to the celestial staircase disco of "Stars." There is a damn good reason that Heard is often referred to as the Miles Davis of house.

01. Reel By Real, 20 Years Surkit [a.r.t.less]
The Belleville Three get the most credit for kick starting Detroit techno, but there are plenty of unsung heroes whose stories rarely get told and whose records remain an absolute mystery. Martin Bonds and his Surkit 12″ release as Reel By Real in 1990 fit on both counts. Bonds trained as a sound engineer at KMS and although he managed to gain some technical and writing credits his greatest achievement (until now) came early in his career. But since it was released as an extremely limited white label on Metroplex sub-label Interface Records it never received the acclaim it so clearly deserves. Finally reissued as a double pack or as two single 12″s that form the complete release, the six tracks here are something special (the double pack features stunning artwork by Abdul Qadim Haqq making it even more special). The four tracks that made up the original are all here, plus two extras, "Surkit (1991 I-102 Version)" and "Vessels In Distress," a track Bonds did with Juan Atkins and had previously turned up years ago on a Model 500 release. Bonds' collaboration with Anthony Shakir on "Serene" offers layers of lush synth harmonies, reverbed percussion and a gripping bass line before setting like a glorious sun. The original mix of "Surkit" stands as a gorgeous slice of techno, merging melancholic synth melodies with gritty bass and slashing flanged drum patterns. For the sheer fact that this release was so rare and the music is so damn moving I can't overstate the importance of this reissue.