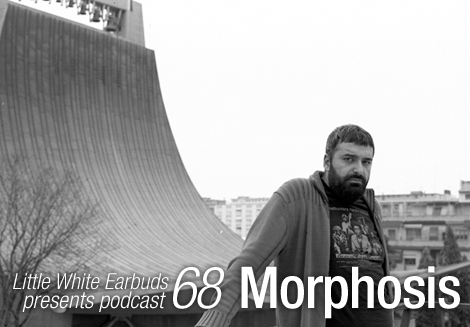 Photo by Lorenzo Mason
The Greek word "morphosis" means "the overall knowledge and learning," which makes it an ideal moniker for Rabih Beaini. Not unlike his home in Lebanon, the producer's bespoke brand of techno brings together the influences of Western dance tracks, jazzy improvisation, traditional, audience-fed Arab music and the very atmosphere around him. This blend appears in his rich and unexpected tone choices, the sweeping rhythms echoing natural patterns, itchy percussion timbres and droning sonics that have appeared on M>O>S Recordings, Delsin, Styrax Leaves, and his own Morphine Records. Beaini also releases as R.aH and as part of the extemporaneous performers Upperground Orchestra. Focusing more on his music than its promotion, we were honored when he offered not only to answer our questions about his background and process, but also two exclusive podcasts to help draw the year to a close. The first is a mix recorded in Berlin that stitches together Beaini's disparate tastes for synth-rock and reggae, outre techno and free jazz with his own work. The second is taken from a live set recorded at the Intergalactic FM Amsterdam Dance Event, an intimate and compelling look at how Morphosis navigates his own unique soundscapes.
LWE Podcast 68: Morphosis — Berlin (51:12)
Audio clip: Adobe Flash Player (version 9 or above) is required to play this audio clip. Download the latest version here. You also need to have JavaScript enabled in your browser.
Tracklist:
01. Madteo, "Untitled" [Workshop]
02. Gaslamp Killer, "Carpool Dummy" [Brainfeeder]
03. Shake, "Frayed" [Fit]
04. Chris & Cosey, "The Gates Of Ancient Cities" [Rough Trade]
05. Morphosis, "Androids Among Us" (Just For One Day Remix)
[M>O>S Recordings, Morphine Records]
06. Dadawah, "Seventy Two Nations" [Dug Out]
07. Das Ding, "Standing In the Hall" [Minimal Wave]
08. Chris & Cosey, Cowboys In Cuba [Rough Trade]
09. Pablo Mandelbrot, "Hot Swap" [Modisch Aber Unrentabel]
10. R-A-G, "Beyond" [M>O>S Recordings]
11. Unknown artist, "African Disco Power" (Sofrito Edit) [Sofrito Specials]
12. Gaslamp Killer, "Carpool Dummy" [Brainfeeder]
13. Rob Reindorf, "Read The Bible" [Hippo Records]
14. Sun Ra, "Would I For All That Were" [Kindred Spirits]
15. Third Side, "Andy" [Restoration Records]
16. Morphosis, "Dirty Matter" (NWAQ Via Mezzacapo Dub)
[M>O>S Recordings, Morphine Records]
17. Keith Fullerton Whitman, "Disingenuousness" [Pan]
LWE Podcast 68: Morphosis — Amsterdam (47:47)
Audio clip: Adobe Flash Player (version 9 or above) is required to play this audio clip. Download the latest version here. You also need to have JavaScript enabled in your browser.

The two mixes you've provided represent two very different perspectives of your musical influences. Can you give us an insight into the ideas/processes behind each mix?
Rabih Beaini: I always have difficulties recording podcasts at home, people normally expect a proper promotional mix to show how you play in clubs and what is your professional level. But I never feel comfortable unless I have fun and experience new combinations, and that was the case of the first mix recorded in Berlin at the Restoration HQ, during my final transition from Italy to Lebanon. It has no logical process; I knew some things would stick together, and I didn't try anything first or edit anything afterwords. I loved the idea of mashing up house and techno with new wave, Afro or reggae songs. And in my own way, it worked. Some combinations are not perfect, but I love the overall flow. This mix reflects not only my musical taste or selection but also the improvisational progression. And that's what links it with the second podcast, recorded live at the Intergalactic FM special during the Amsterdam Dance Event in Amsterdam. It reveals some of the aspects of my performing side: it's totally improvised and played live with the Poly800, the TR-808, the echo pedal and some records.
I've noticed you have a diverse taste in music from Sun Ra to Newworldaquarium to African rhythms. What influence does this have on your production?
It is the main frame. I have no direct influence, I have a global understanding I've built during the years and this shapes my overall production side. I make my productions the same way I did this podcast or any other mix, DJ set or live set. I don't have a clear idea, it's all in my hands and the feelings. It's in the instruments and records I have with me, and I know I'm there to take the best out of them using my technical knowledge, my musical knowledge and my instincts at the same time.
What was it like growing up in Lebanon, in particular the culture/sounds and feelings you were exposed too? Did you grow up in a musical family/culture? What influenced you to make records?
I always thought my childhood had no determining musical influence on me. Of course I was wrong. Even though my parents had no records or musical collection, I had this local and traditional musical entourage that fed me up, heavily, but I only realized it lately. At the time I was digging deeper into "Western" music, mainly the first house and hip-hop tracks to be transmitted on radios, and I thought this was the only thing I wanted to follow. Much of the local and traditional music I didn't dig at the time is now extremely priceless. The Lebanese and Arabic musical scene was divided in three categories: the traditional music, popular and mostly improvised, the "pop" scene from the 70's and 80's, and the classical, high-level productions from Lebanon (Rahbani brothers) and Egypt (Um Kolthum, Abdel Halim and many others). All that was added to the electronica scene, even though I had access to a very small part of it at the time. There is actually one composer who was and still is a key feature in my musical influences, Ziad Rahbani. He is the son of Fairuz and Aasi Rahbani, he created a special genre in Arabic music that melted down those three aspects together with soul and jazz, using drum computers in Arabic compositions in a very raw and synthetic way, a real genius.
Your productions constantly amaze people with their diverse sounds and rich layers of percussion and rhythm. Is there a particular format you go through in producing tracks or is it just "go with the flow" and see what happens?
I love traditional and popular live shows from all around the globe, and the thing I love most is the interaction between rhythms sections which is fed by the crowd's interaction, so everything turns into a whole unified and raving thing that grows continuously. It's not only a "go with the flow" thing, it has a human instinct aspect that is mixed with years of experience and technical knowledge that brings those musicians to speak with the others without even saying a word. This thing is rooted in my production and performance aspects, it gives me also the wider view of what a crowd wants in that specific moment or from that specific production. No matter if you make a live performance of traditional Sufi or African music, it's the magic you bring at the moment.
One particular sound that seems to resonate through your productions is jazz. Would you agree that it influences your tracks?
Jazz is the contemporary carrier of musical history. It is made of everything that vibed and will vibe in the days to come. It's the child of tradition and education; if you look carefully you will find the popular and primitive heritage melt with the most sophisticated composition techniques across all jazz categories, and that's what makes of it a unique genre and the richest influence. And it raves like hell when it comes to raving.
For me Morphine Records is one of the most intriguing and constantly changing labels. Do you ask producers like Jamal Moss and Anthony "Shake" Shakir to provide tracks or do encourage unknown producers to send you tracks? For example, Madteo is a producer who was unknown to me until his release on Morphine and he's subsequently released some truly amazing music.
Basically I deal with the releases on Morphine from a personal view — generally I put out my own music but in the other cases, it's something that goes beyond my own works. I always accept demos, I listen to all of them, more carefully to the ones that are more related to the label concept. But most of times I can't release them for many reasons, also because the label has a very low economical profile. The case of Madteo was definitely a fresh vision of music for me and it deserved special attention — he has a intimate approach to music and I love it. Of course it's not something a label can easily deal with, but I see things not in a sales perspective, but with a quality view. Jamal has a unique way of making music, and the tracks I've put out on doser008 were maybe the most particular ones, at least at the time. They were already released on a CDR but I was convinced some of them deserved a proper vinyl release. I truly consider him as one of the visionaries of our time. As for Shake, it was meant to be a kind of a dedication work for one of the most influential producers of the techno scene. It started out with some emails and then he agreed to put out some new tracks he did after many years of silence. It was a special release for me and I think also for him. I'm really glad we made this.
You seem to have built up a strong relationship with the Dutch contingent Delsin, how did the arrangement come around?
Aroy Dee started the connection when he asked me to join the M>O>S label and kindly waited a long time to get a release from me. I normally have lots of difficulties to provide music for other labels, mainly because I'm involved with many other things apart of music production. So now after two singles, the album was imminent and the M>O>S/Delsin crew is working really hard to get it released.
The upcoming album will be released on Delsin under the Morphosis moniker. Did your process change at all while you made the album or did you follow all the same process you usually undertake in production of individual tracks? What can we expect from the album?
It was made in a few days during a recording session in Eupen, Belgium. I brought some of my gear with me and the Meakusma guys provided the recording studio, for my own studio was out of order. The album takes a proper "live" approach and is pretty much musical in my own way of musicality. I've chosen to play all instruments by myself, only some vocals have been added on two songs by KAE, an amazing vocalist who lives in Treviso close to Venice. I gave the album total freedom that unified a bit of all my production processes used in my previous works, and the title What Have We Learned is the driving concept. It's a container of my musical baggage and knowledge, and that is also the meaning of Morphosis, a Greek word that means "the overall knowledge and learning."
What separates a Morphosis track from a Ra.H production? Are you expressing different styles components/influences ideas in each entity?
Originally it was meant to be separate: Morphosis was the moniker I wanted to use for more obscure and dance floor oriented works, Ra.H for the more musical and conceptual things. But the further I go, the closer these two identities have come and I think today they are really close. Maybe they were never that far the one from the other?
Tell us a little bit how Upperground Orchestra came into being? Who is involved and how do you come to compiling tracks?
Upperground Orchestra was born as a platform for musicians to play live on a "open stage" concept. A basis of three elements drive a full jam session with a free structure and musicians come on and off of the stage. We used this in the production work as well. One of the main elements has changed, instead of the Max Bustreo on keys (who still collaborates with us from time to time) we have Tommaso Cappellato on drums together with me on electronics and Alvise Seggi on bass. Many other musicians join us on stage and in studio, we mostly try to experiment around jazz and we get many influences also from electronica.
You have championed the sound of Roland drum machines in your live performances. What is it about analog that entices you to use the equipment?
It's not only about sticking on using analog instruments, it's about the musical and sound approach. The TR-808 gives me exactly what I'm looking for in terms of manual functionality and sound. I'm not against new devices and instruments, but I haven't found anything better than what I already have. That will not alter my sound and concept, so I think for now I will continue getting the most I can from what I have.
One thing that really clicks with me is your use of percussion and natural elements; thunderstorms, rimshots and modulated synths all combine. How do you accommodate such an array of sounds?
It's a natural approach to music. Nature is the primary element that provides us what we use in communicating. Our main aim is to communicate with our peers, and we succeed most if our communication is not disturbed and confused. The simpler the methods we use to say things the better message we bring. And I believe in music as the most efficient and complete communication system. Synthesizers were made to emulate a natural sound that originally existed in a musical instrument or in a human voice. But the technical failings in the origin of this emulation made of it a very special element itself, and what I love most is a balanced combination between this "un-natural" element, and the primitive and natural sound generators. It brings a little thrill in this magical world we have inherited.