For a native Chicago house fan like me, watching the unfolding spectacular success of FCL's cover version of "It's You," originally by Chicagoan duo E.S.P., has been full of mixed emotions. I was happy to hear a personal favorite being revived, even as I feared that the song's creators were being overlooked and maybe even ignored by the throngs of new admirers. This made me want to dig into the song's history and follow what's happened since its inception nearly three decades ago.
The Original
Chicago's airwaves were thick with house in 1985. The city's indigenous dance music revolution, which had begun just two years before, was now in full bloom. At the time, Tom Adams was building a following as a DJ on Chicago's southeast side under the moniker Tommy Thumbs — the sole resident of the spacious Onyx nightclub on 63rd Street. Looking to other house crews, such as the Hot Mix 5 or Chosen Few, Tom created his own version: Tommy Thumbs came to gigs equipped with the E.S.P. (Essential Sound Productions) soundsystem. With ever more DJs experimenting with drum machines and synthesizers, Tommy's experience playing live music as a drummer compelled him to join them, too. He recruited Daniel Ellington, an old childhood friend and fellow musician, to help round out E.S.P. Together, in late 1985, they wrote an enduring house music classic, "It's You."

Tommy Thumbs, courtesy of Tommy Thumbs
This was the first generation of bedroom producers, although "house" was just as often born in basements like the one where "It's You" was recorded. The duo's eight-track recorder captured the roving bass, pointed progressions, flowing pads, and Daniel's hushed and earnest vocals as best they could; but the pair needed a better two-track on which to mix it down. Tommy called on a friend at Columbia College's radio station who let them run all their gear through the station's 10-and-a-half-inch reel to reel and test it on their monitors. Confident that they had a hit on their hands, Tommy began shopping "It's You" around.

Rocky Jones and Tyree Cooper (photo by Rachael Cain)
In this era there were three majordomos of house: Larry Sherman at Trax Records, Ray Barney at Dance Mania, and Rocky Jones at D.J. International Records. "One particularly cold winter day, I made it over to Rocky's in their original office on West Grand Street," Tommy told me via Skype. Rocky put on the cassette tape, looked at Tommy and said what was quickly becoming his catchphrase: "Let's do it." The vinyl of "It's You" hit stores the summer of 1986, arriving on Underground, D.J. International's sub-label for less polished house tracks. Of course, the label didn't really matter when Tommy was able to witness south side clubs' largely African American audiences going crazy for the first E.S.P. release. "We were this obscure group that just no one knew who they were, but it just started heating up, dude. It was just incredible," he remembers.
Yet it was tough to take advantage of E.S.P.'s success as total unknowns. "We just never really connected with the mass audience, because we had a song with no freakin' picture cover, no video, no artwork, no nothing," he said, noting such treatment was reserved for D.J. International's biggest names, like Tyree Cooper, Farley "Jackmaster" Funk, Joe Smooth, and Fast Eddie. The group tried to keep the flame burning by releasing "Let's Move" in 1987, a darker and more floor-focused track which was well received on dance floors but couldn't propel E.S.P. much further. Neither did the 1989 reissue of "It's You" by UK label Radical Records. Tyree Cooper and Fast Eddie, who would work with Tommy for years to come, reported back from their time overseas. "They all told me, 'Tommy, dude, while we were over there people were asking us if we knew you.' I guess the bottom line was really just exposure; we just weren't one of those top-notch groups in D.J. International's way of thinking."
Having a hit, even one which didn't shove him into the limelight, prodded Tommy to continue making music throughout the 90s. "A lot of the guys, even out of Chicago, who had their beginning in house music really wanted to move on to R&B and some mainstream hip-hop," he attests. "That's where the story took me; because even though you stopped seeing E.S.P. stuff, Tommy Thumbs was still doing stuff. I got a gold record for [vocal] production with DJ Jazzy Jeff & The Fresh Prince, for the second follow-up single on their Summertime album, 'Ring My Bell,'" he said with pride. Working alongside Mr. Lee, Tommy arranged the back-up vocals by a trio which included Karen Gordon (better known as Dajae), Dana Divine, and Joizae. He also worked on R. Kelly's debut album, Born Into The 90's and helped arrange rehearsal space for the R&B singer's "12 Play" tour. As a trained carpenter, Tommy additionally designed and built recording studios. So although he never left the music business, you had to work behind the scenes to find him.

Tommy Thumbs and Paul Johnson (photo by Czarina Mirani)
About four years ago, the dance music world rediscovered Chicago house all over again. Handfuls of well-loved records from E.S.P.'s era were remembered and reissued by labels like Rush Hour and rinsed by house and even bass music DJs around the world. The influence of Chicago house was also strongly felt in new productions, as more and more artists gravitated to the signature gear and arrangements of that time period. Upon realizing how potent "It's You" remained in 2010, Tommy re-recorded the song with new vocal arrangements, this time by a female singer. "I submitted it to Defected, to Simon Dunmore, and he responded, 'Oh it's not really our vibe.' And I kid you not, dude, the versions we sent them were slammin'." Simon could not be reached for comment.
Tommy has since lent vocals to two tracks by Altered Natives and reunited with old friends. Most recently he's been producing for artists with Jerry C. King for his label, Kingdom/Legends. He's also done remixes for Deepquest and Dawn Souluvn, and is in the process of re-releasing the E.S.P. singles with the new versions first submitted to Defected. There's even talk of making a movie about those early days in Chicago. Tommy asked one thing of me throughout our chat: "Let people know that, hey, I'm still around. All the guys who came out then are still around."
The Cover
"It's You" has become a cult favorite among house heads in the years since its release, and some of the cult's members are rather well known: Laurent Garnier used it in his 2003 compilation, Excess Luggage. Louie Vega included it on Choice – A Collection of Classics and Masters At Work's The Kings of House mix. Many more have included the tune in podcasts. Bart Van Neste, the Belgian producer known as Red D who founded We Play House Recordings, took his adoration to a different level. Roughly 10 years ago, Bart began integrating "It's You" into his live PA/DJ sets, which featured Belgian jazz singer Lady Linn performing live vocals on top of tracks, as well as mash-ups and improvisations. "The more I played it with her, the more I thought about doing a remake, because while the original is perfect I do feel Linn is a better singer," Bart told me via email.
That moment finally arrived some eight years later, while Bart and San Soda, the other half of his duo, FCL, were recording the song "Used To Be." Having Lady Linn in the studio was too good an opportunity to pass up, so Bart asked her to record vocals for a "It's You" remake. The next day they asked the same of current Hercules & Love Affair member, Gustaph. "When he was gone we listened to the vocals they did and decided on the spot that we could make a cool version just with the vocals and some percussive elements, but with no beat, because the vocals were so strong," Bart explains. Its first airing, played by San Soda to a rapturous response at Panorama Bar, confirmed without a doubt their cover was special. "So then and there — quite drunk — I told Nicolas [San Soda] it would be cool to do 150 copies of this, to hand out to our DJ friends and to be sold via our website and Ghent's Music Mania record shop, our official vinyl home and a shop for which I help out as a house buyer." It finally arrived in late August, 2012.
Once house vinyl hounds caught the scent, FCL's "It's You" (San Soda's Panorama Bar Acca Version") disappeared. "They went really quickly, but only a few people emailed me for extra copies in the weeks after, until it started getting plays by some big names, and then everybody was on it," Bart attests. Prosumer was among those ranks, playing the tune in a live-streamed DJ set at Mixmag's office which helped spread the word widely. The combination of well-loved DJs playing FCL's cover and its limited quantity sent Discogs prices for the clear, single-sided 12″ through the roof. Even well-known DJs were left wanting, famously prompting Jackmaster to ask Twitter if someone would sell him a vinyl rip. Sticking by his stance against any re-pressing any WPH records, Bart negotiated a digital release with Defected Records which will eventually include official remixes by "some people who we regard as some of the best house producers in the history of this music." To date, only the original cover has seen digital release, although UK duo Dusky mentioned that their version is nearly complete.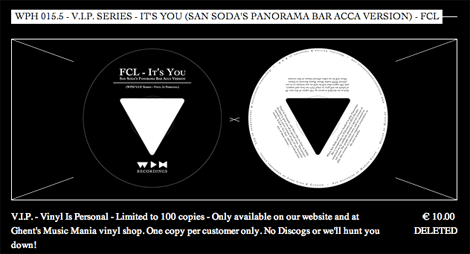 A by-product of all this pent up demand for FCL's cover is a roaring trade in unofficial edits, made from the vinyl rips floating around the internet. Largely beatless and already a hit, it's the kind of tune that cries out for a remix, and hundreds of producers — mostly amateurs, but a few established names as well — have rushed to fill in the gaps, much as their predecessors have done since the birth of house. "I guess we shouldn't have been surprised, because a vocal like that will always be sampled," Bart admits before adding, "The main reason why we are reacting to the different unofficial remixes and bootlegs that have surfaced is the fact that all those do is add a beat and mess with the vocals a bit, exactly the two ingredients that are the backbone of our version."
Will Azada, a Knoxville, Tennessee-based producer, was the boldest of them all. Where most edits existed to the world solely on Soundcloud or YouTube, Azada committed his to vinyl, reaching shops like Boomkat less than two weeks after the Defected deal was announced. "I was bored one morning and realized I had a vinyl rip of a cool acca that I had received from a friend," Will explained over email. "[I] worked it into an instrumental piece I had made recently, muted the original hook and some other bits, and then sent it to some other friends. It started making the viral rounds from there. I already had the idea to start up the Improper Trax thing as an outlet for somewhat blatant sample-driven reworks, edits, and ridiculous experiments at some undetermined time. Once this track garnered a load of underground momentum and requests from people about a potential vinyl release, I said 'Fuck it, let's roll,' and put it out for shits and giggles."
Ownership In House Music
House music has always had a complicated and tumultuous relationship with the concept of ownership. Like hip-hop, many of the genre's founding documents were built with brazen sampling of well-known records. At the same time, many legal, verbal, and even physical battles have been fought over who owns the rights to the results of that sampling. As someone with a passionate interest in how samples are used and general ownership rights, I wanted to explore the issue as it pertained to "It's You," as well.
I asked Tommy how he felt about FCL's cover and the success it's had. "First and foremost, imitation is the highest form of flattery," he told me, adding, "It's a free country, it's a free world, and as long as everything was done properly — which I'm assuming it was — it's great, man." I wondered, did he think there should be a certain amount of license given to artists to sample whatever they want?
"People are going to use your stuff, you know, and I think you've just got to be on top of it," Tommy attests. "Obviously, most of those people aren't going to try and do it the right way — they're just going to sample your stuff and put it out. If someone sampled my stuff or did something with, I would want to be compensated or at least to whatever legal degree is required. I don't think someone should be able to use your song and then call it their song. That's bullshit! If that's the case, I should just be able to jump in your car and say, "Oh, it's my car." And if you've made a song or you've had a property like that, you'd want it to be protected too."
When interviewing Bart, I asked about the legal status of FCL's cover version. "For the Defected release all rights of the owners are fully reserved. For the vinyl on WPH we didn't ask for permission, because for some strange reason in Belgium, the Netherlands and Germany you don't need permission from the original artists to release a cover version of a song. But you do need to make sure that the mechanical rights society with which you register the track knows who the original artists are, and then they'll get all mechanicals from sales and radio play. And we did that, so the whole thing was legit from the start."
The concept of ownership is so slippery and loose but fiercely contested within house music. Can artists who sample be immune to being sampled themselves? "Well, I guess not," Bart conceded. "It's all so very subjective. What is creative sampling for one may be stealing for somebody else. So in that respect, why do we even bother with fighting bootlegs? Honestly, I don't know. I'm always trying to be as legit as possible, but as a small label major labels never even bother giving you a reply. I've tried, but they simply don't care for 500 copies of a vinyl, and it they do reply they want crazy advances. So where does that leave you?"
I posed a similar question to Will: Do you think there should be a certain amount of license given to artists to sample whatever they want? "It's a philosophical debate in my book," he replied. "Everyone's gonna have a different take on what's a legitimate sample, and what's not. If someone wants to sample my tracks, then by all means, have at it. What am I going to do to stop you? Cry to lawyers, corporations, or Congress? I'd personally draw the line at taking the identical track, slapping my name on it, and putting it out. That's fucked up and in no way fun. I make and release music because it's fun and stress-releasing. I have to do it, otherwise I can be a not-so-enjoyable person to be around. Once ideas are out there, they can't be erased. Everyone's "original" production is a result of the "original" ideas that came before. Even the most abstract, experimental, weirdo shit is the result of someone else's toil and effort that never got the credit they 'deserved.'"
Corrections: The article originally stated Tommy Thumbs' alma mater was Columbia College. He went to Roosevelt College. The article originally stated Kingdom/Legends was Joe Smooth's new label. Tommy Thumbs and Jerry C. King work together on Kingdom/Legends.