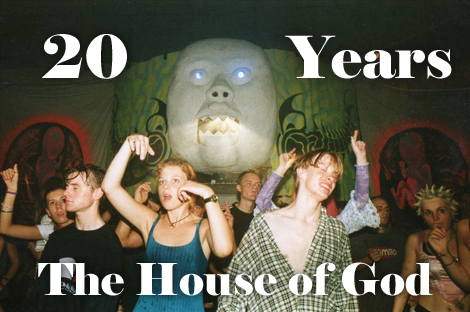 This and all other images courtesy of Chris Wishart
A ramshackle and joyous celebration of DIY spirit, raw techno and uninhibited abandon, Birmingham's legendary hive of sin and damnation, the House of God, celebrates its 20th anniversary this year. Founded by high priest Chris Wishart alongside residents Sir Real, Surgeon, and Paul Damage, over the past two decades House of God has gained a legendary reputation for eccentric and gloriously odd festivities soundtracked by the grittiest and most incendiary house and techno (and jungle/acid/Sabbath) around. Born of a passionate desire to provide a raucous and free spirited party where musical quality and storming atmosphere were placed well above big name lineups and slick production, HoG quickly became a safe haven for all manner of party freaks — flying in the face of both the flashy elitism of commercial house and po faced underground techno aesthetic that predominated in early 90's Britain.
Little White Earbuds caught up with promoter Chris Wishart, resident Tony Child (Surgeon) and long time guest Karl O'Conner (Regis) to discuss the genesis of one of the world's most seminal — and idiosyncratic — techno events.
"Looking back today, it's with a very different perspective from 20 years ago. House of God started because there was nowhere to hear the kind of music we wanted to listen to. In Birmingham at the time, there was a lot of house of the dress code/handbag variety. Clubs like Miss Moneypennys — it was rather a restricted and showy kind of scene. There were a lot of people in Birmingham who had never really had the chance to actually hear the kind of techno that we loved in the club setting," explains Tony.
The initial seeds were sewn by a meeting of Chris, Tony and Neil Spragg [Sir Real] via mutual musical endeavors at Birmingham University. Wishart ran the punk and new wave society, and was also beginning to experiment with techno promotions, while Tony and Neil played at seminal alternative electronic night, Third Eye.

A very young Surgeon
"There were a couple of gigs before HoG started as far as I can remember. Bedlam at The Hummingbird in Birmingham in April 1992 was the first time I DJed as Surgeon, although HoG and Third Eye ran at the same time in the beginning," Tony continues. "I played with much less intensity at Third Eye though — Chicago house, Detroit techno, Red Planet, that kind of thing. On the whole, Third Eye had a much more trancey kind of vibe."
Wishart, meanwhile, was adamant that House of God would be a markedly different proposition to many of the other techno nights around the country at the time. Alongside a no-holds-barred musical policy, HoG evolved a completely unique visual aesthetic, based on an especially twisted sense of humor, and nightmarishly acidic visuals.

HoG 20th Birthday YouTube advert
"House of God was named after the DHS track, which was my favorite record. In essence, the fliers and visuals were a reaction against the pervading techno culture of that time. To be perfectly honest, the artwork was usually an exercise in sitting around getting twisted and seeing what came out. [laughs] We were determined not to go down the road of what I considered clichéd techno imagery. You know how it is, you get handed a black and white flyer with a picture of a bit of skirting board or aluminum sheeting on it. It's a rave — that is the absolute bottom line. It's a rave — it isn't some purist chin-stroker thing. If it isn't mayhem — if people aren't physically screaming and covered in sweat at the end of the night — then I'm not happy," Chris explains.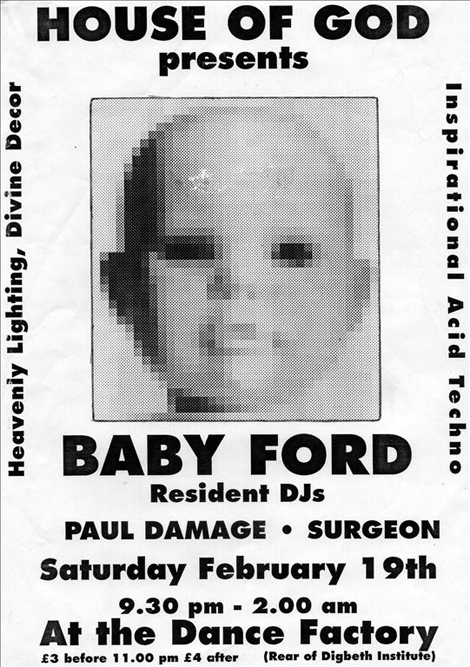 Aside from the fliers, the look inside the club was also at odds with the spartan techno bunker cliché; put bluntly it's always been a kaleidoscopic riot, replete with homemade banners ("HOGSAT"), colored drapes and lasers, alongside a crowd that makes serious noise — whistles, horns, the lot.
While HoG quickly gained a reputation for enthusiastically pushing the emergent UK techno axis — with DJs like Dave Clarke, James Ruskin and Neil Landstrumm all playing their first Birmingham shows at the club — it would be wrong to suggest HoG is purely about techno. The club's residents, rather than guests, set the overall tone for the night, and they're all but impossible to pin down stylistically. However broadly speaking, Sir Real will often dig out a great obscure selection of cranky acid, older cuts and his own exclusives; Paul Damage can go very hard indeed while Surgeon does, well, what Surgeon does best. Harvey Lane and Nicky B handle house, while DJ X runs the DnB room. Curveballs are numerous (indeed, check the "residents' Youtube selection at the bottom of this article) — let's just say that nowhere else on gods earth are you likely to hear Luke Slater, Black Sabbath, early gabba and 80s light entertainment "legend" Russ Abbot played on the same evening. "Birmingham techno" this is not.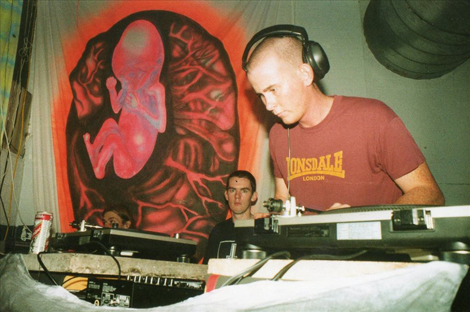 Terry Donovan and Paul Damage
"The whole 'Birmingham techno' thing — the mystique and what have you — is a bit of a self-generating myth, to be honest. It's certainly not something that's been put out there by Tony and Karl! We've had a really wide variety of people play, but I'm never thinking, 'We must have the newest producers playing the newest tunes.' In fact, very often we've done the whole thing with residents alone. To be honest, when you have Tony as a resident, I never saw much point in booking people who imitate that. [laughs] We've got very, very strong residents and although Tony was the one who went on to become really well known elsewhere, the others are just as integral a part of how it all works. Guests tend to fit round what the residents are doing, rather than the other way around. We never went for the minimal thing, for example. That would have been heresy!" continues Chris.

Neil Landstrumm live set HoG, 1995
Indeed, selling out venues on residents alone is no easy feat; the fact that HoG have continued to do so on a regular basis is testament to both the skill of their DJs and the regard in which the party is held. HoG is still a place where people are dancing in all directions and properly interacting with each other — the DJ is not the focal point.

Surgeon DJing at HoG, 2000
"Venue wise, we've always operated at the seedier end of the market. I mean, in the very early rave days the scene could be pretty sketchy in England — shotguns in venue offices and all that — but we were always left to our own devices because I think people knew that it was a very DIY thing. We'd be there painting our own backdrops. But to be honest, once we'd filled the [2,000 capacity Birmingham venue] Que Club with residents, twice, we didn't give a shit. I'll go and book somebody if I really want to hear what they're doing, but I don't feel the pressure to do so. Subway City has been perfect for us because it has a great layout; it's dark, you can get lost and wander about. They do a lot of student nights, gay nights. It's a really friendly and inclusive venue. If people want to dance with their tops off nobody's going to stop them — people feel free at HoG."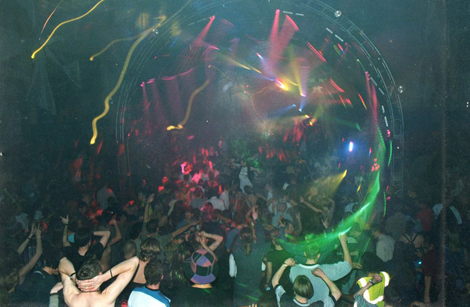 Surgeon was also keen to emphasize the importance of the residents in the flow of the night; and woe betide anyone play too hard, too early.
"A fundamental part of it was, and is, that the residents would bring their own styles. Chris has always been very particular about the way in which the room was warmed up. It was really important that people didn't just go in there and start banging it out early, as that could mess up the flow of the night. There might be a bit of Chicago house at the start, nobody will just start boshing it out. Visiting DJ's can be quite shocked by the level of energy and noise coming from the crowd, but from a personal perspective, House of God remains the only place that I've ever felt that I've been able to take it as far as I possibly can. At HoG there is no limit — I can push the envelope harder than anywhere else. "

Surgeon, House of God DJ set, 1995
Chris also stressed the influence that underground house, rather than techno, events had on the philosophy toward programming House of God.
"Around the same time HoG started, I was going to certain techno nights in London which were touted as being 'the best in the country' and they just weren't. (laughs) Rammed out but soulless, atmosphere-less. The residents would come on, play banging hard techno from the offset and it would put you off. You'd have shot your bolt by 11-o-clock at night! After that it would just feel like a procession of guests: 'Dave Clarke's on, Luke Slater's on….' But then we'd go to house nights and they'd properly warm the room up. So we nicked the idea of proper warm ups from house really — I've always done it and I always will do it — it sets the vibe in the room. And if the warm up get it wrong, it fucks the night up completely, either when people have played too hard too early or weird stuff that you can't dance to. You have to let people settle in. That said, one of the best techno nights at the time was Sativae in Edinburgh which was run by Dave Terrida and Steve Glencross. For the first hour or so, they'd either have no music at all or just play ambient."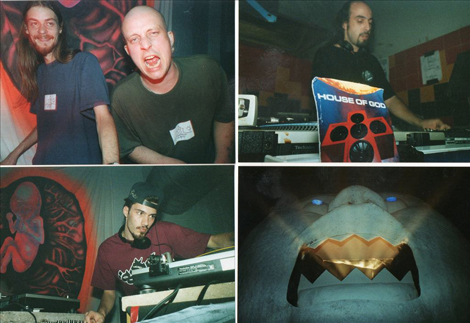 Joey Beltram (bottom left) all-nighter
February 2013 saw the 20th birthday party at Subway City — a suitably incendiary affair with Ancient Methods guesting and, after two decades, the passion for music and commitment to the party shows no sign of abating.
"The 20th anniversary party was great," Tony enthuses. "We had people who'd come from Greece, from Spain, all over the place. There were a lot of people in fancy dress, not that we'd billed it as that — it all happened spontaneously. There's no other club that really has the same feeling as HoG, it's a unique place. We're doing another 20 year party in Tokyo in April which should be a good one. Come with an open mind and you'll have a better experience — the idea that you're going to get an entire night of Downwards couldn't be further from the truth.
"In essence, we found the DIY approach to putting raves together natural because of our backgrounds. I had a background in punk, and that was always a case of doing your own flyers, your own gigs, and the whole thing. At the time, there was little blueprint to work from. The fact that we were doing things in the cultural desert of the midlands was a spur, really, and the association with other people around the country, who were experiencing the same things at the same time cemented our philosophy. But the main reason for our longevity is that we kept a down-to-earth approach to what is — after all, just putting on a party. The 20th anniversary was the best we've had for years, so we're going to be carrying it on,' concludes Chris.
"HoG was our cruel cabaret.." Karl O'Connor, oral history

Karl O'Connor, aka Regis
"Going to dance nightclubs felt alien to me at first: clubbing seemed more like a pastime. I was used to the gig world: finish at 11 and you'd be at home by midnight, always under the constraint of time. I'd do that a lot, and was perfectly happy with that. Music-wise, I was into stuff on Mute, on Some Bizarre; also bands like Einsturzende Neubauten, Psychic TV. There were a few good clubs in Birmingham at the time (mid 80's) but Thursday night at the Powerhouse was the door opener."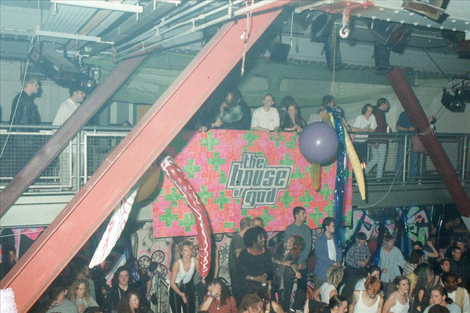 "Things changed by the 90's though. Third Eye was great; they played dub, techno everything, almost like a 60's happening — very much the sister club night to HoG. Then there was Oscillate which was run by Bobby Bird (Higher Intelligence Agency) where the focus was on"non-DJs" playing what I guess would be called the new breed of electronic music — Aphex, stuff like that. I was good mates with Mick Harris [ex-Napalm Death/Scorn], we'd travel to gigs together. He'd go to New York and bring back these fucked up acid records, people like Woody McBride or the Mike Ink & Walker Lovecore EP, and that tied into what I was into, and led onto Underground Resistance, Jeff Mills and the harder end of Detroit, all of which was very different to a lot of the early Detroit tracks — that preset, "soul"-influenced sound never really resonated with me."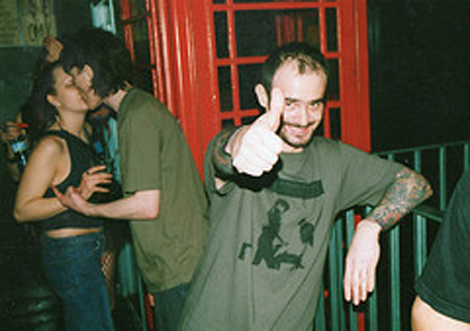 Mick Harris
"I wasn't at HoG at the start. I first went around the end of 1994. Mick and I went to see Tony play, really. HoG was and remains at odds with the techno scene that happens outside its walls. It's by no means some kind of purist techno club. Guests would come to play and assume they'd have to play techno because Tony was resident, but it was anything but that.. You'd have Tony playing some techno track and then Neil would drop a happy hardcore remix of the "Sooty & Sweep" theme tune. It was a proper British rave in essence — colorful and totally debauched."
"Some of the stuff that used to go on in there though… a dwarf getting stuck headfirst into his 6-foot blonde girlfriend in the middle of the dance floor. Chris running about with a prosthetic ear he found in one of the darkrooms hanging out his mouth. Projectile vomit flying across the stage. I also need to mention MC Zit, who used to host some of the sets. For me he was the person who really brought an extra touch of evil to proceedings. He was lead singer for local legends Bagman in the 80's and had this amazing vocal style that could, and did, send all the frazzled brains straight to hell."
"Chris is a brilliant dictator; HoG is by no means a democracy. [laughs] There were no egos involved, he just wouldn't stand for it. Tony might have just come back from headlining some huge festival gig in Europe and Chris would have him on first playing next to the toilet. Every time I've played at the club I've queued up at the front with everyone else, it just feels the right thing to do.
"I was 23 when i started Downwards, I wasn't a DJ or anything. For so many years nobody really knew who was behind the records. Pretty much all my music was made in one take, with cheap gear. I'd come to do it live and people would say, 'You need a 909' or whatever, to which I would reply, 'I don't even have the bus fare for the number 9 bus home, let alone a bloody 909.' I have some of my best memories in club terms attached to the place. I can remember about the same time as my Gymnastics LP came out playing there after an American tour and it was like some insane homecoming. I remember coming back to House of God at the turn of the millennium and seeing Tony mixing "Application of Language" into "Magneze" and the place just went 'whoooshhh' there was this force — an incredible moment. HoG was a kaleidoscopic rush for a short time, four or five hours of utter, utter celebration. We're all end of the peer entertainers, and House of God was our cruel cabaret."
House of God selection, as chosen by Chris Wishart and residents: "Eight tracks that encapsulate a typical House of God"
Mescalinium United, "We Have Arrived" [Planet Core Productions]

Frankie Valli & the Four Seasons, "The Night" [Rare Earth]

Luke Slater, "Class Action" [NovaMute]

Wildchild Experience, "Bring It Down (Distorted Dub)" [Loaded Records]

Mike Dearborn, "Birds On E" [Djax-Up-Beats]

Russ Abbot, "Atmosphere" [Spirit Record Co. Ltd.]

Black Sabbath, "Sweet Leaf" [Vertigo]

KMS, "Tronik House" [KMS]

The next HoG takes place at Subway City, Birmingham, June 7. Follow the House of God Twitter account for regular updates.