Johan Elgstrom in Bounce Audio. All photos by Nick Connellan
To open a record store in 2013, you have to be really stupid or really passionate. Vinyl may be undergoing a revival, but it remains a niche interest. And if the location of that store was Melbourne, Australia, your prospects are even poorer. It may not command the astronomical rents common to Hong Kong or New York, but the cultural jewel of Australia is now the seventh most expensive place on the planet to own a shop. Despite this, Johan Elgstrom says Melbourne is an "easy" place to live. The Swede should know: after stints in Austria, England, Spain and Cyprus, he settled south eight years ago and began working at DMC Records. Before it closed last November, DMC was a Melbourne institution with 20 years of history behind it. Today, its dilapidated signage and shuttered windows are easily visible from the vibrant shopfront of Bounce Audio, Elgstrom's six month-old record store in the trendy suburb of Prahran.
Bounce isn't much larger than the average bedroom, but its stock is expertly curated. On one wall sits brand-new records from names like Shed and Pittsburgh Track Authority, while on the other, various second-hand house and disco 12″s beg to be thumbed through. A sales counter and a table full of DJ gear occupy the back wall. Elgstrom isn't naïve. He doesn't expect anyone to come charging into his store and buy 20 records in one go. Having tried the digital route himself, he's resigned to the idea that today, vinyl is a mostly considered a luxury, and people will be more sparing with their purchases. And yet, he still chose to open a store at huge personal risk. Thankfully, I really believe he'll have long-term success. From the second I stepped into Bounce to gather Elgstrom's story, his aura of genuineness and passion never disappeared. During one visit, I heard him spend 15 minutes on the phone to a complete stranger, guiding him through how best to record vocals for a new track. Good staff are the lifeblood of any record store, and if someone as warm as Elgstrom can't make Bounce work, nobody probably can. Here's what he told me.
Johan Elgstrom: I grew up outside Stockholm City, in Sweden. One of earliest memories I have from electronic music, when I wasn't into it at all, per se — I was into punk and grunge, and I was playing drums in about three bands at the time — was actually "Deep Burnt" by Pépe Bradock. I think that was released in 96, or something. That's kind of the earliest memory that I have, listening to the radio in Sweden. Swedes didn't really embrace electronic music at all, it was mostly crap when you went out to a bar or a club. It's just in recent years that they've started to more appreciate electronic music. And I mean, in the 90s, Swedish techno was massive, but I had no idea about it, because the big DJs never played in Sweden.
There was a local record store in my little town. They sold CDs and vinyl and I bought my first record, which was "Let's Talk About Sex" by Salt 'N' Pepa. It was a 7″. I wish I had that record now, but yeah that was the first one I bought. Obviously, back in those days you bought one record and you just played it over and over again until it was almost worn out. Same with CDs; I used to know all the band members of all my favorite bands, know all the lyrics, I used to read the booklet and all that sort of stuff. With the whole digital thing, that kind of just went — I mean, nobody reads it any more, I guess. But I was a lot more immersed in music, because I think I had a lot more time, and I had a lot less music as well. Whereas now, there's almost too much music.
I think just having more human contact is good. Humankind is always just stepping away from that in so many ways, you know with Facebook — venting your anger against someone you don't know on Facebook. You don't do that face-to-face. I think it's the same with music; it's good to go into a record store and actually see people. I remember back in the day when Limewire and all these download programs — I mean, I'm 33-years-old, technology has gone from crap to pretty amazing in my lifetime — I remember my friend, who had a Macintosh computer, and the downloading speed was so slow, it'd take you a week to download two songs or something, but it was "FREE!" So I would just download everything. If I found out about a good artist, I would look up all the albums and just download them all. That was kind of what everyone was doing in Sweden, back in the day.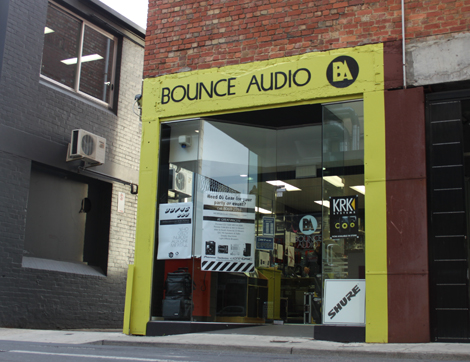 I moved to Melbourne about eight years ago, and I had all this music that I'd converted from CD into my iTunes, and I'd downloaded some stuff, whatever, and I just had a meltdown one day, where I just went, "It's too much. I lost it. I've lost the vibe for it." And I deleted my whole hard drive of music. I deleted everything. I got rid of every single tune that I had, and I just started over. I started collecting music differently, and slower, and I wasn't as greedy. And the whole sort of, illusion of entitlement that I had and that a lot of people probably still have is that, "If it's there and I can just grab it, I'll just take it, I'll just take as much as I can, I'll just store it away for a rainy day." But you can't really appreciate eight million songs, you know? So I just deleted it and started from scratch, and then got into buying a lot of records. And then I kind of did the same thing with records, where I bought everything that sounded cool, because I was new at it, I became a total vinyl addict. Through the years now, I've sort of refined the process when I listen to a song, I'll put it aside and have a short list, and then I'll listen to them again, and then out of five tracks in a shortlist, I might end up with two tracks. But they're really good tracks.
I try not to listen to too much music at work, because it's not the environment for me to do that. I try to sit down at home at night, with my laptop and headphones, and really get into what I'm ordering, so that I don't end up with records that show up to the store and I go, "Oh, did I order that?" [grimaces] I've done a few mistakes like that. Not many, but the process is quite time consuming and I think maybe, that's something that my customers don't realize sometimes. They just show up to the store and they go, "Oh yeah, cool records." There's a lot of time and effort that I spend just filtering through stuff that I want to order for the shop. Do I want to have it in the shop? How many people do I think would buy this? And also, am I choosing not to order this record just because I don't like it? So it's a bit of a mental battle for sure. But it's fun. It's just music at the end of the day.
I opened Bounce Audio on the 10th of January, 2013, just after the craziness of Christmas and New Years. Before Bounce I was working at DMC Records, which was located just across the street from where Bounce now is. When I found out that they were closing, I made a quick decision that I still wanted to sell records and DJ gear. I had a few options: I could try and look for a job at another DJ store or I could… yeah, I don't know what I would have done, to be honest. But I decided that I had a lot of ambitions to start my own business anyway, and I was running a small hire company where I was hiring out DJ equipment to private persons having house parties, and to venues. That kind of just continued, and I decided to just start Bounce Audio and have a shopfront where I could have records which I love. I just wanted it to be a place where DJs could come and get their fix, whether it was records, DJ or production gear, you know?
I think some people probably walked into the store and thought, "Oh yeah, he's just slapped up a bit of paint, made it look cool, put in a bit of furniture." I had one guy in particular who asked me, "Do you mind me asking how much it cost, roughly, to set this up?" I explained to him how much I had invested financially and also in time, and he kind of just went, "Oh, yeah. Right, OK." It's a bit of a wake-up call for some people. People probably look at the store and think it's an easy job, but there's a lot of stuff that led up to this. There was a lot of hard work, and a lot of sleepless nights for me. I was obviously really nervous, as well. It's my first bank loan, you're sort of figuring out, "Am I doing the right thing? Who needs retail nowadays, anyway? Everyone goes online."
So you have all these questions running through your head and you're out on your own. You sign a contract for a lease, you can't get out of that contract. You're locked in for at least two years. So for the next two years, you're not making any money, and you have to work your ass off, six, seven days a week. And obviously try to have a private life, as well. But so far, it's been a really good experience and I can't say that there's been anything negative for Bounce Audio whatsoever, so far. It's just been really good. Financially it could be better, but it's a new business and it takes time to build a brand and it takes time to get a customer base. I haven't done any promotion just yet. It's pretty much a one-man ship, as well. I don't have any employees. I have people helping me out every now and then, but I try and do everything on my own, because obviously I can't afford to hire someone full-time. It's going forward, and it's good. I'm happy.
Vinyl's current place in the world is strong. I think it definitely went through a bit of a tumble there a couple of years ago, when even I was playing Traktor with a laptop. Mind you, I was playing with turntables and no sync — that's what I liked about it — but I definitely had a crack at the whole digital thing. And I sometimes play with digital means anyway, depending on the gig. Some gigs won't have turntables, some gigs won't have CD players or whatever, but aside from that, vinyl has never left my form of DJing. I've always bought records from the start of me DJing. I think I just had a bit of a stint where I bought less records, and now I'm at a very comfortable medium where I buy a reasonable amount of records, but not as much as I used to. Because records aren't really the norm any more, so not every cool song is released on wax.
In the last two years, vinyl has really become a lot more common though. I see a lot of the younger dudes now buying records again, and they're buying good stuff, as well. So they're not coming in asking me for David Guetta; they're coming in asking for Marcellus Pittman, and old school stuff, and really good records. In some way, in terms of digging for records, I think YouTube is kind of where it's at. You go to YouTube and then you click on one video and then it shows you another five videos, and then you click on those. So it's just a different way of looking for records now, and I think the more modern medium of looking has influenced greatly how people buy records today.
It's not like these kids can't get these records anywhere else. If they looked hard enough, they'd get them. And some records, they're quite commonly known. You can get those records from digital mediums or whatever. You can get them from online stores or whatever. But that's not what it's about. I'm well aware of that, and so are my customers. I think the reason they come into this store is because they like the selection, they like hanging out, they can have a chat, I'm a nice guy, and I kind of sift through all that crap, and I spit out the good stuff and put it on my shelves. I think that's what they like. The idea of just coming to get a couple of records in a store is much more attractive than going online and listening to a few tunes, and then grabbing two and then paying an outrageous amount for postage, or whatever the reasons are.
People like coming in and having contact — that's what I love — and I can see that in a lot of the younger clientele that come in here. They support the store. They don't buy 10, 15 records like we used to do, because vinyl is not the norm any more. You can get a couple of tunes digital, you put them on your USB, and that's great, and you buy two or three records instead. They come in, and they listen quite critically now, because they're spending a lot of money on records, so they're not just gonna buy anything that sounds cool. They're gonna listen and think, "Oh, is this a really good record? Do I really want to pay $17 for this?" So that's kind of where it's at now.
The other thing with record stores that I think was lost for a while, was just that connection with, you walk into a record store, you're a DJ, you're looking for gigs, and it just so happens that another DJ is in the store who's doing a gig, and you start chatting. You have a good time, or whatever, he invites you to play at his party. That doesn't happen online, and I think people just missed that connection; the whole networking part of it, as well. You know, coming in, maybe grabbing some flyers for local events and also getting a discount every now and then, even getting a free record every now and then. It's working — I think people have kind of reverted back, in a way, and it's cool.