Every place has its vanguard, its revolutionaries, its pack of punks. Detroit certainly does. Detroit's musical vanguard consists of a racially and ethnically diverse collection of women and men. They are largely disjointed, spread out across the entire region of southeast Michigan. Independence truly means autonomy and self-reliance in Detroit's local music culture; aside from a handful of collectives and temporary partnerships, most in Detroit's electronic music scene operate alone. Sometimes it works for them, sometimes it simply leads to increased isolation and silence. Aaron Siegel presents one remedy for some of this disjuncture. In 2008 he founded FIT Distribution out of the basement of Peoples Records and in 2010 started the FIT Sound label. These ventures quickly earned Siegel a reputation in Detroit and beyond as a trustworthy figure who showed respect and businesslike compassion.
According to producer Todd Osborn, "Aaron is unique in that he had the initiative to set up his distribution. Especially so since he did it at a time when nearly all were failing and going out of business. I may be biased since he's been my friend for quite some time, but I think he's the most honest and fair distributor I've ever known." Siegel recognized Detroit as a hub of extremely skilled musicians who could benefit from a locally based aggregate network of creativity and industry. One of his goals was to bring more unity to Detroit's scene in order to bring more success and visibility to its artists. That philosophy is immediately identifiable in FIT Sound's releases, which have included Erase the Pain by Marcellus Pittman, Anthony "Shake" Shakir's Trackin' and The Invisible Children by Jamal Moss as IAMTHATIAM. FIT Sound also reissued Walt J's Divinity single originally released in 1997 on Dow Records.
Siegel took inspiration from outside of Detroit as well. A few years back, he booked Serge, founder and owner of Clone Records, to play a party in Detroit. Serge shared his distribution knowledge and experience with Aaron. "I stayed some days in Detroit and we spoke about a lot of things… and we got along pretty well." While essentially distinct, FIT and Clone share similarities in their approaches to distribution and their dealings with artists and labels. Serge states of Clone, "It's really simple, we wanted to sell our own labels… and labels from friends and like-minded people. Besides that, we try to do things [ethically]… no dodgy tricks, big money projects… trying to stay real and always remember why we are doing what we are doing! Most important is that we like the music. But over the years music taste [has changed], labels and artists are developing, so nowadays it is also important that we believe people are doing this for the same reasons we are." Siegel and I sat down recently and talked about his philosophies about hearing and sharing music; art, sound, and business; and Detroit's insulated and protective musical culture. This conversation is primarily from that interview. He also added a few updates while on tour in southeast Asia.
Are you from Detroit?
Yes, well the area. Michigan.
How did you get started with electronic music?
When I was in high school, I went to a friend's party, and a guy I knew, that I wasn't good friends with, but I'd seen him around school. He was in the basement with a sampler. And so I played with the sampler with him that night and he let me borrow it a few weeks later. He had a lot of music that he gave to me. That kind of started it. I was 16 or something. Then I left Detroit and went to school for film for two years, and I was making music there. I had a radio show in Boston. I played everything. I played ambient, dance music, whatever. I would have the show from 2 'til 6 AM. Usually, I'd play more up tempo stuff until 4 or 5, and then I'd take all these ambient and noise records and overlap them. After two years of school, I moved back to Detroit and started organizing parties at Oslo. I did some construction at Oslo. I ended up working there as a bar back in the club. I started doing parties and did parties there. And then I would do them at other venues, like afterhours things.
So when is this now?
This was when I was 20, 21. I was gone from maybe 18 to 20, and I was back here when I was 20. I left high school early and moved to Australia. I went to a lot of events there. That was right when I turned 18. I was involved with music stuff over there, but I wasn't DJing then. So then I came back and got more involved in the Detroit scene, as far as parties go. I had a party with Egyptian Lover. That was his first time in Detroit since 1983. I would DJ at the party as well. I would play first because I didn't want to pay anyone to do it. I was funding the parties with the money I made as a bike messenger, paying the artists. I booked a few tours to make it viable to fly them over here. I would design the flyer, hire the door guy, everything.
So it was just you organizing everything?
Right. I did everything. So those were the worst DJ sets ever. I'd be trying to play and thinking how much money the guy at the door had, if he needed change. I could never concentrate. But that was the only way I could learn how to play, to know what it was like to play in front of people.
When did you start DJing, was that with your radio show first in Boston?
Yeah, maybe when I was eighteen, but that wasn't all vinyl. I had some records, CDs, burned CDs. I didn't really beat match. I had CD players, so I could kind of do it with the pitch on those. I could do it a little bit with a CD and a record. But real DJing I didn't really learn until maybe a few years later, when I was twenty. So eight years ago. In the scheme of things, it's relatively recent. And that led to the next thing. I wanted to stop bike messenger-ing. I wanted a change. I saw a need for another company that could help with distribution of a lot of the independent labels that were popping up that I thought were making stuff that was really interesting. Omar-S has kind of a different sound. I would buy those records at Rick Wilhite's store [Vibes New and Rare Music] because I didn't know where else to get them.
I also met Serge from Clone Records. That was kind of an outlet for the beginning of European sales. If I had to go to Chicago or New York, I would bring a couple boxes of records over there and just go door to door, store to store. Introduce myself. See if they wanted to buy records. I'd get their email and they'd become customers. I made the website. Places in the UK or Japan started hitting me up and then other stores. It was sort of a snowball effect with that. I wanted to become more involved with the manufacturing, and with new music. I love old records and finding old records, but to me, it's more exciting when a new record that's really sweet comes out. There was Submerge, but they started to focus on their house labels and the back catalogues of Transmat, and KMS, and Metroplex, and then the Underground Resistance stuff. So then there were all these other labels around town, like Omar-S, Kenny Dixon, you know, there's a million of them. I started contacting them, and other people found out. So that grew.
Well, let's talk more about distribution. So you started off wanting to distribute music that wasn't being distributed widely from the city, right?
I also saw it as a business opportunity. I need to make money. I enjoyed riding my bike, but I just needed a change. First off, I liked the music. It seemed like a good job, better job than the one I had, because there was a need for it. And the other function of it was, I wanted the company to fund special limited edition projects or reissue records. Reissue records that are rare, or came out and were missed the first time around. Maybe there was a lack of promotion, or bad artwork when it came out. Or to even try to fund or facilitate labels that have the music ready, but they don't have the funds to get it off the ground. So if I can fund some good labels or projects, it helps me because it gets more products I can move and then it helps the artist, because they don't have the money. Then they can move on and work on their next record. That's special; I can't just press everyone's records.

Flier for Siegel's Thailand gig
So what year did you start distributing?
I'd say officially 2008. Then last year, in 2010, I started the label.
Where do you distribute to, mainly?
I would say U.S. stores are a small fraction, but not as small as people think. It's picking up. The other chunks are to Europe and Japan. U.S., if it's a good record, people buy it. Hopefully they buy it. The stores buy it. I don't know how long it stays there! But people express interest in it. There's not only three copies of something sold in the U.S. If it's something that's really exciting and original, people here want it too.
Do you ever think about selling directly, not doing wholesale, but selling online?
No, it's too much. I'm involved in other things. My advantage of being in Detroit is that I have cheap rent, I have cheap space, I don't have much overhead. Every other distributor, most likely everyone except me, has an online store because they have to. If they're in New York, they have to pay huge amounts of rent and they have employees, and they're just not selling wholesale as much as they used to, so they had to [go online]. But that's also direct competition with the customers that they sell to. It's a total conflict of interest, but they don't really have a choice. Their only other choice would be to go out of business. Because they're always going to sell it at a better price than the store they sell it to because they're buying it for a wholesale price. I just don't need to do that. If I needed to make more money, I'd rather find some other thing to get into as well. Something different. Otherwise that's too much music sales. Too much going to the post office and everything.
In 2010, I started the label FIT Sound, which is something I needed to do because I wanted to have total creative control over the music and the artwork and the whole package, you know. I work really closely with the artist on how the mix is going to sound, the edits, and the order of the tracks. I do the art. I pay attention to all these elements, they are all very important. It's also the music that I want to play, as a DJ, and I think other people will like. I call it a mutated form of the classic sounds of techno and house, stuff that's not really any genre. It can mix with house or techno, but it's not anything. That's kind of what I look for. It's really fun to find new artists and listen to what they are making. It's kind of like a hunt. It's kind of like being a curator of a gallery. You want the best shit. A gallery represents the artists that they're into, that they go after to represent them.
Your first release was with Marcellus Pittman.
Yeah, the first release was with Marcellus Pittman and it had a really good response. It totally exceeded what I thought. It was the new label and no one really knew. I don't think people were that hip to him, they know more Theo Parrish and stuff like that. I think it really sold based on the strength of the music rather than the name. And the second one was by Jamal Moss from Chicago. It was these three crazy tracks. It's like almost industrial and house; I don't even know what it is. And then the third one is by Anthony "Shake" Shakir. Shake's always been one of my favorite producers, so I was really happy to put this together with him. He's a great guy.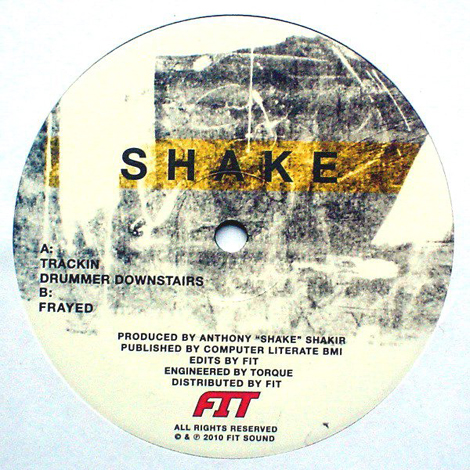 I'm working on upcoming releases for the FIT Sound label. One of the functions of the distribution was to do special projects of records I think that were kind of missed when they came out. One of these projects was with a producer named Walt J who released a handful of records in the late 90's. It was really good music with terrible artwork. So I'm working with him on this sub-label is called Walt J, it's a reissue series. That's coming soon. I'm also doing a label called 1983, and that's more like crazy bands that kind of have elements of electronic music, and that are punk, and weird, and crazy. That's more 7″ type of stuff. It's more non-dance, non-straightforward dance music. FIT Sound is 12 inches for DJs, for the stranger DJ, but it's for the dance floor. And 1983 is the, it's non-dance floor stuff. I guess a DJ could play it, but that's for the really weird DJ, you know.
Are those local bands that you're working with?
Yeah, the first one is called Especially Good.
Oh great! Yeah, they're awesome.
They're the first 7″; I've got to do the artwork for it, but it's ready to go. I just say that's kind of like Joy Division meets Throbbing Gristle. I saw their first show and I wanted to release their music. We recorded enough for three records just in the studio. So they'll just come out over time. I just like to find crazy, weird, interesting music. I want to put that out and put my money behind it. Invest my time in cultivating that. Also, DJing this kind of music, playing it out. Representing it. That's what I try to do when I DJ, represent this kind of stuff. I guess that's my function when I try to DJ, the newest, weirdest, funky stuff.
Do you DJ regularly now?
At the moment I am in Cambodia, just did a gig in Penom Penh and it was incredible. Also played in China last month and in Thailand next week, and also Austalia in August. Playing in Asia has been incredible. They have a real hunger for this music because not many people reach out to these countries. Also, it's crazy here in Cambodia because there told me there are only about five sets of Technics turntables in the country so the promoter had to go on a mission to find a set. Also it was a big deal because I brought vinyl, they told me they have never seen anyone play vinyl in Cambodia and I also think I was the first guy from Detroit to play there as well. But as far as Detroit goes, I don't play regularly there. I do a radio show for Viva Radio. The radio show is my regular thing. That gives me more drive to work on these kind of sets I want to achieve in a club environment. The radio show is good practice. But in Detroit… I don't know anyone who DJs regularly in Detroit.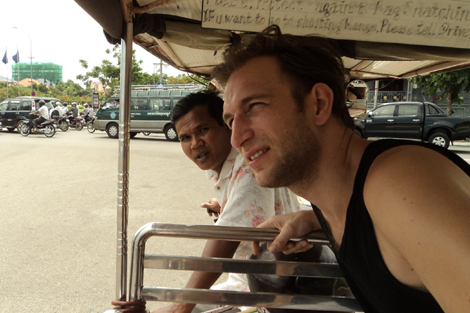 Siegel in Cambodia with his friend Marady
How did you get connected with Marcellus Pittman? Did you know him already?
I think I just got his phone number from someone, maybe an email. Or maybe I just looked on one of his records. I met up with him and told him what I was trying to do. Then he played me a CD of stuff, but it wasn't totally done. It was just sketches. He recorded a CD for me and had his turntable plugged in, too, and had his finger over the needle. You know, it's kind of like copyright protection. He would be recording me this CD, and then every few seconds, put his finger on it, touch it on the needle, or make some noise, so I couldn't just bootleg it or something. Because he didn't know me that well. So I listened to the CD and there was a lot of stuff I liked, but there were three in particular that really worked as a package. We went back and got those tracks. On the original demo, certain things weren't loud enough, or things were too loud. We spent a few months going back and forth and then I did some editing of them. I'm not in a rush to put music out. I'll spend a lot of time trying to get it as good as possible before I'm totally sick of it. But it's really important to spend time on each record.
And then the others, like Shake, I had been talking to him about distributing, when I first started, his back catalog. So we were always in contact and I would talk to him on the phone a couple of times maybe when I was doing parties. I'd see him around. The first time I met him I contacted him to play a party with Legowelt and some Dutch guys. That was a few years before I started the label. It eventually came together. I don't think it's hard to get in contact with people here. It's like a small town. I think that if people sense that you have good intentions, and they see your track record, then things happened more naturally.
And who do you do your mastering through?
I do mastering through a few places in the U.S. Actually, I've only used one in Nashville. It's fine. There's nowhere that's amazing. Everywhere is hit or miss. They've done good work, so I keep going back. But from what I hear from everyone else is that they're using different ones for different projects. Unless you want to send it somewhere that's really expensive. But most places in the U.S. are around the same cost, and sometimes they do a great job, sometimes they do a good job, and then sometimes you've got to get it re-cut, either by them or by someone else. It just varies. The equipment's old, they have a good day or a bad day. It happens to everyone I guess.
You mentioned an interview you did where they asked you about Detroit and being secretive and everything. Can we talk about that now?
Yeah. My take on it is that I think that being secretive is like a defense mechanism. People hold on to the things that they want to keep close, the things that are important to them. I use the analogy, it's like a country protects and cultivates their natural resources. If another country takes them, then they're fucked, they're broke. So it's kind of the same thing, you know? I just relate that to the music here. I don't think it's only a Detroit thing. Another thing, is that I think people, in the Midwest in general, are just kind of modest, you know?
Oh, yeah.
They just naturally aren't like, look at me! So I think that's one element, it's just normal people, so they're not supermodels. They don't have that mentality. I think there's more longevity in keeping something underground. And it's cooler.
I think it's interesting how over the years it gets interpreted as this aggressive, militant, racist against white people kind of thing. But it's totally not.
Yeah, you could say the same thing. You could relate it to racial things, but in the end, it's the same thing. It's their thing, they protect it. People who make music here, if you approach them and you seem like you have good intentions or you are serious and you have a track record, then I don't think the race thing matters. But if you come with an arrogant mentality and think you can use money, then you're going to get that. People won't want to deal with you. You'll think they're militant, or something, but you're coming at them totally wrong. Like a conquistador or something! But if someone can tell your heart's in it, then they'll let you in a little bit. Form a relationship.
Do you produce at all; do you plan to do that?
Yeah, I work on music. When I get home after doing music business stuff all day, if I feel like making music. I have a studio, but I usually only go in there when I'm feeling creative. I kind of have to relax a few hours after dealing with music stuff, turn off the computer, not look at any emails. I do make music, but it's more of a creative outlet, I guess, for me. When there's stuff that I like that I want people to hear, I'll release it, or someone else will release it. I'll try to have it out somehow when it's there. But I think I'm still experimenting. Even though it's been years, it's not there yet. I'm taking it more seriously, I guess now. But I don't depend on it. I do it when I want to do it. I don't want to have to make music to pay the bills or something.