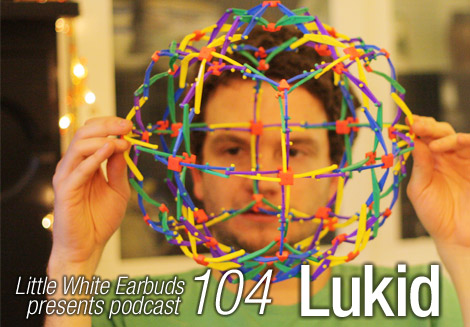 With the lines of genre distinction becoming ever more blurry in modern electronic music, it is becoming increasingly more difficult to pin down a producer's sound. In the case of Luke Blair, recording under the name Lukid, saying simply that he makes electronic music seems like the safest bet, for the producer incorporates so many differing elements in his releases that listing them all would be an exercise in futility. The young Brit seemingly came out of nowhere in early 2007 with the immediately arresting album Onandon, and has followed up the acclaim that accompanied the long player with two further albums and a clutch of single releases. His earlier work had him pegged as a contemporary of artists like Mike Slott and Hudson Mowhawke, though his more recent releases, particularly those on his own Glum imprint, show a harder, club-based direction that is seeing him earn even more kudos from his peers and fans alike. LWE contacted Lukid and got the official potted history of Luke Blair, asked about his predilection for releasing albums and found out that it is the fear of death that impels him to create. He also compiled and mixed together our 104th exclusive podcast that showcases the wide reach of his inspiration and provides a damned fine soundtrack to your journey through the confusing mess that is modern life.
LWE Podcast 104: Lukid (48:07)
Audio clip: Adobe Flash Player (version 9 or above) is required to play this audio clip. Download the latest version here. You also need to have JavaScript enabled in your browser.
Tracklist:
01. The Fall, "Hard Life In The Country" [Flying Nun Records]
02. The Lines, "Come Home" [Fresh Records]
03. Owiny Sigoma Band, "Doyoi Nyajo Nam" [Brownswood Recordings]
04. Urban Tribe, "Progam 1" [Mahogani Music]
05. John Heckle, "A Basement Interlude" [Mathematics Recordings]
06. Samoyed, "Klondike Rush" [Glum]
07. E-Dancer, "Pump The Move" [KMS]
08. Eric Martin, "Emergency" (Steve Poindexter Re-edit) [Muzique Records]
09. Lil Wayne, "Up Up & Away" [Cash Money Records]
10. North Memphis Playa Click, "Mac's About His Hustle" [self-released]
11. Jon E Cash, "Cash Beat (AKA Hoods-Up-Dub)" [Black Ops]
12. Lukid, "Dragon Stout" [Glum]
13. 1991, "Reborn Ice Horn" [white]
14. Pompidoo, "Ghetto Rock" [white]
15. 1991, "1991" [white]
16. Black Milk ft. Bishop Lamont & Elzhi, "Goatit" [Music House]

A lot of DJs and producers have elaborate websites all about themselves with the mandatory shot of them wearing some shitty sunglasses. In your case it's pretty hard to find anything even resembling a bio, so perhaps you could help formulate the Lukid myth for us and give us a brief, fantastical bio now.
Luke Blair: If you really want to hear about it, I was born in North London in 1984 to Catherine McEwan and Leslie Robert Behr. By all accounts I was a lively and loving child until I sustained a severe head injury at the age of 8. I attended my local school, which was very big and in which I believe I managed to remain completely anonymous. I enjoyed English and playing football. I was a good student, but not outstanding. After my GCSE's I went on to my local 6th Form College, where I achieved A Levels in History (A), English Literature (B), and Film Studies (B). During this time I was composing music in my bedroom using a PC and an EMU sampler.
On leaving school, I enrolled in a media course at a well known London arts school, but I didn't like it and left after a month. I spent the next while making music, reading books, watching films and crying, in what are now known as my Wilderness Years. During these dark days I came to the realization that music was what I wanted to do with my life. I had received great encouragement from family and friends about the music I was making, and decided that I should study music technology at a university, because that's what people do, isn't it. So, I attended the Leeds College of Music from 2002 – 2004. Now, I know you want me to say I loved it there, that I'd finally found my niche, that after years of drudging through the educational wasteland I had at last landed in an environment where I, Luke Blair, would be allowed to bloom. I appreciate your sentiment, reader, but it was shit. Proper crap course. Don't think I learned a single thing at that place. I did, however, meet some very lovely and creative people, some of whom I lived with, shared music with, shared musical ideas with, but most importantly swapped illegal music software with, on which I could sit in my freezing room in Burley and compose strange and depressing music.
I returned to London without a degree and without a fucking clue what I was gonna do with my stupid little life. What I did know was that the music I was making was getting a bit better, so I decided to keep on making it. After a while I sent off a demo to a few labels (literally sent them, on a CD, remember those, children?) one of which was Werk Discs. A little while later I released an album on Werk Discs, and here I am today, all these years later, writing this prologue to the "Lukid Special Collector's Edition" of GQ.
What were some of your first hard hitting musical experiences, things that really touched with you and stayed with you?
Nothing comes to mind really. I always liked music as far as I can remember. There are songs and albums that had a big impact on me, of course, but there are no particular moments that I can pinpoint. I didn't get into music through going out or through being part of a scene, so those moments that shaped the music part of my brain would've been experienced at home with headphones on or in the car with my mum listening to tapes or something.
How long before you started thinking that your sound was coming together and you were really happy with what you were making?
It took me several years to make any thing of any real quality, but I only really became happy with what I was making sometime last year.
Was Werk Discs your first port of call when it came to sending out demos?
Nah, I sent a few out but they were the first ones who answered me.
Although music of a more left-footed and bass-wise slant has been topical in the UK for some time now, your sound could more rightly be aligned with that of the West Coast US scene. Do you feel more of an affiliation with those producers as opposed to your English peers?
Not really, no. I guess the first stuff of mine that was released was in part influenced by people like Madlib and Dabrye and SaRa, and I've never really been able to shake that off. I feel pretty English, and I'd like to think that the music I make reflects that in some way. It's funny, I heard my track "Dragon Stout" played on the radio recently, and that is very much a grime influenced track, which is about as English (and Londonish) as you can get, and the DJ said it sounded like it was from America. I give up.
Going by the statistical output of your albums to singles, it looks like we should be getting a new Lukid album next up. Is that fair to assume or sheer statistical coincidence?
You're good. I'm putting the finishing touches to a new album on Werk just now.
With three albums under your belt already it seems like your productivity rate is pretty high. Do you feel your music comes across better in album form, that it's a better setting for your tracks?
I guess the music I make varies in style a fair amount, so in that way it's more suited to the album format. I can put together a nice little story with all the different types of songs. It depends on the output though, the Glum stuff for example is I think more suited to a 12″/non-album format.
How would you say stylistically your music has evolved from Onandon through to Spitting Bile?
Angrier.
Are there any artists you feel have really influenced what you do who may not be immediately obvious to someone listening to your music?
Mark E. Smith.
Or for that matter any other outside influences, perhaps ideas garnished from different books you've read, or funny shaped clouds you've seen in the sky, etc?
I was thinking about this the other day. I've answered this question a few times, about what influences me, and usually I just reel off a few names that will make me sound like I know what I'm talking about. But if I really think about what makes me get off the sofa and turn on the computer and make a tune, it's usually either hearing another track that makes me really envious, or watching a film or something and thinking, "That guy (or girl) made that film off his (her) own back, he (she) could've just sat at home twiddling his (her) thumbs and watching tele, but he (she) didn't, he (she) got off his (her) arse and made something amazing and now you're watching it and it is affecting your life and isn't that something good, and why are you just sitting here now and not being creative?" So I guess it's jealousy that inspires me. And fear of death.
Your Twitter account has been a source of many laughs at the LWE HQ. Have you ever considered a sideline in comedy, perhaps even incorporating it into a live PA?
I don't know if you're being sarcastic or not, but anyone who has witnessed me attempt anything close to public speaking will tell you that this is a very bad idea.
What can you tell us about the mix you've put together for us?
Be ready to ride the big dipper of the mixed metaphor. Be ready to dip your hands in the lucky bag of life, gather the storm clouds of fantasy and anoint your own genius.
What can we expect from Lukid in the next year?
He will endeavour to make better music and be a better human being.
Anything you'd like to add?
It's hard to live in the country.