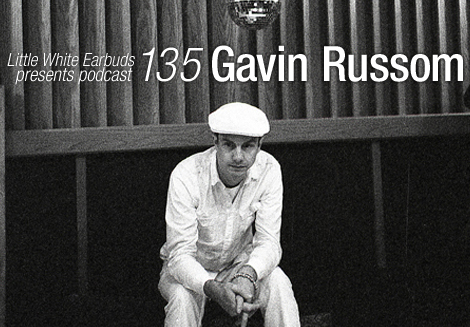 Photo by Aaron Richter
Many artists will tell you that their expressions are a form of catharsis. Writers spill their thoughts on to paper with words, artists onto canvas with paint, and musicians into songs with notes. When the electronic musician wants to purge the sounds from their head they will often do so through studied synthesis. Some may go a step further and in the case of Gavin Russom, build a machine that will help him with these endeavors. Interested in music, performance and visual art, Russom found inspiration and kindred spirits in New York where he started collaborating with other artists and inventing his own machines. After sending out an email offering his services as a synthesizer repairman he was contacted by James Murphy and was soon hard at work in the DFA studios, eventually becoming a member of LCD Soundsystem. His own music found a home on DFA, first with Delia Gonzales, then later under his Black Meteoric Star moniker and more recently as a part of his new project The Crystal Ark. LWE got in touch with Gavin ahead of two special London appearances he's making this week; a special live set of new material at the Kosmische party at Corsica Studios on Saturday night and the night before a DJ set at the Ecstatic party at the Waiting Room. He talked to us about integrating magic with music and the advantages on taking on remix work. He also provided us with our 135th exclusive podcast, which sees the producer lay down a special on-the-fly mix through some of his most prized records.
LWE Podcast 135: Gavin Russom (43:00)
Audio clip: Adobe Flash Player (version 9 or above) is required to play this audio clip. Download the latest version here. You also need to have JavaScript enabled in your browser.

You're not just a musician but a builder of synthesizers and electronic equipment. How did this come about and were you already a musician at that stage?
Gavin Russom: Music, visual arts and performance have been important practices for me most of my life. I reached a point in around 1994 when I really wanted to integrate those practices in a physical way that matched the way I felt them integrated inside of me. At the time there were no tools I knew of that spoke to what I wanted to do, but modular analog synthesizers were the closest thing I knew about. I couldn't afford one so I set about learning how to build them, first experimenting with tape loops, feedback, etc. and then eventually creating my own electronic music tools from scratch. Creating a physical object that generated sound and welcomed me into a performance-based relationship with it was one way of working in many disciplines at the same time.
In fact I understand you were also somewhat of a magician. What sort of magic do you practice and is it something that you can transfer to your music?
Magic is a very broad term for me and I am involved with many specific things that fall under that large rubric. When I moved to New York I was really drawn to the underground performance scene and particularly theatrical performances that were happening in night clubs. Having a long standing interest in ritual, channeling, and many other forms of what people call "Occult" magic, I had the idea to create a magic show in the spirit of stage magicians like David Copperfield that would also draw on these ideas from the other kind of magic. I wanted to make something entertaining, blasphemous, radical, intense, deep and funny like the performances I was seeing around me.
On a basic level for me the practice of music and magic are the same thing, drawing energy around a specific intention and giving meaning and purpose to a specified time and place using a connection to the powers of nature to do so. What continues to draw me to music is its ability to channel energy and transform consciousness. So that has always been there, and then the machines I have built and the music that I became involved with after the period when I was doing the magic shows came directly out of those performances. I was creating "magical" objects to use in the performances and I was making sounds to use in the performances, and then I created an object that could make sound and that deepened this "musical" part of the performance so much that it became central. There was something about using electronics for sound that was exactly like magic too, harnessing this elemental force, electricity, and channelling through tools, physical space, and the body to create something, in this case sound, that transformed consciousness.
Have you ever used a DAW at all or is everything you make as analog as possible?
I just had to google DAW…. I use a lot of different tools. For recording I use Logic, which I guess is a DAW? I am not an analog purist by any means. I'm just into working with what I have and being open to new ideas. I think that analog synthesizers are powerful tools and I was initially drawn to them for their rich sound quality and because of the organic quality of what it's like to play them. For the situations where they are best suited I continue to use them for those reasons. I also use samplers, "real" instruments like guitars and percussion, and all of the stuff in the computer.
I was speaking to an older producer recently who said that with all this digital gear these days there are too many options for what you can do with the sound and that was distracting people from just making music with simple equipment sound really good. What do you think of that and what are the comparisons to you of making things with analog equipment as opposed to software?
I think that's a valid point, although there are kids all over the world churning out amazing music right now using computers, so I don't think much can stand in the way of someone who really has something to say through sound and is driven to get it out there. Personally I like the limitations that a piece of gear sets on me, probably because I come out of improvising and also because I am easily overwhelmed. Most of the music I make starts with me playing around with a machine and then grows from there and I try to keep it simple and true and only work on it until it's become what it wants to become.
Who were some of the musicians/producers/artists that inspired you to make music?
There have been a lot over the years. Here's a very small list: Meredith Monk, Grandmaster Flash, Albert Ayler, Adonis, Steve Reich, Quintron, DJ Rashaad, Judith Malina, Tony Conrad, Azita Yusef, Guy Piccioto, Ryan Leslie, Ron Hardy, Alice Coltrane, Terminator X, Gavin Van Vlack, Dr. Dre, Kraftwerk, Donna Summer, Cluster, and Arthur Russell.
Being more of an artist than simply a producer, I'm interest to know when you are creating music, do you go in to the studio with non musical ideas that you want to convey through music?
Mostly what I try to do is keep the door open to clear direction about what wants to move through me and maintain a practice that supports that. Often sound comes first, then structure, and much later I realize there's an idea or a concept being transmitted in what I'm creating.
Your work with Delia really seemed to tap into the artist within you both. Are you guys still working together?
We are no longer working together. That intense period of collaboration came to an end in 2007.
Can you tell us about your more recent collaboration with Viva Ruiz as The Crystal Ark, how you guys met and how you work together?
Viva and I met in Berlin when I was still living there and she was passing through on tour with a performance company called Big Art Group. It was a chance meeting but I instantly felt a connection, and then a little later we ended up performing at the same venue in Paris when I was first starting the Black Meteoric Star/AVAF collaborative shows. When I made the instrumental tracks that became the first Crystal Ark songs I wanted someone to do female vocals in Spanish and thought of her. She said yes and we started working on these songs, the name The Crystal Ark was born and it grew from there.
Now the group contains a lot more people, but primarily I write the music and Viva writes the lyrics and sings. There's some overlap too but in the broadest strokes that's how we worked on the LP coming out in October. When I was still doing Black Meteoric Star I invited Viva and another collaborator of hers, Jaiko Suzuki who is also in The Crystal Ark now to dance onstage during the live shows. They did some very ceremonial intense movement that perfectly matched that sound. Some of the performative aspects of The Crystal Ark live show grew out of that. Out of us working together we naturally both brought people we had worked with before into the group when it made sense to. And the sound of The Crystal Ark is really the sound of us two getting together and making something.
Generally speaking do you enjoy working within a collaborative atmosphere more than on your own? What are some of the pros and cons for you?
I really enjoy both. It's important in any project that I have a significant amount of time on my own to let deep vibrations rise up and really hear what wants to come through me. And sometimes that on its own is really perfect too. And it is also very cool and rewarding to work with someone else who has a different energy and experience and see the way their vibration inflects mine and vice versa.
It seems that a lot of your output has been as a remixer. Is this a preferred medium for you to work with or is it just that people keep asking and you keep saying yes?
I enjoy doing remixes as a way to hone my production techniques, experiment with new sounds, get inspired and develop connections with artists whose work I enjoy. It's also part of making a living as a creative person. People do keep asking and when it makes sense to, I say yes.
Your latest release was as Knight Skyy. Is this going to be a name you use more in the future? And is the name a reference to the Salsoul band Skyy?
I created that alias as a way to pursue dark and atmospheric dance-oriented music that didn't fit anywhere else. My recent release on Ntrop recordings, which I recorded in October of 2009, is the only thing I've created under that name as of yet but there will likely be some more work that eventually fits into that category. And yes I guess the doubled Y in Skyy came from the Salsoul band, rather than from the vodka. But it was mostly just a kind of "artistic" choice.
With LCD Soundsystem no longer a band, do you foresee the possibility of there being some kind of spin-off group in the future?
I really have no idea what the future holds for LCD Soundsystem and my work with the band. The current line up of The Crystal Ark, the band I started with New York artist/filmmaker/musician Viva Ruiz in 2009, contains a couple former members of LCD — Tyler Pope and Matt Thornley — both of whom I got close to on the final tour. Continuing to work with them has been a great experience.
How was it working as a part of a well known band as opposed to working on your solo stuff or with one other collaborator?
I've done a lot of work with LCD in various capactities over the past 10 years. I have learned a lot from watching how James Murphy works. Playing with the band on tour and in the studio was like a grad school education in putting on a show. And because of the way I got plugged into the band I was able to bring a lot of my own flavor to the songs which James wrote. It was a great experience and it was a lot of fun.
You've built some impressive pieces of kit in your time, among them a guitar sequencer. Do you have anything new in your arsenal that you've built?
Over the last three years I've been working with Jared Ellison, DFA's current in-house tech, to develop a streamlined and up to date version of the machine that I currently use to create a lot of my sounds, which I built the first version of in 2001 and then an update version of in 2004. We are making steady progress on it. I reached a point where building machines from scratch was no longer feasible. I also primarily create tools so that I can make music with them. It's kind of a situation where I built my own house and am now living in it, rather than a situation where I'm a house builder by profession.
Have you ever been approached by a synthesizer company or the like to build for them?
No; I have been approached by many many individuals, though.
What can you tell us about the mix that you've put together for us?
It's a DJ mix, music to dance to. DJing parties has been part of my musical practice since I was 15 and in the past 10 years it's become one of my main creative outlets. I mostly DJ from CDs or files these days but at home I still have turntables and piles of vinyl that I'm slowly converting to HQ audio files. Alessio [promoter of one of the London parties Gavin is playing at next weekend] asked me for an example of my DJ set and I pressed record, grabbing the records that were around and mixing them live as if I was playing a party. It came out with a lot of reference to witchcraft and sexuality which are great subjects and ones I'm a proponent of discussing especially in the context of a dance party. There are some of my top Chicago classics in there as well as some stuff from one of my favorite labels, Man Recordings out of Berlin. And some other things too. The mix is rough, a bit blown out audio wise too, but it was great to just grab a moment and lay it down in real time, and I knew that couldn't be recaptured by going back and doing it again.
And what can we expect from Gavin Russom and your many monikers over the next year?
My main focus over the past two years has been producing an LP and live show with The Crystal Ark. The first single from the LP is "We Came To (versions)" and it will be released September 3rd on DFA. The LP is slated to come out later this year, also on DFA. The LP release is going to be followed up by a live show similar to those we've played over the past year, but with new music and basically supercharged. Viva directed the video for our first single "The City Never Sleeps" is directing a new video for "We Came To" which will follow up the single release. The Crystal Ark band is a real meeting of talents that came out of both Viva and I bringing people we wanted to work with into the group. It currently includes Jaiko Suzuki, Sokhna Heathyre Mabin, Alberto Lopez, Matt Thornley, Tyler Pope, Eliza Douglas, Alberto Cortes, Irene Deros, Bec Stupak and Johnny Woods.
I'm also doing some selected solo live concerts, the first of which is September 8th at Corsica Studios in London with Roedelius and Andrew Weatherall. These are very much live shows, creating music in real time using the tools and sounds that I've been involved with in all my productions and remixes. I won't be performing any music that has been recorded. These are really opportunities to create a very special and intense atmosphere based on the actual moment of creative expression. DJing and remixing are constantly happening so there should be much more on that front. I did a solo exhibition at Galleria Fonti in Naples in February of 2012 and plan to continue to create exhibitions in the coming year as well.