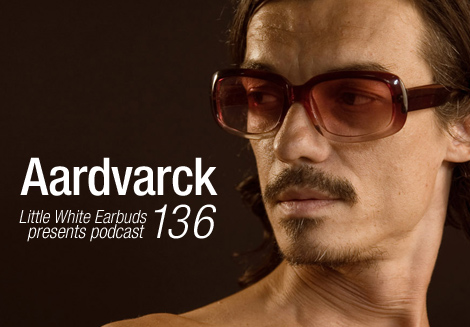 Photo by Krijn van Noordwijk
Over the years the Netherlands have proven to be an integral part of the landscape of electronic music, from their veteran producers and DJs to their clubs and peerless record labels. Mike Kivits belongs squarely in the first category; having first been turned on to DJing by his uncle's record collection, he started DJing in the early 80's and trying his hand at production just a few years later. First appearing on the famed Dutch label Djax-Up-Beats in 1993, his output since then has been a steady stream of experimental and left-footed releases, incorporating break beat, ambient, techno, hip hop and much more. His albums (there are eight of them to date) often pack all of these influences into them, and in fact you can often hear them all converging in one track. He takes a similar approach to his singles and EPs (currently more than two dozen of them), sometimes expanding on certain themes over the course of a series of EPs, like his bass and techno related releases for the Bloom label. LWE got in touch with Kivits to find out about the origin of his moniker, how hip hop and funk have laid the foundation for much of his work, and why his new home in Bali has been a life saver for him. He also mixed together our 136th exclusive podcast, a glittering collection of mostly early 90s techno that still sounds effortlessly contemporary today.
LWE Podcast 136: Aardvarck (67:42)
Audio clip: Adobe Flash Player (version 9 or above) is required to play this audio clip. Download the latest version here. You also need to have JavaScript enabled in your browser.
Tracklist:
01. Dopplereffekt, "Higgs Mechanism" [International Deejay Gigolo Records]
02. Sandor Caron, "Harmonica And Cross" [Music For Speakers]
03. Sandor Caron, "demo ca. 1999" [white]
04. Rob D, "Clubbed To Death" (Spoon Mix By Carl Craig) [Mo Wax]
05. Super_Collider, "It Won't Be Long" [Loaded Records]
06. David Sylvian, "Backwaters" [Virgin]
07. Piece, "Free Your Mind (Past)" [Planet E]
08. Unique 3, "The Theme" [10 Records]
09. La Funk Mob, "Ravers Suck Our Sound" (Carl Craig Remix) [Mo Wax]
10. Balil, "Nort Route" [Planet E]
11. Shake, "My Name Is Binky" [Metroplex, Interface Records]
12. Egotrip, "Dreamworld" [Outer Limits]
13. The Gherkin Jerks, "Strange Creatures" [Gherkin Records]
14. The Orb, "A Huge Ever-Growing Pulsanting Brain That Rules The World From The Centre Of The Ultra-World" [DFC Records]
15. Wagon Christ, "Speakers" [Rising High Records]
16. The Rotating Assembly, "Orchestra Hall" [Sound Signature]
17. Derrick may, "Another Relic" [Buzz]
18. Planetary, "Inner View" [Peacefrog Records]
19. DJ Skull, Unknown track from N.R.G. Music [Saber Music]
20. Underground Resistance, Unknown track [?]
21. OBGB, "Untitled" [Mix Records]
22. Housefactors, "Go Crazy" [Black Market Records]
23. Unknown artist, Taken from Street Sounds Electro (Aardvarck Edit)
[Street Sounds]

First of all, where does the name Aardvarck come from?
Mike Kivits: In the mid 80s I was called DJ Mike/Mike Bosch, from my home-town Den Bosch. At the beginning of the 90s I wanted a better name, a more outstanding name. So one night I was at a friend's house party and I asked people, "Who's got a name for me?" Somebody screamed "Aardvarck!"
You also have other aliases. Where did The Pig name come from?
Translate "aardvarck" and you get earth-pig. The other aliases I just made up.
When did you become a part of Rednose Distrikt? And how does D'ran D'ran D'ran differ from Rednose Distrikt?
I met DJ Steven De Peven around 1998. People said I must meet this Amsterdam DJ because we both combine different styles: soul, jazz, funk, disco, hip hop, dub, electronic stuff and more. So I met him and he asked me to play at his Jazz-a-Delic night at Mazzo in Amsterdam. From that a musical understanding between us was born. D'ran D'ran D'ran was a project of our friend Parra (a graphic designer & former DJ). Parra was the Rednose Distrikt graphic designer, our "vision" for the project. So we dropped some sound for him.
You first appeared on Djax-Up-Beats back in 1993. How long had you been making music at this stage? Were you DJing then as well?
In the mid 80s I had a simple drum machine, I was just playing around on that. I was making and experimenting with stuff in 1988 in the studio of Maarten van der Vleuten [owner of Signum Records and Passiflora]. I only had ideas, I didn't know anything about samplers or synths or any sort of studio stuff, mixing etc. The D'Jax release was my 909 programming with Maarten's animal overdub sounds. I started DJing around 1982, inspired by Kraftwerk, Prince, new- wave, the Tommy Boy label, soul, dub and disco. Before this, I put the records on at my family's parties. That was with records from my uncle's collection, which was mainly soul, funk, pop etc.
Have your methods for making music changed a lot since back then?
Yes. Haha, I still feel like a monkey with machines. Even now that it is 2012, I want to learn about production! I want to get my sound sounding good!
There's obviously a deep love of old school hip hop and funk in you.
Yep, from an early age I was hearing soul and funk from my uncle's record collection, then in 1979 my sister got The Sugarhill Gang's Rapper's Delight 7″, which was a top 40 single, so…
Is this the music that first got you interested in DJing and producing?
Yessss, and those sounds of 1982 drum computer productions. But it took a long time for me to start producing because I was overwhelmed by the machines and the technical studio world. The first beat-type things that hit me hard and made me want to make music was Kraftwerk, Prince and Afrika Bambaata's "Looking For The Perfect Beat" and "Planet Rock."
When did you move to Indonesia? And how has this change affected your general outlook to life?
20 years ago I had a few manic depressions and then 10 years ago I was in a coma and had a near-death experience. Exploding and imploding emotions were getting stronger in the last years I lived in the "west" of the world: I was experiencing deep depressions, it seemed like there was no way out, darkness. I was living a hermit's life. Then, in 2010 my uncle invited me to Bali. He said to me "Mike! Start your own bar! I will invest." So now I'm here, in Bali.
Would you say it has also affected the kind of music that you make?
I feel at ease in Bali, I'm happy here. My emotions are running. That affects my creativity a lot.
Do you tend to go through periods of wanting to make a particular type of music or does it differ all the time?
I get inspired by all music I love, whether that is Hudson Mohawk, Rustie, John Coltrane, African or even traditional Balinese Gamalan music. When I FEEL something, I make it. So you could say my style is timeless.
Dubstep obviously made quite an impression on you when it came out. What were some of the tracks that you heard that made you want to try your own hand at making it?
Coki and the DMZ stuff was so deep, it's like 70s dub meets the abstract, the sound is massive.
What's happening with the Bloom releases? Are we likely to see some more of those?
That was just for fun, but I'll keep making the slow stuff.
You've been turning out albums very consistently for some time now. Are we going to hear another Aardvarck album this year?
Haha, yes, I'm making an LP right now for Skudge, and I've got tons of ideas for it. It will be an uptempo album for sure. But communication overall, while I'm living in Bali now, is a mess. Plus I feel my production is in a learning phase. This monkey needs help. My hope is on C. Penn (L.A.); he's got a studio in Bali and I'm gonna meet him next month.
What can you tell us about the mix you've put together for us?
My idea was to show my vision on techno. It's a very long story for me to make short, from 1988 until my first five years of house/techno output. Also it made me think: what is techno? For me, I think regarding the tempo style, it's the feeling!
And what can we expect from Aardvarck over the next year?
I will keep making mixes. I'd love to make a proper "studio" here and I'll step up and manifest all the ideas I have in mind.