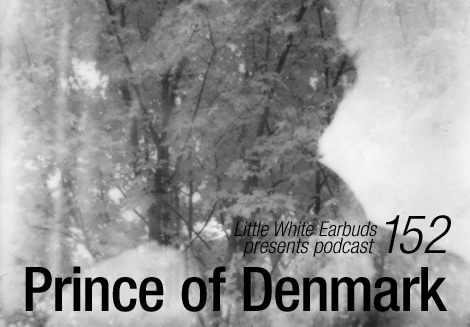 Before the Internet came along and united the international electronic music community, there existed a real air of mystique around many of its protagonists. Some adopted a slew of different pseudonyms to help propagate their own myths. It lent an air of fantasy to the music; knowing only that the piece of vinyl in your hand came from a particular city or country somehow made you feel like you were in possession of an artefact from a secret order. It's incredibly hard to do that nowadays. Those artists who have tried are eventually outed, so when one comes along whose identity is a genuine mystery, it's a case of enjoying it while it lasts. Prince of Denmark is one such artist. First appearing on the Giegling label late in 2010 with an incredible four track EP of the deepest dub techno imaginable, he has surfaced only recently with an equally impressive follow-up. His royalist leanings also extend to his Traumprinz alter ego, under which he has crafted four superb EPs of a more housey nature. With very little information to go on, and not expecting to receive a whole lot more, Little White Earbuds contacted the anonymous producer to try and glean a few fragments of insight. We discovered that our Prince loves a latex body suit, has a whole raft of new material to unleash on us, as well as an very active imagination. Through our 152nd exclusive podcast, we also discovered that he puts together a formidable live set; the nearly hour-long mix of his current and forthcoming releases that serves as an amazing introduction for those as yet unfamiliar with his work.
LWE Podcast 152: Prince of Denmark (56:47)
Audio clip: Adobe Flash Player (version 9 or above) is required to play this audio clip. Download the latest version here. You also need to have JavaScript enabled in your browser.

There is next to no information about you out there, unless your real name is Frederik and you are first in line to the throne of a wealthy Scandinavian sovereign state. Can you give us a bit of information about growing up as the Prince of Denmark?
Prince of Denmark: Oh yeah, it was sometimes hard, you know — pretending to be mad, spending most of my life questioning existence. But it's all good, I can handle that.
You also moonlight as another kind of Prince. Can you tell us about Traumprinz and the differences between the two projects?
Traumprinz is more of a child that likes to play with things.
What's the reason for the secrecy? Are you an established artist who wants to have an anonymous side-career or perhaps an attention shy producer like Burial who just wants to be left alone?
I sure like to share my music with people, but I feel pretty sensitive about how it should feel to give something from myself. Joy and the freedom to express whatever you want are far more import to me than anything else. I don't know, I just want to make some music, take my time and make my experiences. Anonymity as a certain concept is not my thing. Somehow it just doesn't make sense to me yet to go out.
What are some of the pros and cons behind your anonymity?
You can wear a whole-body latex suit all the time and you get away with that, pretending music does play any role. If you're not too much into that kind of stuff it will be quite annoying to do that all the time.
Do you DJ as well as produce?
I first started DJing. I loved it and I took it quite serious at that time, but somehow I lost my interest in it after a while. I think it was very formative to my approach on making music. I love how a well made DJ set can combine all kinds of genres and open spaces. It can set you into a imaginary place. For example, the imagination of taking part in one of the first abandoned warehouse raves in '89 somewhere in England or conincidentially for the first time stumbling into a dark basement rave party in East Berlin in the early 90ies, just after the wall came down, makes my fantasy glow on how things could have been. That inspires me to put a live mix together but doesn't necessarily require you to picture this musically one to one, it should simply capture some of that feeling. Like the one I gave to you.
Your Prince of Denmark EPs have got dub techno purists preparing for the second coming. Are you going to be releasing more material under this name? And also under Traumprinz?
The Staub series will be let to end. There's one last release together with Vril that will act as a sublimation of all things that we have done there. There's also an LP planed on a new imprint that is part of the Giegling family. Then there is a various artist EP with some of my beloved friends that I originally shared the same hometown with, including the likes of Herr Koreander, leafar Legov and Vril on Giegling, all under the name of Prince of Denmark. And one release as Traumprinz also on the Giegling main label. I guess all within the next three or four months or so.
I understand that the podcast you put together for us is made up of all your own material. Can you tell us a bit about it? Was it a live set or DJed?
It's a live set that I DJed. As I mentioned above, I like to give my live sets some kind of a DJ-set feeling.
I've come across another set like this of yours. Do you perform live or have these sets been put together just for people to hear more of your productions?
No, that Giegling mix was originally made, you know that good old, classic thing, for a girl I fell in love with. We're happily together ever since I gave it to her.
What can we expect from Prince of Denmark in the next year?
Plenty of Eurodance inspired soul music along with some nymphomaniac, dystopian house and techno. I might also send a guy who looks a little bit like I do on a tour to perform my music.