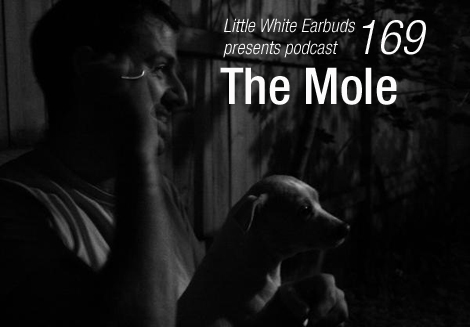 With the levels of passion that are involved in the genre, this music that we spend an inordinate amount of time following, consuming and collecting can often be a very serious business. It's a relief then that there are certain characters within the industry that take a more lighthearted approach. Colin de la Plante has been producing since the early part of the millennium, first appearing as The Mole on the Canadian label Next Door with Chris Hreno in 2001. Around the middle of the decade we started hearing more from the producer, with his releases gracing the labels of Philpot, Arbutus, MUTEK, and of course Wagon Repair with greater frequency. His music traversed many genres, taking in elements of disco, house, acid and techno, but always came across sounding like the producer was having a lot of fun making them. Aside from his own productions, he is a member of the Modern Deep Left Quartet and Cobblestone Jazz, ran the 7 Inches of Love label with Koosh and now has his own label Maybe Tomorrow, which so far has been a new outlet for his own material, including his impressive new album, Caregiver. LWE wanted to find out what made the producer tick, so we reached out and in an interview that tackled the big issues like childhood dreams, mustaches, paddle boards and classic Canadian rock, we felt a little bit closer to unraveling the enigma that is The Mole. He was also kind enough to put together our 169th exclusive podcast, a fifty minute journey of faultless house music that takes in some of his favorite tracks of the moment.
Download LWE Podcast 169: The Mole (50:00)
Audio clip: Adobe Flash Player (version 9 or above) is required to play this audio clip. Download the latest version here. You also need to have JavaScript enabled in your browser.
Tracklist:
01. Sound Stream, "Julie's Theme" [Sound Stream]
02. Moodymann, "Got To Make It" [Scion Audio/Visual]
03. Murat Tepeli, "Forever" (Prosumer Remix) [Philpot]
04. Projam, "Into The Groove" [Crucial Sounds]
05. The Tortoise, "The Puffing Tortoise" (The Mole & Hreno Remix) [Third Strike Recordings]
06. Chris Carrier, "a" [unknown]
07. Daze Maxim, "Farbfilm" [Apollonia]
08. STABLO, "Untitled 9998-A" [STABLO]
09. Boo Williams, "Big Fat Women" [Contemporary Scarecrow]
10. Roman Flügel, "More & More & More" [Clone Jack For Daze]

I understand you recently returned from Mexico. What were you doing there?
Colin de la Plante: I just heard the terrible news that Romanthony is dead… I'm in shock. I've been listening to him since I got into house music… Sorry that doesn't really answer the question. Let me start with the next one. It's still hard for me to swallow this one.
You were named in URB's next 100 in 2004. If you were to feature in a list in 2013 what would it be and what placing would you give yourself?
That's an odd one… you know when that list came out in 2004 I thought, I'm no newcomer. But now, if the same thing happened today, I might consider it a compliment. What list would I put myself in? I'm not sure. My mom would put me in the genius list I think. I suppose most any list is good though right? Unless I'm at the bottom of the ugly faces when DJing list… I don't think I'd appreciate that one. Mum would be upset for sure.
When you remix you occasionally call the remix an MMD remix. What does the MMD stand for?
I stole the idea from Eric and Parish.
Is the rumor true that you dare not make an El Molito record unless you're currently sporting a mustache?
Is there a mustache rumor going around? I knew there was a reason to be on Facebook. And I missed it! I rarely commit to mustache events, but I do support solidarity with my friend t-bar and the odd birthday present or Stanley cup race, if I'm paying attention.
What did you want to be when you grew up?
You know I had a great physics teacher in high school. He would explain everything in terms of either his house, or his car. He loved his car. He also had the habit of finishing classes by denouncing everything he'd just said with – too be honest, nothing I've said is true, but that won't matter until third year university, so until then let's pretend it is. He also let me sleep in class and made me think astrology would be fun. In the end they were the coolest in the physics department, the stargazers I mean. All beards and mellow understanding.
Where did the name The Mole come about?
Sorry but I'll have to skip this one, it's just too exciting of a story to share. Or is it too boring? Yeah that's it… it's too boring. Now El Molito, now that's a story worth telling. When I did the last album I considered making up a new story for every time I get asked this question. But I opted for laziness instead. The sloth is strong in me. My spirit animal don't you know.
When did you first start working with Cobblestone Jazz and what is it like being a part of a group, with four people making one track?
I was working with them before the name Cobblestone Jazz existed. We used to be, and still use the Modern Deep Left Quartet name. That grouping started out when I was still living in Victoria, BC. I'd wager around 96 or 97… I moved to Montreal in late '97. We used to play raves and parties at places like the Capital City Cultural Association. We used the elephant head as our mascot, and we were freewheeling hippies hyped up on improvisation.
Being part of a group is the greatest. I'm super lucky to be working with such talented musicians. I think Dan put it best: "it's not music until you're playing with someone else." Probably misquoting him there, but at least the idea is close. I like to think of it like we're all swimming, holding onto one paddle board, and we're all kicking away, sometimes spinning in circles, sometimes getting to shore, but never going in the direction any one of us is facing.
How much emphasis is there on trying to adhere to the jazz part of the name?
It's all in the concept I think, the improvisation and the structure. But then again, what is jazz? That word is so loaded with meaning. It all depends on what it means to you. For me it's a feeling, a stance, a desperate cry for help. And it's also my uncle Greg, who I think would dig some of the jazziness in Cobblestone.
Your 7 Inches of Love label was very popular but all of a sudden just stopped. Did you feel you'd done the edits thing to death?
I stopped it because I figured 7 x 7 inches of love was pretty cool. There's some kind of statement there. But like Torsten at Hardwax said, never say it's over. I was recently talking with Koosh, who I started the label with, about doing a box set of 7 more records and some kind of poster, or something.
But no I didn't feel like the edit thing was over for me. Since then I've done a couple of sides for some of the other western Canadian 7 inch labels, like Eddie C's Red Motorbike and Dane Gretzky's Common Edits. I imagine there'll be more to come. The format is just too much fun, like hockey cards all over again, which I think may be the reason Euro rack modulars are so much fun as well. All about showing your buds what cool new rookie card you scored and eating those sticks of hard pink gum.
We've recently started a new section in our podcasts called I Didn't Know That. Basically the artist (that's you) tells us something that we're unlikely to have previously known (like a bear can survive purely on the sweat from its own knuckles for 3 months – that sort of thing). So over to you.
Well normally, when stumped for a story, I default to my previous work experience. So how about this one: I used to change light bulbs, neon lights bulb. I'd walk around on drywall stilts with a bunch of other dudes, and we'd change every bulb in an office tower. Seems ridiculous doesn't it? But maybe that's not what you were after. Maybe you're looking for more of a Cliff Clavin little known fact type thing. How about this? Shakespeare was not generally appreciated by his peers. His contemporaries thought of his work as throwaway, popular entertainment. It was only much later that he became the giant of English that he is today. They say this is because he wasn't writing in the popular genre of the moment, the epic poem, and therefore could not be taken seriously.
Your As High as the Sky album was a brilliant piece of work. Were the tracks for the album all written expressly for it?
Oh very kind, thank you. The songs written for the album? Not really… actually, not at all. The songs were written over a fairly large amount of time and were taken from my "vault." It was more like I had enough pieces for several puzzles, the tricky part was getting them to fit into a nice picture.
That question was really just a segue into talking about your new album. So, tell us about your new album. Where was it written and devised and did the process differ from the one you employed for As High as the Sky?
I did most of this new album in the now defunct Wagon Repair Studio A in Berlin. The biggest difference between the albums has to be the studio, and Berlin. Having spent some years here now, hearing so much techno, and getting to use some of the nicest equipment I've ever seen (thank you Mathew), well I think the sound is more sophisticated as a result. Doesn't necessarily mean the music is better, but the sound is for sure way better.
You started your own label Maybe Tomorrow last year. So far we've just seen the one release on it. Have you got anything lined up to follow that up?
Number two came out in April. It's on the streets and in some record bags. Hopefully you'll be hearing soon. Someone other than me has got it up on YouTube already, misspelled the track names even. And there's the new album, Caregiver. After that I'm not sure yet. Me and Jon [Berry] are talking about that now.
I feel like we have to talk about Canada a bit. Personally, I grew up listening to Bachman Tuner Overdrive's Not Fragile album and got the impression that Canada was a hard rocking country. Who were your Canadian heroes as a kid?
Canada is a classic rock country for sure. That's all I heard for years. Most of my friends saw the Grateful Dead at one point. And I grew up in Vancouver so of course the grunge scene was huge. I saw many of those bands. Canadian heroes though? That's a good question. BTO was always on the radio, as was anything Neil Young did. The Guess Who were all over the place. I wasn't much of a Rush guy but they were always there.
No Means No are still heroes. But honestly I was more into Led Zeppelin and Hendrix. We took pride in noting that Hendrix played one of the local high schools before he got huge. Actually the Canadian list is pretty long. I had one ex-girlfriend challenge me, asking how many Canadians won the Nobel Prize. The answer is not many, but the contributions have been many. The Kids in the Hall are still one of my favorites. And The Medium is the Massage, and Gould's idea of the north.
How does living in Berlin compare to Montreal? What are the pros and cons for you?
I'm getting tired so I think I might stop soon… Not that I don't like the questions. It's just the sun's coming up and I should get some shut eye. Let's see, Berlin and Montreal… Well they are both pretty laid back, which suits me just fine. A good quality of living and they are both decades old centers for alternative lifestyles and fun, both great cities that support all manner of art. Winter sure is a hell of a lot warmer in Berlin, but way darker too. I love the freedom Berlin gives you, but I miss home as well. Friends and food and good west coast weed. The beer is fresher in Berlin but the poutine's best in Montreal.
What can we expect from The Mole over the next year?
There's a whole lot more productions coming. I've finished an album with Mathew Jonson and Chris Hreno of the most psychedelic music I've been a part of. Real space stuff. Not sure when or where it'll come out, we're still sorting that part out. But I'm super proud of it. If you've heard Mat play live in the last 3 years there's a good chance you've heard some of it. There's remixes all over the place, many with my pal Hreno. A new MDLQ EP is in the works too. I'm sure there's more stuff that I'm forgetting. playing live or touring somehow, the Perlon record…
Anyway I've got to sleep now. The birds are singing and the sun is trying to burn off the clouds, so I'll sign off and say thanks for your time. I appreciate you guys featuring my mix on your website.