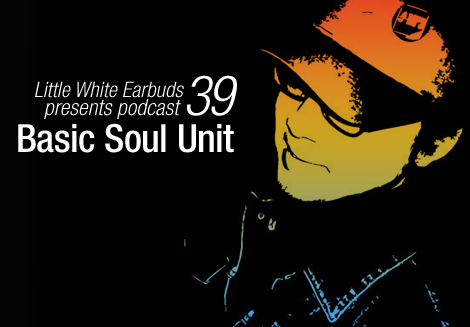 As Basic Soul Unit, Toronto's Stuart Li has earned a reputation as something of a producer's producer. Combining the rough-hewn trackiness of underground techno with hazy atmospherics of deep house (not to mention a healthy pinch of low-end and DFA-style synth wackiness), his releases for labels like New Kanada and Mathematics have shown they can play chameleon in practically any discerning record bag. But 2009, which saw his "Dank" single released by Philpot and his track "Things Pass" included in Ostgut Ton's Panorama Bar 02 EP, scraped away at Li's underground status, raising the bar on his studio prowess while placing Basic Soul Unit on a whole host of new radars. Whether you call it a 2009 victory lap or harbinger of a stellar 2010 to come, LWE's 39th podcast, an exclusive mix of heavy, organic, and thoroughly trippy house grooves, gives us a rare and tasty showcase of Li's DJ chops.
LWE Podcast 39: Basic Soul Unit (66:35)
Audio clip: Adobe Flash Player (version 9 or above) is required to play this audio clip. Download the latest version here. You also need to have JavaScript enabled in your browser.
Tracklist:
01. Lawrence, "Miles" [Mule Electronic]
02. Thomas Brinkmann, "Isch" (Soulphiction Remisch) [Petite]
03. Rainer Trueby, "Ayer's Rock" [N/A]
04. Blagger, "Strange Behaviour" (DJ Koze Aka Swahimi Remix) [Perspectiv]
05. Kris Wadsworth, "Mainline" [Hypercolour]
06. Mr Raoul K, "Wind Of Goree" [Mule Musiq]
07. Will Saul & Tam Cooper, "3000AD" (I:Cube Dub Mix) [Simple Records]
08. A.D.P., "Prototype" [Kunstkammer*]
09. Brendon Moeller, "Hustle" [REK'D]
10. Willie Graf & Tuccilo, "Snerata" [Circus Company]
11. Levon Vincent, "Air Raid" [Ovum Recordings]
12. Kris Wadsworth, "Warm Midnight" [Dark Energy Recordings]
13. Andreas Saag, "Jazz Lapse" [Room With A View]
14. Legowelt, "Police 303" [M>O>S Recordings]
* denotes unreleased tracks

Toronto doesn't have the name recognition in dance music of, say, Chicago or Detroit. What was the scene like when you were coming up, and what's happening dance music wise in Toronto today?
Stuart Li: From my experience (not to say that I'm an authority on the subject) Toronto may not have been an emanating source of dance music but it was a point of convergence and absorption. That is to say there wasn't a definitive Toronto sound (of course we had a few known exports like Nick Holder, Strobe Records, Stickmen, etc.) but being in-between Chicago, Detroit and New York we took in all the influences and sounds coming from those places. Europe too had an influence on Toronto, not just musically but a lot of British expat DJs and promoters would pass on their knowledge of European club culture to the city. I was too young to go clubbing in the late 80's (the main club at that time was Twilight Zone, which was described as Toronto's answer to the Paradise Garage or the Warehouse). However, I discovered dance music through the local college stations on shows like Dave's Dance Music (they would play a wide range of music including house, hip-hop, electro, R 'n B and freestyle). When I was going out in the early 90s' there was a big warehouse scene (some of the DJs were Mark & Aki, Dino & Terry, and PTS). You would hear a spectrum of house music from jacking Chicago, to deep Detroit house & techno to "vocal garage" and also the rougher styles (think Todd Terry) from New York. The crowd was mixed, a large percentage gay and very much into music. It was definitely a liberating experience. From about the mid-90's as the sound was getting bumpier and harder I exited house music for a bit and got into jazz, soul, disco and so on. I was more into the soulful end of things and excited about finding out the source material for a lot of the samples in house and hip-hop. I did eventually find my way back to house during the late 90's and early millennium with a revival of sorts in Toronto (it was the time of Roy Davis Jr., Spiritual Life, Ibadan, Body n Soul, Ron Trent re-emerging, Moodymann and Theo of course). Almost fittingly, I kept traveling back in time back to my roots and ended up getting back into Chicago and Detroit influenced material.
As for the present, I may not be the best person to judge the state of the scene. Having a family and having to work, I've not been out as much these days. From what I can tell though things still seem healthy. There are a couple of good small and medium clubs with good programming. Most of the good nights though are loft/warehouse style and after hour parties with local DJs. There are nights for those that like it soulful and nights for those that like it bumpy or techy. But I wish there was a bit more mixture and a night with a wider spectrum of deep sounds. For awhile I put on a few small nights with some friends and we would bring in guys like Mike Huckaby, Norm Talley, Alton Miller and Mike Clark. They were great nights but in the end we still didn't break even and sadly we couldn't keep it going. At the moment, there's not much happening specifically in the spectrum and range of music I like to hear out (and I'm getting too old to promote it myself, ha). Production-wise, there are a few up and comers that seem to be rising to take the place of Toronto area veterans like Nick Holder, Mike Shannon, Adam Marshall or Jeff Milligan, most of whom are based in Berlin now. Although I don't know most of them personally, names like Johnny White, James Teej, Noah Pred, and Martino come to mind and its exciting to know.
Your experiences working at Toronto's Cosmos Records exposed you to a wide assortment of music styles. Do you think this richness of influences has been a major contributor to the versatility of your productions?
Definitely, even if not on the surface. Just being open-minded to listen to different types of music and take and learn from each. After all, I'm a music lover. What I produce comes partly from what I'm capable of technically and musically (not being that technically adept and not being trained musically), but it is also a distillation of my influences. In fact, Cosmos is owned by the aforementioned Aki who used to be a well known house DJ in the early 90s' and now pushes (amongst classic house) jazz, soul, funk, disco, Latin, Brazilian, Afro-beat and more. Also gotta mention Jason Palma, another well respected house DJ and record shop owner (Play De Record) who also opened up my horizons musically and gave me one of my first breaks playing eclectic sets at his night in the original Octopus Lounge. Presently, I still do a "jazz/soul/funk/disco/latin/etc." night in Toronto with Jason (along with another friend General Eclectic).
Were there any records or DJ's that got you to narrow your focus on Detroit- and Chicago-influenced club music?
I don't think there were any particular records or DJs that narrowed my focus. Actually the DJs I like tend to play wide ranging sets: Three Chairs, Harvey, the Body 'n Soul trio of Claussell, Krivit & Kevorkian, Ron Trent, Gilb'r, Prins Thomas, etc. When I started listening to techno and house again (everything from Perlon, Trapez, Playhouse to Delsin, Rush Hour, Planet E and more) in the late 90's and early 00's, I liked the percussive and syncopated feel of it which brought me back to jack; on the other hand, I also liked soulful music, so I was following the melodic output of producers like John Tejada, Titonton, Fabrice Lig and so forth. I guess that's what led me to my direction.
You've had records on labels as diverse as Philpot and Mathematics, but Ostgut Ton — home of your latest, "Things Pass" — makes for a surprisingly good fit. Tell me about your involvement in Panorama Bar 02. Was "Things Pass" a track you'd had around for awhile, or did you have Ostgut Ton and Tama Sumo in mind specifically?
I still can't believe I've had the good fortune to be able to release records on some of my favourite labels. It's something I wouldn't have thought possible seven years ago when I started trying to produce. Regarding "Things Pass," I did have it hanging around for a bit. At the time I did the track, I had no idea what Panorama Bar was like outside of what I heard or read about it. Kerstin (Tama Sumo) and I had been keeping in touch for awhile and I finally met her when I played at Panorama Bar for a Versatile night in March this year (also finally met Gilb'r and I:Cube for the first time). Soon after, I received an email about her project and a request for tracks. I dug up "Things Pass" and submitted it along with a few others. In the end that was the one she liked best.
Does contemporary house and techno excite you? It seems like a pretty good moment in time to be Basic Soul Unit.
For sure I still get excited about new music all the time. Especially with some of the younger producers who may not have a long history with dance music, it's always great to hear their fresh take on it. As for myself, I guess the current deep house, Detroit and Chicago revival has worked in my favour, but all trends will come and go and I just gotta stay true to myself. It's not like I make a living off music at the moment anyway so it makes it easier to focus on what I want to do.
Who are some of your favorite producers right now, and who from the past do you keep coming back to?
As you might guess, too many to mention but some current producers would be Redshape, Deetron, MCDE, DJ Koze, Shed, Flying Lotus, DOP, Minilogue, Martyn, Jackmate/Soulphicton, Hieroglyphic Being, The whole Firecracker crew, Lerosa, a lot of the new generation of Detroit artists, the list goes on. Past producers have got to be Larry Heard, Marshall Jefferson (especially his Jungle Wonz moniker and the couple tracks he did as Truth), Lil Louis, Carl Craig.
You've been heavily involved in the relaunch of Toronto's Left of the Dial label. What's your official role at the label, and what's next from the LOTD camp?
LOTD is actually owned by my friend John Kong. It's a sub-label of Do Right! Music (think of Do Right! as Toronto's version of Talkin' Loud or Brownswood). He started back around 2005 with the idea of LOTD being the more electronic oriented release outlet. There were two initial releases from fellow Torontonian Stephane Vera and myself. Then things kind of stalled a bit because he got busy with Do Right! At that time I wanted to learn about the record biz, so together with good friend Jason Ulrich, we brought up the idea of helping out with the label. We take care of A&R and some promotional duties and design. Since then, we've released material from K Alexi, Alton Miller and Tony Lionni. We are going to release an EP (at least digitally for now) from Jacob Korn early next year. He's an exciting up and comer from Dresden, Germany (some of you will know him from his recent Running Back release). There is also some new BSU material in the pipeline.
What's on the horizon for Basic Soul Unit? Any upcoming records or gigs we should know about?
Actually, speaking of Jacob Korn, I have done a remix for him coming soon on Dolly (Steffi's new label), as well as remixes for Spanish label Hivern. There's some material that's been on hold with Jerome Derradji's Still Music which hopefully will see release sometime soon. Then's there's the above mentioned LOTD project. Beyond that, I'm just trying to find time to get some new ideas down. I do hope to get out more next year too, so hopefully I will visit a city near you soon.
LWE Podcast 39: Basic Soul Unit (66:35)