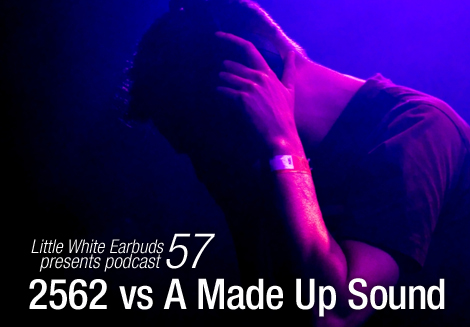 Dave Huismans has certainly been a busy man. After last year's excellent Unbalance LP as 2562 he founded his own label A Made Up Sound as well as issued a one-off twelve as Blackout. Untethered by tempo and genre restrictions, Huismans injects loads of funk into kinetic tracks that detune and contort around technicolor synths and shattered beats. We caught up with Huismans to chat about his recent activity, the difference between his monikers, as well as some of his current favorites. He also provided our exclusive 57th podcast, full of fresh and exciting cuts from all corners of dance music.
LWE Podcast 57: 2562 vs A Made Up Sound (64:12)
Audio clip: Adobe Flash Player (version 9 or above) is required to play this audio clip. Download the latest version here. You also need to have JavaScript enabled in your browser.
Tracklist:
01. WNCL, "Mrs Fingers" (Quantec Remix) [WNCL]
02. Instra:mental, "Rubba" [Swamp81]
03. Martyn vs Mike Slott, "Untitled" [white*]
04. T.Williams, "Chop & Screw" [Deep Teknologi Records]
05. Cosmin TRG, "Bijoux" [white*]
06. Breach, "Fatherless" [PTN]
07. A Made Up Sound, "Rear Window" [Delsin]
08. Skudge, "Overture" [Skudge]
09. Will Saul & Mike Monday, "Sequence 1" (Scuba Remix) [Aus Music]
10. F, "Slowdown" [white*]
11. Boddika, "You Tell Me" [Darkestral]
12. Lone, "Pineapple Crush" [Magic Wire]
13. D-Bridge, "ZX81" (Shed Remix) [Fat City]
14. Ramadanman, "Space Dance" [white*]
15. Wax, "No-20002" (Pinch Remix) [white]
16. Basic Soul Unit, "Jak'd Freq" (A Made Up Sound Acid Bonus)
[Crème Organization]
17. Studio 1, "Rosa 1" [Studio 1]
18. D.I.E., "Detroit Technobass" [M.A.P.]
19. Addison Groove, "Sexual" [white*]
20. A Made Up Sound, "Extra Time" [A Made Up Sound]
* denotes tracks which, as of the time of publishing, are unreleased

First off, please tell us about the mix. Where and how was it recorded and what was the general idea behind it?
At home on two decks, two CD-players and a small DJ-mixer. I simply had a lot of good new music on my hands I was playing around with.
You've already done two albums as 2562 and released a mini album as AMUS. Are there any plans to do a fully released AMUS album?
Not yet. I don't know if there will be. I only want to do one if I really have an idea for it; just writing tracks and putting ten good ones on an LP doesn't make it an album for me. At the moment I focus on building my label.
How has running your own A Made Up Sound label been going? Is there any reason you opted not to do a 2562 label?
I'm really happy with it, so far every release is 100% how I wanted it to be. Don't get me wrong, I've worked with great other labels, but nothing beats doing everything exactly how and when you want to. As for 2562, although musically both projects may not seem that far apart it's almost schizophrenic how different I approach them. With 2562 right now it seems I ONLY have ideas for music in the context of an album or project, I haven't been able to write 12" material in over a year. Food for psychiatrists.
How did the Blackout label/release come into being?
It's a one-off, three tracks that didn't quite fit on the Unbalance LP but I still felt strongly about and have been playing out a lot. Putting them out officially after the album would have been like a step back in time, so I decided to release them in a low key way.
To our knowledge you've not yet collaborated with any other artists. Is that something that would interest you, and who would you most like to work with?
Generally I prefer to work alone, do things my way, lose myself in it. Still, I actually do have one collab going on and the result is something that sounds like neither of us. That's when it becomes interesting.
Are there any musical styles you've always wanted to make but have not yet gotten around to?
No, I don't think like that. I just make music. The stuff I'm working on right now… if people ask me what kind of music I make, I genuinely have no idea what to answer. That's where I want to stay.
A lot of "dubstep" artists have been slowing down their music to more house/techno-friendly tempos while not abandoning the half-step feeling that earned them the "dubstep" tag in the first place. How do you feel about this general trend away from 140 bpm?
I guess it depends on how it's done. Of course I come from the other side; starting stuff at 140 was an experiment for me, not the norm. But to be honest most of the current trends in bass music I'm not really feeling. They seem to have helped raising an appreciation of house and techno among certain circles though. The other way around, similar things happen. That makes it easier to play across the board, the climate seems to get more and more open-minded — which is a good thing.
Who, or what records specifically, are really floating your boat when it comes to techno and house?
Oh man… I could talk about this all day. I gotta name Rick Wade. Whenever I'm in a bad mood I can put his beats on, bop my head and instantly feel better. That's powerful. Shake, always. Frictional is how every artist run label should be, uncompromising and unpredictable. Paperclip People and 69, NWAQ, Shed, Pepe Bradock, Andrès. More recently, We Play House. San Soda's "Doorsnee" and "Kaizen" and FCL's "Let's Go" especially. I've played them out so much. I got quite the nostalgia-bug too, revisiting the music I grew up with. Dutch labels like Fresh Fruit, Touché, Groove Alert; the old compilation CDs. Some of it is quite cheesy, some of it aged really well. I might do a mixtape of it sometime.
What's up next for Dave Huismans and your pseudonyms?
I just finished making A Made Up Sound 004 and a 12" for Delsin Records, both will come out after summer. There's remixes for Skudge and Commix. And I'm curating a night at the Todaysart festival late September in The Hague, which will see the debut of a 2562 live set with all-new material I'm writing especially for it. That is, if I manage to wrap it up in time.
LWE Podcast 57: 2562 vs A Made Up Sound (64:12)