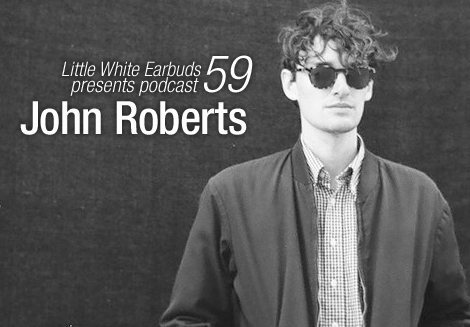 In an era of heightened competition among dance music producers for the chance to be heard, it's often not enough to quickly coalesce around a signature sound. Standing out is the reward for producers who develop an aesthetic that does more than echo bygone movements or contemporary trends. John Roberts has achieved both of these substantial goals with remarkable swiftness and positioned himself among house music's most forward thinking minds. The American-born, Berlin-based producer made first piqued our interest in 2008 with quirky, intricate rhythms and demure melodies for Dial and Feel Music. Since then his prowess has only grown more apparent as he's offered confident and melodically rich songs on Laid and Dial that reach stunning levels on his forthcoming debut album, Glass Eights. We were pleased to discuss with Roberts how his album took shape, the environs that influence his music, and what the future holds for him. He was also kind enough to compile LWE's 59th exclusive podcast, more than an hour of propulsive vintage and contemporary house.
LWE Podcast 59: John Roberts (68:49)
Audio clip: Adobe Flash Player (version 9 or above) is required to play this audio clip. Download the latest version here. You also need to have JavaScript enabled in your browser.
Tracklist:
01. KC Flight, "Summer Madness" (Sex For Days Mix) [RCA]
02. Robert Owens, "I'll Be Your Friend" (Dead Zone Mix) [RCA]
03. T. Kolai, "9.11" [Ibadan]
04. Pop Stars, "Pop Goes The House" (Dub Instrumental Edit) [BCM Records]
05. Kerri "Kaoz 6:23" Chandler, "Where Is Love" [Madhouse Records Inc.]
06. Trey Lorenz, "Photograph of Mary" (Moody Dub) [Epic]
07. Virgo Four, "Take Me Higher" [Trax Records]
08. Sfire, "Sfire #2" [white*]
09. Virgo Four, "Take Me Higher" [Trax Records]
10. Mark Imperial & Co., "She Ain't Nuthin' But A Hoe" (Dissin' All Hoes 46th Street Dub) [House Nation Records]
11. Jody "Fingers" Finch, "Jack Your Big Booty" (BHQ No Acid Vocal)
[Let's Pet Puppies]
12. John Roberts, "Porcelain" [Dial]
13. Bluejeans Regime, "Untrue Affection" (Dark Club Mix) [Brainiak Records]
14. MJB, "Seven Days" (Shelter Instrumental) [Underground Access]
15. Blackman, "Beat That Bitch With A Bat"
[Rush Hour Recordings/Trax Records]
16. G Strings, "Motivation" [G Strings]
17. Risqué Rythum Team, "122 House" [Chicago Connection Records]
18. Decadance, "On And On (Fears Keep On)" (Dub Version) [Proto Records]
* denotes tracks which, as of the time of publishing, are unreleased

Were you involved with music while growing up? In what ways?
John Roberts: I started playing the violin when I was five years old at The Cleveland Institute of Music. I went a few days a week to the school for private lessons, theory classes, group lessons, and orchestra rehearsals. I did this until I was 15, I think. Somewhere in the middle of that I started playing the drums which I really liked and continued with that for about six years. I also took guitar lessons for awhile during that time, maybe two years, but I was never very good at it and only wanted to learn how to play shitty punk songs. I'm really thankful to my parents for giving me the opportunity to take all of those lessons though.
You've cited hip-hop as one of your favorite styles of music and as source of inspiration for your own music. How then did you end up making house music instead of hip-hop instrumentals? Does making hip-hop instrumentals hold any appeal to you?
My relationship with hip-hop always existed on a very commercial level because I was just listening to it on the radio and cassettes when I was younger. For some reason I equated people who had music on the radio with people who were on TV — I thought of both as some sort of impenetrable, impossible to reach zone. So when I got interested in electronic music and realized there were local scenes in the areas I was living I guess it seemed more within reach to me. I think also just working within a house framework was something that I seemed to have more personal success at. I definitely tried to make instrumental hip-hop early on but what I was producing was sort of boring to me. Now the idea of producing some sort of commercial R'n'B or rap seems sort of appealing but I don't know if I would ever actually end up doing it.
I know you enjoy making music in bed, but I can't imagine you've got all your instruments at your disposal. What is your writing process like? Does producing in bed ever color the way you think about making dance music?
I usually start by going to used record stores and choosing things to sample. Sometimes I'm looking more for drum sounds and other times I look for something melodic to build a track around. This is one of my favorite parts of the process by far. After that I usually go to my studio and chop up the samples I want to use and record myself playing some things on synthesizers and drum machines. Then I do the actual sequencing of the tracks in bed at night or early in the morning when I wake up. I usually just do this on headphones, or if I'm completely depressed I just bring all of my equipment on the mattress with me and put monitors at the foot of the bed. I generally try to stay away from that, though. I think working in bed completely shapes that way I make music because when I'm there I feel the least vulnerable.
What has the change in environment from NY to Berlin been like for you? I imagine it can be tough to concentrate on work when there's so much else to do.
I actually had a tougher time staying motivated due to the general attitude here originally. In New York I had the feeling that everyone was hustling all of the time, so I felt really motivated to work as hard as possible. In Berlin everyone is so relaxed that it can be easy to slip into that mindset too (which isn't always necessarily a bad thing, but I prefer to stay busy). But I think it was good for me, ultimately. It taught me to be very self-motivated, which I never really was in the past.
Who are the people who serve as your musical sounding boards?
I really only ever play things that are unfinished for two of my close friends, Jeffrey and Eric. I've known both of them for years so they know what I'm trying to do, and I know how to properly gauge their responses. Then when things get to a more finished state I send them to Pete [Lawrence] and David [Carsten Jost] to get their opinions.
Editing is one of the most crucial and overlooked steps in the production. Who do you turn to for editing advice?
I try to rely pretty heavily on myself when it comes to editing. I think that ultimately only you really know why you chose to do something, and as long as you do everything for a reason you shouldn't be too worried.
You've spoken before about your wish to convey imagery you have in mind when writing a song. Your music is in fact very conducive to mental imagery, but I wonder how important it is to you that listeners picture what you do? Do your titles disclose anything in that regard?
I'm really curious about what mental imagery is created for people who are listening, but I don't think it's important that what they see is similar to what I personally imagine. The titles do sometimes disclose a visual association that I have with a track, but sometimes they are just sort of arbitrary signifiers.
How much of Glass Eights is live recorded? Had you spent much time recording in this style before the album?
In the end, all of the tracks on the final version of the album use some instruments that were recorded live. I've been trying to do this type of recording since the first records that I released, but this was the first time that live instrumentation played a more significant role. In the past I was mainly recording synthesizers or my own voice, so this was the first time that "real" instruments were recorded and used.
You've said before you've used a lot of samples. What role did sampling play in shaping the album? Did you end up sampling more of your own performances?
Collecting samples is one of the most important parts of the process for me because I really use these as a foundation to build the rest of the track on. For the album I probably used about 60% collected samples and 40% live instrumentation. But in the end, I work with everything as if it were a sample because of the sequencer I'm using. Everything sort of has to be rendered as a usable part and placed in a sample bank, then triggered from that bank during the final sequencing of the track. So for each track I have around 50-100 different samples I'm working with.
Throughout the album there are overt uses of vinyl as an aesthetic — crackles, noticeably manipulated vinyl samples. Why is it important to you that the medium becomes part of the listening experience?
I choose to use these sounds for the same reason that I sample other types of music or audio — because there are feelings associated with them I want to be able to relive in some way. What I mean to say is, if I use a rimshot from a 707, I'm using it because I have some sort of positive mental association with it (it's used often in a lot of my favorite Chicago house tracks) and this is exactly the same with sound elements from vinyl, or from physically manipulating records. I don't take the best care of my records and a lot of them are covered in dust, but I prefer to listen to them this way. I can also be really cheap, so if I have the choice between a scratched up copy of a record for $1 and a pristine copy for $15, I will usually choose the cheaper copy, especially if i'm just buying it to sample a one second segment. Although, I have definitely also paid $25 dollars for a record with a five second rimshot that I had to have, so I guess it evens out.
Did you recruit other musicians to play on Glass Eights?
I did, yes. My friend Sam plays piano on a track, I co-wrote the ninth track "Went" with another friend Carson Chan, and my mother also plays piano on a track! Working with Carson was probably the most interesting because it was kind of the first time I've worked with anyone where the situation didn't feel completely strained or forced. I gave him something I had been working on, sort of a piano composition that was made with just samples. Then the next week I went to his house and he had written some really amazing parts to go along with it. The best part was that he had actually annotated it on sheet music! I guess it was just nice to see that two people who work in completely different ways could make something together. We also had his piano tuned to match exactly the pitch of the sample that I used, which I thought was sort of interesting. That was his idea, I never would have thought of something that logical as a solution.
I've always thought of "Pruned" as one of your most advanced tracks. Is that why you chose it to be on the album of otherwise all new material?
I chose it for the album because it sort of provided me with a jumping off point in regards to the aesthetic I wanted for the rest of the tracks. I also wanted all of them to be slightly difficult to place time wise, and I felt this one had accomplished that already, for me at least. I didn't really want someone listening to the album to be able to say for certain that it was made this year.
In your earlier work I found that your melodic elements were often in the service of your rhythms, but as you've progressed, and especially on the album, it feels the other way around: all of your rhythmic complexity is there but it's the framework for complex melodies. Was that a planned transition or perhaps the mark of your growing experience?
I didn't purposely set out to make something that was more musical than my last releases, but I really wanted to be sure that I made something that was personal. I think it's much easier to create something that is a good copy of what someone else is already doing, but I didn't want to make something unmemorable. So I grew up playing the drums and violin, listening to my parents play the piano, etc. so these are things I tried to borrow elements from.
What has the experience of trying to bring your music — especially elements from Glass Eights — into a live setting been like?
This can definitely be interesting! You want to find the best way to convey the intricacies of the music that you've made in a live setting, but at the same time you are dealing with tracks that took a long time to construct. So playing "live" you are sort of asked to reconstruct them piece by piece on stage or in a club, but this can be tough. So you are left trying to figure out what you can do with two hands that is interesting for the audience but also maintains the integrity of the original tracks. I am having a really great time doing it though and I'd like to think that with each show I'm getting better and better at making it more engaging.
What is next for John Roberts?
My first full-length album comes out on October 11th, so I'm really looking forward to that. Since finishing it I've just been working on some remixes for friends. I just finished one for Lauren Flax's new project CREEP, which features Romy Madley Croft from The xx, and also one for Motor City Drum Ensemble that I'm really excited about! Right now I'm working on remixes for Pawel, Superpitcher for his new album, and one for Darkstar on Hyperdub. Besides that, I'll be traveling around playing shows in Europe and the U.S. and hopefully trying to pay off my credit card.