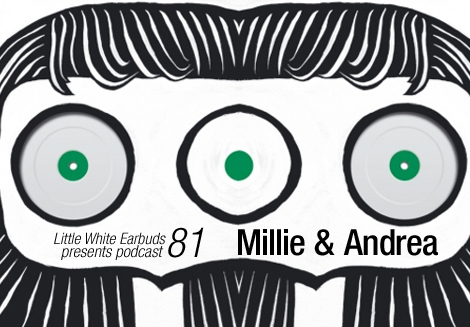 In the final weeks of 2008, the Modern Love stable from Northern England unleashed a brand new off-shoot called Daphne. The strictly limited first pressing from the fledgling imprint was credited to Millie & Andrea, with the music contained therein a thick stew of heavy, dub-influenced techno and dubstep. Further investigation into the mysterious female duo revealed that they were in fact none other than Miles Whittaker (of Pendle Coven and Demdike Stare) and Andy Stott. Armed to the teeth with ideas that sat outside their production day jobs, they came together to work on bass-wise tracks that incorporated elements of techno, dubstep, juke, jungle and old hardcore. Further releases included the brutal crush of "Temper Tantrum" and the old school junglist vibe of "Ever Since You Came Down," and the pair has released solo work on Daphne under the Millie and Andrea banners, too. LWE tracked down the duo to get to the bottom of their alter-ego pseudonym, find out what their working process was like and to pry out a ridiculously weighty podcast that will seriously mess with those who can't handle low-end frequencies.
LWE Podcast 81: Millie & Andrea (47:39)
Audio clip: Adobe Flash Player (version 9 or above) is required to play this audio clip. Download the latest version here. You also need to have JavaScript enabled in your browser.
Tracklist:
01. Millie & Andrea, "Intro" [white*]
02. Pangaea, "Memories" [white]
03. Andrea, Got To Forget [Daphne]
04. Perc, "1909" (Millie's Dark Room Mix) [Perc Trax]
05. Instra:mental, "Forbidden" [Apple Pips]
06. The Men From Del Bosca, "Bajo-El-Austral" [Giant Trax]
07. Chasing Voices, "Acidbathory" [Preserved Instincts]
08. Altered Natives, "Bullet Blade Knuckle Slap" (Souled Remix)
[Fresh Minute Music]
09. Andy Stott, "Drippin" [Modern Love]
10. Millie, "Untitled" [white*]
11. UNLTD / Israel Vines, "Reclaim" [Borrowed Language]
12. Drexciya, "Aqua Worm Hole" [Underground Resistance]
* denotes tracks which, as of the time of publishing, are unreleased

You're both mainstays of the Modern Love/Boomkat camp. Can you tell us about your association with the label and why you guys almost exclusively release through them?
It's a family thing, is the simplest explanation. We're all good friends, we enjoy hanging out, and getting each other enthusiastic about new music. That's easily the main reason, it's also a lot to do with the creative freedom we have with Modern Love, that attitude from a label feeds the artist's hunger for creating.
Miles, I understand you started out mastering records. Were you producing at the time as well or did that come later?
Miles: I've always produced, since I was 16 years old when I bought my first synth and drum machine. But for many years it was just an exploratory process, getting hooked on equipment and hunting new pieces down and learning to connect and use them, which kept me busy but also pretty unfocused musically. This kind of played in my favor and helped my palette expand almost accidentally, as I was taking the route of buying the techno boxes and writing techno, getting Akai samplers and writing jungle, using software for more digital/experimental music, getting an MPC for writing hip hop, etc. I love how technology can help shape the evolution of music, even if it's deemed archaic at the time of evolution (the Roland boxes are a prime example).
How did you each get into making music?
Miles: I wanted to know how people could get those sounds out of those boxes, and have them all talking to one another. I've been friends with Gary from Pendle Coven for 18 years, he first introduced me to Autechre's music which inspired us both to plug in and experiment, it's been a slippery slope since then.
Andy: I was always into music as a kid, staying up late taping hardcore tunes off local radio shows then checking them out on my way to school. I never knew who made these tunes either. I had a keyboard back then and would learn some of the lines from the tunes and would play them back. Not long after that I got introduced to Mark Stewart (Claro Intelecto). Mark introduced me to lots of new stuff, not just tunes, but kit and what kit did what; from then on my interest in making tracks just grew.
You both release on your own but also come together to form Millie & Andrea. Tell us about the gender bending pseudonym and how it came about. Any love letters from fan boys?
No love letters yet, though people love the artwork as much as the music, which really helps. Radu Prepeleac came up with the design that suits the music and pseudonym perfectly. We thought the choice of names and artwork would distance the releases from our normal monikers, and Daphne quickly became a home for the more crossover material we were playing around with. Again it all comes down to fun, getting together. Andy & I just play with the form and see what comes out.
You even have your own offshoot label Daphne exclusively for these releases. Was making dubbed out bass-wise stuff something that just happened when you collaborated together or did you decide that's the sort of thing you wanted to make together?
Well we've always been open minded about music, we're not big genre fans, and since we've been meeting up and jamming there's been a few tracks that wouldn't fit with anything else we'd done. Hence the offshoot label was born to provide a home for these tracks.
The most recent Daphne record saw Andy playing around with juke. Is that something we're likely to see more of?
Andy: The juke stuff at first was just a mess around on my part. I think it's going back to the old copying hardcore tunes in my youth. I just wanted to have a play with the juke sound. I know it's not everybody's thing, but I had a lot of fun making it but I found it difficult at the same time. I'm pretty sure I'll be messing around with it more but who knows? We shall see…
Andy had you produced with anyone else before?
Andy: I haven't really. I have worked a lot with Miles for this project, but even before the Daphne label I was going over to Miles' and Gaz's studio for many a good bass heavy session.
How do you work together, ie. do you have similar set-ups or do you just work in one person's studio?
We have completely different set-ups, which is much more a boon than a hindrance as there's more different sounds and ingredients for us to throw into the equation. We've done a lot of sessions in Miles' studio, as it's geared up for other people to come along and join in, but sometimes we work remotely too depending on time and logistics.
Does working with someone else make it harder to realise tracks?
Depends on their personality, but more often than not bouncing ideas to another producer tends to create more material and defines more focus. You have to be geared up to work with other people though, as music is a very personal experience. If you're honest and realize each other's strengths and weaknesses then most of the hard work doesn't become apparent, as you're too busy having fun!
Have you played live as Millie & Andrea before or is it a DJ/producer project?
We have played a few shows as Millie & Andrea, and we've enjoyed them thoroughly. The last one was in London for Plex at Corsica Studios where we played mostly unreleased material with some variations on the 12″ tracks.
Tell about the mix you've done for us.
It's taken us ages to do it!
What can we expect from each of you and your various projects in the next year?
Much more, there are solo releases coming from both Andy and myself in the first quarter of 2011, and maybe as M&A too, we will see.