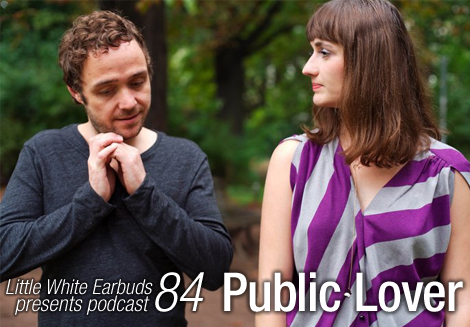 Towards the end of 2010 an EP called Musique D'Hiver Pour L'Été, dripping with intricate, rhythmic fragility was released on the Thesongsays label. It was by Public Lover and was immediately recognizable as containing the signature sounds of Bruno Pronsato together with further flourishes and vocals by Ninca Leece, who had turned up on the label earlier that year with Feed Me Rainbows. That release by Leece, containing a remix by Public Lover was the first public outing for the musicians, who happened to also be a real life couple. With both Pronsato (née Steven Ford) and Leece coming from more traditional band backgrounds, there was an immediate shared love of music worlds apart from the electronic realm that both now inhabit. Their productions so far have been rich with sweetly abstract melodies and a sense of transparency by including outtakes in some of their tracks. It's an intimate look at the working relationship of the duo, which also plays a big part of their live sets. LWE spoke to the pair ahead of their album release about how to work in harmony with your lover and acquired a stunning, exclusive Public Lover set that showcases new material alongside sneak previews of the album.
LWE Podcast 84: Public Lover (54:20)
Audio clip: Adobe Flash Player (version 9 or above) is required to play this audio clip. Download the latest version here. You also need to have JavaScript enabled in your browser.
Tracklist:
01. Public Lover, "Blanche's Theme" [*]
02. Public Lover, "Hands On Your Shadows" [*]
03. Public Lover, "French Graffiti" [*]
04. Public Lover, "A Broken Shape Of You" [*]
05. Public Lover, "An Elderly Gentleman" [*]
06. Public Lover, "Someone Somewhere" [*]
07. Public Lover, "Prelude To A Million Years" [*]
08. Public Lover, "Throwing Birds In Idling Cars" [*]
09. Public Lover, "Moustache Mélancolique du Dimanche" [*]
10. Public Lover, "Your Eyes Taste Like My Eyes" [*]
11. Public Lover, "Naked Figures" [Telegraph]
* denotes tracks which, as of the time of publishing, are unreleased

First up how did the two of you meet?
We were both playing at the same club in Bari, Italy.
I understand you are a couple. What came first? The music or the romance?
Bruno: Actually the friendship came first. After we met in Bari we sort of hung out for a while. I was off on a tour for a while and when I came back we started to hang out more. The romance developed and then we slowly started to think about doing the music thing. I think we decided to just do a remix together and when that went well we decided to do a single… and now, well, we have an album.
Ninca: Romance came first. No, actually music. [smiles] We met playing at a party in Bari (south Italy) and I ended up jamming/singing on Bruno's set. I have to say I hadn't seen such a live set in ages and got tremendously excited. I remember his hook "Nobody Calls" haunting me for months after.
How do you typically work together? Are the lyrics added to the music or is the music made to fit the lyrics? Do you collaborate on both or do you have defined roles on who does what?
Bruno: I think it goes either way as far as the lyric/music thing goes. We both have some little note books around with lyrics. But sometimes the music sort of brings the lyrics. So far it's really been both of us bringing something to the table. I'd say it's very equal; however, Ninca does a bring a bit more of the hooks and I bring a bit more of the bass lines.
Ninca: We sometimes come up with ideas (chords, small progression, loops etc.) separately and then get together to work on it. Or we start from scratch, usually with the keyboard/Rhodes part. I think we do a 50/50 thing. Probably I write most of the melodies and I think Bruno comes up with the percussion side of things and the bass lines. But he can also come up with melodies here and there and when I'm allowed [smiles], I write a bass line! There is no special structure in the way we work. I think we are both quite free-minded persons so it wouldn't work to have too many rules. Lyrics are most of the time added to the music, as I am also doing in my own work. We both write lines here and there on our small notebooks, and we do as well collaborate on the lyrics. I mean, Bruno's English is quite better than mine. [laughs]
Your two releases so far have featured the behind the scenes out-takes as it were of the recordings. What has been the decision to include this in the tracks and is this a theme that will run through future Public Lover material?
Bruno: Well, we sort of wanted to add a since of transparency to the music. Our whole thing has been about intimacy, so bringing the listener in on our music makes it a sort of documentary almost. A lot of people have had problems with it, and I get it, but to me there is nothing more incredible than having a little dirtiness in the mix to make it that much more human. We both discussed the sort of over-produced music these days and how we have been a part of that. Maybe it's our personal revolt to our own productions. As far as the future Public Lover material goes, I think there are a couple of tracks on the new album that have a little bit of room noise. We tried to keep it a bit balanced for those who like it and those who don't.
Ninca, can you please tell us a bit about your background with singing (influences, any bands you have been in etc) and also some info on how and when you started producing.
Ninca: I've always been singing as far as I can remember; I studied piano and music theory at the conservatory of a regional capital in North-Western France since I was seven and we had choir lessons every week. I would make it to the next year thanks to the singing exam. After listening to New Order's Substance and Loveless by My Bloody Valentine (two albums that were emblematic of my emotional life at the time), I did what I had to do: I ended my affair with classical music and joined a band. I played the bass and started singing "ethereal melodies" [laughs] in an indie-noise Slowdive/MBV style band. We were so impressed back then in the early 90's with the abundance of amazing indie bands coming out. There was such an overwhelming passion for this music in our teenage time. That's something I strongly share with Bruno, and it was hard to find someone to share it with when I moved from my hometown, either in Amsterdam or in Berlin. One can say, the fact that he told me he knew Pale Saints on our first official date made me fall in love immediately with him!
With my coming of age came my first keyboard, a second-hand Korg M1 I bought myself at 18 (following the advices of my boyfriend back then), and a move to Amsterdam, then I started voice & music production studies at the Rotterdam Conservatory. It was with the boys of a house band from Amsterdam that I had my first gigs at the Melkweg and the Paradiso in Holland. At the same time, I would always work on my own stuff at Laboratoires Leece. I started to take classical singing lessons when I was 17 and never stopped with that. Jazz and Brazilian singing came later, in my early 20's. I studied both more deeply at the Rotterdam Conservatory. I've been obsessed with bands like The Smiths (Morrissey's voice and lyrics were strongly triggering in my teenage time), New Order (Technique is one of my favorite albums) etc. Some of my strong influences as singers would obviously be Björk (though I insist we have totally different ways of singing, but I appreciate that people bring the comparison often and take it as a compliment), Kate Bush, Ella Fitzgerald, Sarah Vaughan, Maria Creuza (one of my all time favorite Brazilian singers), Chico Buarque. I still work on classical singing; it's a very different instrument than the pop one.
Another for Ninca: You released your first 12″ on your combined label last year but also a promo album on Bureau B. Tell us about the album. How long had you been working on it and what are the differences in the sound between the Bureau B release and the single for Thesongsays?
Ninca: My first album is a collection of my experiments in sound and emotions in the past 10 years — lots of funny little things, brokenhearted sounds and melodies. It's about quirkiness, sexiness. I tried to explore with it the facets of electronic pop music in all their variations. I tried to mix a resolute pop approach to an experimental sound process, with different textures and noises, dreamlike melodies and fairy elements, using voices, synthesizing, sound design, layering, and acoustic instruments along with electronic sounds/devices and field recordings. I have been working on it on and off for five years. It was kind of a long time more or less ready when I started to look for a label. It took me a long time to finish it because besides my studies at the Conservatory and part-time jobs, I produced it all by myself with some occasional help from friends (on that song, a friend helped with mixing the bass, or on the voice mixing etc). I am a perfectionist so it was a hard job! I won't spend hopefully so much time on my next one. I hope I can make faster decisions on sounds/arrangements etc. Bruno's influence on that is great. He has such fast way of working, he makes very fast decisions. I can spent hours on the tiniest change of sound… nightmare!
The difference in sound between my album and the "Feed Me Rainbows" release on Thesongsays would be that "Feed Me Rainbows" is a more experimental process, has a more open structure (which you can already find on my album with tracks such as "The Beast" or "Up To You") and don't have so much of a pop influence in it. As much as I love working in a songwriting form, I need to keep the freedom to explore music without a clear structure. I have no problem with having a pop element/influence in my work, but I don't want to be restricted to it, and working on stuff like "Feed Me Rainbows" is very important to me. But in my opinion both sound dreamy, warmly emotive with surreal fantasy; elements which belong strongly to my music. Also I'm already using those droning guitars on few tracks on my debut album. Right now I'm working on my new EP and new material for my second album, with both more open structure and more songs-like stuff.
What is your set-up like for your live shows? And did you always see the Public Lover project as a live act or was it originally just going to be a studio thing?
Bruno: Our live set up is pretty simple. Ninca plays a couple of synths that we built in Logic and a couple of Rhodes pianos. We run those in Logic and rewiring into Live where we have a pretty hefty amount of loops that we trigger. Ninca also runs her vocals through Ableton Live with a handful of effects she is controls on a 16 channel mixer. In addition we use a Jomox888 for some analog percussion and a Jomox Mbase01 for our kick drums.
There is a wonderful chemistry that is shared between real life and musical partners that can be amazing (White Stripes in the early days, Sonny & Cher) or not so amazing (John & Oko, Sonny & Cher again). Please discuss.
So far our chemistry has been better than expected. Usually after a bit of collaborating somebody gets bored or upset or both. I think we have been pretty good about knowing our limits. If we have a bad day in the studio, we tend to politely decide to end the session and wait for another day rather then continue to try to trudge through and create bigger problems. Live is great as well. I think we really shine in that environment because we both pretty much have the same ideas of how we want to treat a crowd and what kind of music to make to get us there.
As you are both solo artists as well, do you need to implement strict control over your collaborations and time in the studio together so that your own productions don't bleed into your Public Lover material?
No, not at all. We discuss when we want to work. It has never really been a problem when one wants to work and the other has solo work to tend to. When both of us need solo work to finish then the other pretty much works on solo work.
Can you tell us about the set that you have made for us.
Bruno: This mix was done over a fragmented two week period. We really wanted to add a sense of improvisation to this one. we woke up everyday and dedicated our time to making 10 minutes of new, usable material. For the most part this is all material we came up with just for this podcast. We do use a couple of pieces from old live sets and a track that are already released, but in general these are sketches of tracks to come. Thanks for putting that fire under our ass!
What can we expect from Public Lover in the next year?
We have an album done now, give or take a track or two. So now we are pretty much tightening up mixes and deciding on which tracks and in what order. We also are planning a tour of Europe this summer and the U.S. in the fall.