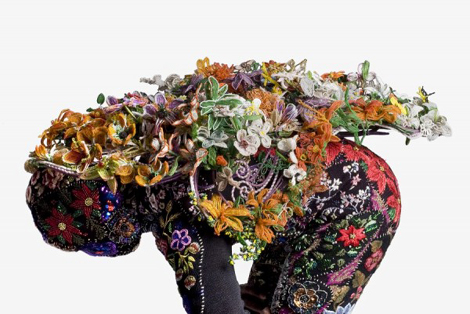 [DFA]
In the three years since their debut single for Italians Do It Better, New York duo Invisible Conga People have managed to put their name to only two remixes. This is a lengthy sabbatical in the contemporary climate, especially for a project with such an alluring sound, and it's always surprising when a group with such potential (and high connections) disappears. The duo play a distinctive brand of analog pop — their sound nods to lethargic disco, latter-day Can, and the more spacious end of "headfuck" techno. Luckily, DFA have commissioned Invisible Conga People for a four-track EP, which shows them picking up more or less where they left off.
Audio clip: Adobe Flash Player (version 9 or above) is required to play this audio clip. Download the latest version here. You also need to have JavaScript enabled in your browser.
"In A Hole," like its predecessor "Cable Dazed," drifts around lyrics that combine pathos and the specific act of making music. The pitched-down narrator (whose voice is provided by Willow Gibbons) cryptically laments that he's "all alone in a cave, [he's] been asked to leave," and has been "chewing on lines, sucking up the stream," lines with an addictive balance of universality and obscurity. Meanwhile, a plodding kick-and-conga rhythm is paired with bass drops and an understated synth melody. A range of stabs and effects are introduced as the track progresses, but the end result is creepily empty rather than overfull. Its dub is essentially a drag version, slowing its elements to a crawl and the vocal to an almost unintelligible moan.
On the flip, the faster-paced "Can't Feel My Knees" works with a clipped, tripping bassiness, not far removed from Skirt's recent effort for Horizontal Ground or Lerosa's collaboration with Donato Dozzy. Although it plays with similarly obscure lyrical themes, the vocals (this time from Andy Comer) are slightly muffled and wispier and the rest of the track follows suit. A gentle arpeggiated line runs throughout, and it's eventually dotted with a pattern of saw waves. Finally, its dub version offers an abridged take, removing most of the vocals in favor of a lithe synth line and some new effects. Overall, In A Hole/Can't Feel My Knees is entirely worth the wait, an arresting effort from one of the most unusual pop acts out there.