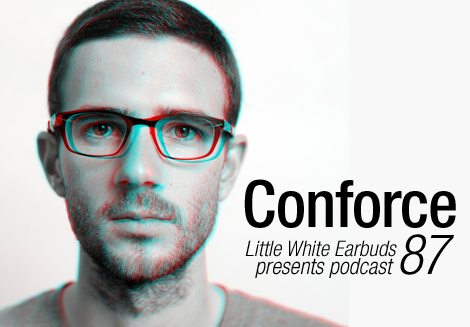 Photo by Michel Mees
Hailing from the remote isles of Terschelling, Boris Bunnik's introduction to electronic music seemed fated, with his father finding a black tape cassette in the forest and giving it to his son, telling him there may be something on it he liked. The cassette was filled with early acid and techno and sparked a love affair with the music in the young Dutchman. Years later, upon moving to the larger city of Leeuwarden, Bunnik met and befriended like-minded individuals Mohlao and Delta Funktionen who would prove to be an instrumental part of Bunnik's journey as he began in earnest to explore production. After several years of toil, including releases on small digital-only labels, Bunnik received a break when Rush Hour heard his work in 2007. Hitting his stride towards the end of 2009, Bunnik has been in perpetual motion ever since, fitting in gigs amongst a steady stream of releases, including the deeply pensive Machine Conspiracy debut album on the Meanwhile imprint in 2010. His Detroit inspired techno ranges from sublime and moody through to dubbed out and distraught. Under the alter egos Versalife and Vernon Felicity he explores different sides of his creativity, with his Versalife moniker so far resulting in two stunning releases of electro. LWE got in touch with Boris to find out more about his rise to prominence, the importance of pushing yourself creatively, and what his different aliases mean to him. He also lovingly assembled our 87th exclusive podcast with a mixture of atmospheric techno, ambient and more that will cast you under the spell of one of the latest masters of Dutch techno.
LWE Podcast 87: Conforce (60:51)
Audio clip: Adobe Flash Player (version 9 or above) is required to play this audio clip. Download the latest version here. You also need to have JavaScript enabled in your browser.
01. Unknown artist, "Cladistic Mutation" [white*]
02. Anthony Rother, "Past Represents The Future" [Kanzleramt]
03. Monolake, "Wasteland" [Monolake/Imbalance Computer Music]
04. Mike Dehnert, "Kontextfrei" [Delsin]
05. Milton Bradley, "A Sky Full Of Numbers" [Do Not Resist The Beat!]
06. VCS2600, "Verilog Circuit Synthesis" [Stilleben Records]
07. Submersible Machines, "Cold Seep" [Lunar Disko Records]
08. Morphology, "Magellan Probe" [diametric.]
09. Murphy Jax ft. Mike Dunn, "The Music" (Alden Tyrell Remix)
[Clone Jack For Daze Series]
10. Conforce, "Spoiled" (XDB Remix 2) [Clone Basement Series]
11. AnD, "Untitled B1" [Horizontal Ground]
12. Conforce, "Fictional Environment" (Delta Funktionen Remix) [Field Records]
13. Unknown artist, "Dx/Revolt" [white*]
14. Mike Dehnert, "Klartext" [Delsin]
15. Marcel Dettmann, "Factory Report 2" [Kontra-Musik]
* denotes tracks which, as of the time of publishing, are unreleased

Your introduction to electronic music sounds fateful. Is the bio about your father finding a cassette tape filled with techno true?
Boris Bunnik:: It's a fact, yes. It's not only to romanticize my educative background when it comes to electronic music. I should dig that tape up one time, thanks for reminding me!
Where there any other events or major moments of inspiration that played a pivotal role in your introduction or education of electronic music?
An old friend of mine from the Terschelling island insisted that I should take over his turntables because he was convinced of the fact that I had the talent to do something with music. (He once saw me play around with some CD players in a local dance café). The next thing was to get some records and a tape deck to record mixes. The owner of a local dance café lent me his tape deck and gave me the opportunity to do some crate digging in his techno archive. There I learned that an old techno record could be as good as a new one or sometimes even better. So I learned to mix with a various set of mid and end of 90's techno records; I guess that set of records influenced me a lot when it comes to electronic music. The dance café where I started to DJ was mainly focused on entertaining tourists and play feel-good music during the summer holidays. It was difficult to do your thing 100%, but at home I really got into the deeper electronic stuff and broadened my view. At that time Internet had just become fully functional at our home and I started to order records as well via web-shops. Also, DJs from the urban city came over to play here during some legal and illegal parties and this somehow influenced me as well.
Most people who get involved in creative pursuits usually have the type of personality where they are almost obsessively interested in all types of things. Would it be fair to say this of you too?
A bit. I think you also mention a 20th century problem here. I think all creative persons have a hard time dealing with this "time of options" sometimes. There's just too many possibilities these days. The best thing is to follow you heart and intuition. I recognize it, but there is more focus now on what I'm doing. I'm a very multi-disciplinary minded person. I am happy with the fact that I have a strong interest in other mediums as well; I actually have the degree of "audiovisual designer." There are parallels when it comes to photography and the electronic music I make. It just gives you more possibilities if you want to create a total concept. Sometimes the other project delivers inspiration for the other.
Looking at the electronic music only it all started in a very intuitive way, it's like shifting phases. I'm able to focus more and more by releasing stuff under different monikers and it gives me more freedom and space to express my creative and musical ideas. I'm doing this for doing it, but I just have the urge and feeling that there is more inside me that I have to express. The focus has become pretty clear now what I want with my projects. They should be an addition to what is out there and was created, but with a fresh vision from the present and with respect to the past of course (each with it's own identity). This diversity is also one of the characteristics of the Gemini, my zodiac sign. They simply can't focus on one thing. Ha.
How long did it take for you to find like minded people and friends who shared this love for techno?
On Terschelling it was very difficult because there was mainly interest in club, house and other mainstream music. There was a small group of people who also liked techno and we listened to it after-hours, during illegal parties and stuff like that. But there the interest and passion for this genre was not as deeply rooted as it was for me. In the city I live in now, this group of people is also very small and it took quite some time to get in touch with like-minded people. It was at small scarce techno parties in town where I got in contact with that small handful of techno lovers. I still meet new people that share the same passion, approach and interest to electronic music in general. It's very universal, the people and friends I share my passion with are basically from everywhere now.
Leaving the Island and moving to the city was probably also one of the best moves because I was able to meet like minded people via school and and record stores etc. All the connections I made there certainly influenced me and inspired me to do what I do. There simply was no progression on the island. Yes, there was Internet, but I did not have the social connection with people about music they way I do nowadays. There also is a lack of educational possibilities so you are actually forced to move if you want to do something with your creativity.
At what stage did you decide to start making music yourself? Was that always the plan or did you start out just wanting to DJ?
I started to produce tracks at the age of 15. The owner of the dance café I was DJing at had a small studio set-up and at a certain moment it just triggered me to start and experiment with all the kinds of software programs that were available. I had been learning on crappy hi-fi speakers with various software. I've spend a lot of time on it without having with real ambitions. It was just for fun. Eventually it became more serious and you come to a point where you create tracks and you can say, "Yeah this is me."
New producers seemingly just appear out of nowhere for the majority of people, but there is usually a lot of unseen work that has been done to get there. How long were you making music for before your first release, and what was been the hardest part of getting to that point?
I did some stuff back in the beginning on web labels and I was spotted by a sort of forum that did digital releases. That was in the very beginning and there still wasn't a signature and an identity in my tracks. The focus was very wide and I guess i was just trying to get my technique better and better. I guess I spent a lot of years experimenting and fucking around before my first vinyl release on Rush Hour came out. It gave me focus and an idea of what was a good direction for me. The hardest part is just not to stop — to swim through a sea of possibilities. Back in the early days of techno and house it was totally different I guess. We are confronted with loads of different styles, genres and artists. You can basically do everything, you can make everything. Finding something that is a real personal reflection is the most difficult part. For that you just have to produce a lot of crap and ideas I guess before getting a proper mix and track. Produce, produce! The technique is not the problem any more, but to find the self, that is what is important and takes a longer time.
Your debut album, Machine Conspiracy, was critically very well received. Did you plan the album out much or was it more a case of just assembling tracks from a similar period of production?
It was a bit of a combination: I had a few tracks that fit well together, but when I was on the road first established contact with Meanwhile the idea for an album became more and more of a concrete idea. Eventually that is what an album is, a representation of a certain period. I did not start out with the whole idea of making an album, I just was there at a certain moment. Of course I had some ideas behind it though, but it just fell together.
You've been releasing records for about four years now. What changes and areas of growth can you hear in your tracks?
Especially the biggest growth was the adaption of hardware equipment to my studio. I just couldn't get any of the sounds I wanted with plugins so I started off with some cool budget machines and they gave me really good results. I needed to have hands on stuff. I also believe that with a real synthesizer it becomes a part of yourself and you feel the urge to do something good with it, treat it with respect and get the best out of it. So in that case I really tend to create my own sounds for all the tracks that I make, that's the technical side of things. My reference of how a record should sound becomes better and better, I'm learning. Good references are early techno and house records that still have that enormous frequency impact. Sometimes it's good to let go of all control a bit, and when I do I surprise myself. It's apparent on the State of Mind EP on Clone, I think. The tracks have less detail but are more effective for the floor. Those tracks were mainly recorded as takes.
I have read in a bio of yours about your need to constantly push yourself into exploring new styles of music. Please discuss.
I feel that I have a lot more to express, techno in general is a very wide genre and I am willing to continue to do some more excursions into that. I just have love for various deeper forms of music. If I'm stuck with the Conforce thing I just go to another project. I see it as totally different identities. You're capable of switching between both. There is so much more to discover and to be made. It keeps you going.
You now have a few different names you go by. Can you tell us the ideas and feeling behind the music of each different name?
With Conforce I mainly tend to focus on the deep atmospheric techno side. Sometimes it's more for the floor, sometimes more for at home. It will remain my main thing but if I'm bored there are plenty of other ideas beside this that I want to work out. Versalife is a more conceptual project (though the focus is clear): my main goal was to push the machines to the limit and get cool atmospheric electro tracks each with a story inside itself that speaks to the imagination of the listener. The tracks all are pure flows of inspiration and mainly created with four pieces of gear. So there is a limitation to that moniker. It's all about imagination and visualization with that project. In the first place I did it all for fun and eventually Clone wanted to release it as three separate EPs so it worked out a little more seriously. It became better than I expected myself. I got fascinated by the genre over the last three years and I can't imagine a life without it any more. Let's just say I dug deeper into myself last year to create this, so in that case it's very pure. I hope people can hear that. It's very personal.
Can you feel some other pseudonyms in you waiting to get out too?
Last year I also did some techno projects that were released as untitled records. It's for the people to find out what it is. It's about the music, that's the most important. A name is just a name.
When did you start playing live sets and have they changed/enhanced/altered the way you make tracks now?
I guess my first set was in 2008 at the Sonar festival during an RA party. My set is constantly changing and evolving. It's never the same, not a single time. It's a personal reflection of that moment and it has become a bit more focused to the dance floor over the years. Getting yourself in front of a crowd who wants a party techno night definitely changed my view not just on production, but on the idea of a set in general. Especially when I do a live set I tend to take the energetic tracks with me. I could just do a set for myself but that is not what is rewarding. What's rewarding is to see people go crazy on the music and giving them some positive energy trough the music. They have to enjoy it as much as I do. I really want to give something and not be the home producer boy who is only making nice records. My sets should be something on their own and they need something extra.
You seem to be keeping up a pretty constant succession of releases. How much time to devote to making new tracks and also to performing?
At the moment my life is all about production of electronic music. I have enough time to work on various projects. I quit a very stressful job as an educator in video production last year so I decided to go for my own creativity, mainly music. Still I would never want to see it as a job, it's just a hobby that expanded into something bigger. From time to time I also work as a freelance video producer.
What can you tell us about the mix you put together for us?
It's a selection of the records I have at home. I did not specifically want to make a techno podcast but just a various mix of tunes I really love. It is actually the first mix in years I have made. It's a mixture between some techno, ambient, pure electronic tracks and some house. It's a one hour impression. Also I've added tracks from myself and fellow producers.
And what can we expect from you in the next year?
I'm playing Fabric on June 25th as part of The Nothing Special. I have a few remixes for Skudge on Echocord, Jarred Wilson on Dolly. Also a Versalife remix for the new imprint Dieptepunt. Furthermore, Night Time Activities part 2 and 3 will see the light of day to complete the series.