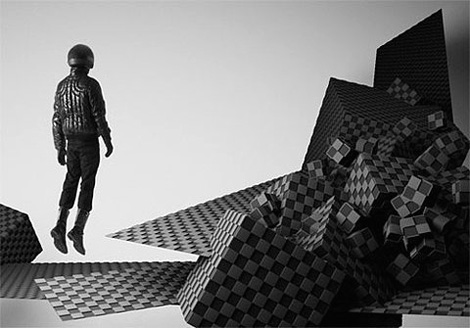 Photograph by Daniel Sannwald
After falling under dubstep's spell, Dave Huismans was, like a lot of people, eager to get his hands dirty and produce some tracks of his own. However, situated as he was in the Hague — well outside the South London epicenter of the day — he was hesitant to jump into a genre whose impact, at that time, had a lot to do with the insular vitality of its scene. He finally gave in, though, by embracing his outsider status. Banking on differences in background, geography, and taste to, in his words, "add a different sound to the spectrum," his early forays into dubstep found a distinct voice that, among other things, drew heavily on techno. In turn, the more overtly techno productions he's recorded since then for his A Made Up Sound project have tended to sound gripped by an enthusiasm for dubstep, which, interestingly enough, has made him something of an outsider in techno as well. It's a status he seems comfortable with, allowing the AMUS brand to operate outside any scene narrative or, for that matter, pat auteurist line. It hasn't stopped these records from finding an audience, either. Indeed, there's been enough interest that Huismans has dedicated a new label to A Made Up Sound. "Rework/Closer" is its first release.
Audio clip: Adobe Flash Player (version 9 or above) is required to play this audio clip. Download the latest version here. You also need to have JavaScript enabled in your browser.
Both sides of the record feature the "trackiest" material I've yet heard from AMUS. Though loosely described as techno, it's a dubstep vibe that jumps out at me most, particularly on the club banger of the pair, "Rework." This track operates in a raw, techno gray-scale, but gyrates with jerks and pops closer to a knotted garage template. "Closer" plays both warmer and more somber, built around an interplay of gently rocking chords and the impatient tug of chiming vocal clips (the latter along the lines of the vocals in Kode 9 & LD's "Bad," or Joy Orbison's "Hyph Mngo"). There's a soulfulness and deep-space drift, thanks in large part to those chords, yet there's nothing "open" about this track. A layer of textural percussion exploits this brilliantly, ball-bearing beats ricocheting slowly, as though floating in zero gravity, but each soft crash describes the limits of the track's dark, confined space. As with "Rework," you could describe "Closer" as some kind of hybrid, but don't let's get hung up ontology. The record itself seems to be the product of a wearing down, through contact, of the divisions between musical muses. The "unlearned" palette on display on this record is rough, but very refreshing.