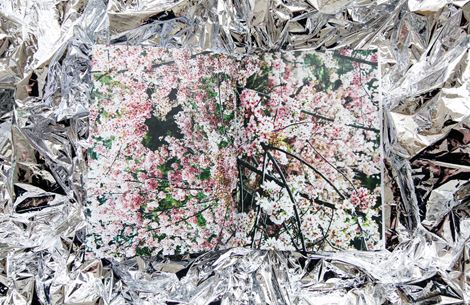 Artwork by Erik Hart & Tatiana Leshkina
[Proibito]
Since its invention, the album format has come to represent the milestone for artists. A person can write the decade's greatest hit, but until such time as they deliver the big, mature album, the threat of being a "one-hit wonder" just keeps hanging around. In electronic circles, that pressure has arguably lessened. And yet, the debut LP remains a career-defining moment; a fact which makes each person's choice of timing particularly interesting. Some artists wait 10 or even 14 years, while others, like the then-21-year-old Austin Cesear, make it their very first priority. Weird. It's like he gave away everything on the first date, and all that's left to do is settle into a comfortable relationship. His second record, the There's a Crack in Everything EP, is a reminder that this is a relationship well worth pursuing.
Arriving fully formed, Cruise Forever garnered serious praise, including more than one comparison to Actress. It's easy to see why; both artists are content to keep the dance floor in peripheral vision only, offering a fitful and de-constructed take on beats. They're also fiercely creative. Perhaps their only obvious point of difference is mood: where Actress' work is cold, stark and unsettling, Cesear's has thus far been the opposite. It's no surprise he's influenced by his balmy Californian surrounds. This new EP for Anthony Naples' Proibito label prolongs that mood, hinting that Cruise Forever may have been more of a statement of intent than just a title.
Take "Slink," where bells and piano play cat-and-mouse in a sunny and seemingly endless loop. When Cesear cuts the track after five minutes, mid-beat, it's like being caught in a sudden thunderstorm while sunbathing at the beach. Similarly, "1 Year" feels positively Ibizan, if not for its vibe, then for its proggy, quasi-tribal beats and clean, gusting chords. In description, such tracks might not sound overly fresh or inspiring, but Cesear's experimental inclinations (say, the unconventional structure of "Slink") and sheer attention to detail (the way its piano sometimes distorts) can't help but elevate his work. This talent is best observed in a sketch titled "Yep." It's about as complex as the title implies; just a shrill, filtered loop which painstakingly grows a rhythmic bottom end. At the end of the three-minute play time, things have only advanced by the tiniest margin, but it's somehow really interesting. It may not be an album, but There's a Crack in Everything is a significant milestone nonetheless. Apart from being a further affirmation of Cesear's talent, it's simply a collection of three very fine pieces of music.