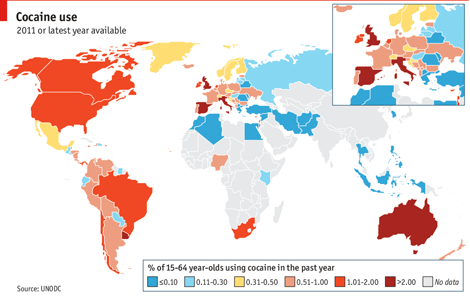 Chart courtesy of The Economist
01. Doubt, "Captain Hours"
[Mistress Recordings] (buy)

Mistress Recordings, the recently launched sub-label of DVS1's Hush Sound, is by all accounts an unqualified success. This has little to do with the Minneapolis-based producer's own renown and everything to do with the quality of secret weapons he's released into the wild after extensive road testing. But Mistress03 by hitherto unknown Doubt, is the first one that's found its way into my personal collection, mainly for the B1 cut, "Captain Hours." It's a rare track that manages to be many things at once without collapsing under its own weight or trailing off incoherently. This can be chalked up to impeccably complex sound design that feels pulled from several eras at once, as well as a pensive but pointed arrangement that coils around listeners, squeezing them into submission without ever raising alarms. Its atmosphere is akin to dust caught in beams of light, grainy but always in motion, while single-wobble bass and sinister chord stabs provide a sense of naughty fun, like a warehouse party in a dangerous neighborhood. Whoever the mystery producer is behind Doubt — and one-sheet asserts it's an old Minneapolis hand under a new name — they've got a good thing going on which is unlikely to stay a sidekick/sidechick for long.
Audio clip: Adobe Flash Player (version 9 or above) is required to play this audio clip. Download the latest version here. You also need to have JavaScript enabled in your browser.
02. Shan, "Chord Memories"
[Running Back] (buy)


Radio Slave's Sex Trax EP marked a significant turning point in Running Back's discography back in 2008, with the ubiquity of its track "RJ" elevating Gerd Janson's label to a sudden prominence that could have taken years to achieve otherwise. Ever since then, Janson has done his bit to release records that are particularly useful to DJs, offering extra bonus beats and tool cuts in addition to tracks that manage to be both utilitarian and quite memorable (the same can be said for Tuff City Kids releases). Shan's Chord Memories is a great recent example of this, and not only for the three stripped back and numbered B-sides. The title track is a potent reminder of how thrilling dub techno can be when it doesn't get lost in reverb navel gazing. It's admittedly not radically different from its predecessors, but the way Shan pushes the tightly reverberating chords with sharply prodding and delectably placed hi-hat accents feels emblematic of the sub-genre's best moments. And with the exception of a higher pitched pad to heighten the tension, the modulation of the chords' timbre is the only real development, giving each twist and turn a certain significance. "Chord Memories" might be too full-bodied to work its way into as many DJs' crates as "RJ," but Shan has created a memorable moment with a sound that only occasionally yields them.
Audio clip: Adobe Flash Player (version 9 or above) is required to play this audio clip. Download the latest version here. You also need to have JavaScript enabled in your browser.
03. Todd Osborn, "5thep"
[Blueberry Records] (buy)


Many artists start their own labels as a means to take complete creative control of their music and how it's presented to audiences. Drew Lustman, the New York producer better known as FaltyDL, seems to have something different in mind for Blueberry Records. Kicking off the label with two records by unknown producer Brrd, Lustman continues to champion other artists and steps things up a notch with the Michigan Dream by Todd Osborn, "a hero of [his]." True to form, Osborn delivers the goods across multiple genres — acid house, hip-hop, hyperactive electro — but it's the most Osborne-ish track that has its hooks in me. It's not just that "5thep" feels like a summer ride in a convertible, although that helps during this bitter winter. Osborn wrings every possible ounce of energy from one chord progression throughout the entire track, letting the squishy synth line fizz and froth throughout. Jabbing vocal syllables give the track its shape and its jaunty rhythm, with only lockstep percussion checking things into place. Beautifully simple enough to appeal to DJs and home listeners alike, it's certainly clear why Lustman chose "5thep" as the EP's lead track.
Audio clip: Adobe Flash Player (version 9 or above) is required to play this audio clip. Download the latest version here. You also need to have JavaScript enabled in your browser.
04. Matthew Styles, "Gesospik Console"
[Nofitstate] (buy)


When I think of Matthew Styles's sound, I tend to actually consider the shape of his arrangements first. The Berlin-based producer has shown off a range of styles, each connected by a sense that you're tunneling deeper into the track, hearing melodic striations passing by in the rolling grooves. For Nofitstate, Styles offers four pretty different sounds, and the one I like most is the least identifiable as his. Like its predecessors, "Gesospik Console" is in constant, twirling motion, this time wrapping itself in arpeggiated bass lines and drum kit/cowbell percussion, evoking Italo disco as it emits melodic color in every direction. A stream of varying synth pads and leads offer endless evolution, a dazzling array that could be endless beyond its seven minute runtime and leave me glad Styles continues to push himself out of his comfort zone.
Audio clip: Adobe Flash Player (version 9 or above) is required to play this audio clip. Download the latest version here. You also need to have JavaScript enabled in your browser.
05. Janis, "Different From The Rest"
[Mirau] (buy)

While not the most widely touted label, Mirau have proven consistent in sniffing out new talents early on: Tensnake (one of the founders), Iron Curtis, Mano Le Tough, and Erdbeerschnitzel all had early releases with Mirau before breaking out. After a quiet 2013, Mirau return with Forgiveness Ep by relatively unknown Janis, a Frankfurt-based producer who co-runs the label House Is OK. His first taste of wider exposure is not wasted, showing off four hugely different but still unified house tracks. One senses the influence of the late 90s and early aughts on Janis's sound, with "Different From The Rest" in particular feeling as if it exited contemporary UK garage and arrives at the cusp of micro-house. This overtly digital sound is kept lively, from the walking bass line line to flickering synth melodies like pixels on the fritz, echoing vocals singing the title between the hummingbird melodies. It might be a touch fussy or hyperactive for some listeners, but worked into the right context "Different From The Rest" could be set-elevating moment. Looking forward to hearing what's next from Janis.
Audio clip: Adobe Flash Player (version 9 or above) is required to play this audio clip. Download the latest version here. You also need to have JavaScript enabled in your browser.
06. Martyn, "Vancouver" (Head High Remix)
[3024] (buy)
07. Rivet, "Bear Bile Pt. 3" [Kontra-Musik] (buy)
08. Leisure Muffin, "In Wearable Hertz" [The Bunker New York] (buy)
09. Seixlack, "Tele-Sexo"
[40% Foda/Maneirissimo ] (buy)
10. Oskar Offermann, "4th Dimension" [White] (buy)
Brandon Bussolini
01. Prince of the Isles, "Symphony 201c" [Permanent Vacation]
02. Untold, "Drop It on the One" [Hemlock Recordings]
03. Vladislav Delay, "#5" [Ripatti]
04. Voices from the Lake, "Sentiero" [The Bunker New York]
05. Moodymann, "Desire" [KDJ]
06. Efdemin, "Track 93" [Dial]
07. Kangding Ray, "L'envol" [Raster-Noton]
08. Bass Clef, "Faster Than the Speed of Love" [Public Information]
09. Lakker, "K'antu" [R&S Records]
10. Avalon Emerson, "Church of SoMa" [Spring Theory]
Dino Lalić
01. Sharif Laffrey, "Turn It Up" [Discos Capablanca]
02. Tevo Howard, "Boing Pop" (Kornél Kovács Remix) [Rebirth]
03. An-i, "Kino-i" (Mix) [Cititrax]
04. DJ Qu, "Undescribed (Believer)" [Strength Music Recordings]
05. Austin Cesear, "1 Year" [Proibito]
06. Red 7, "Royal Rave" [Red 7]
07. Polirican Alarm, "Shelter Or Funkbox" (NY Or Detroit Mix) [subBASS Sound System]
08. Leisure Muffin, "In Wearable Hertz" [The Bunker New York]
09. DJ Skull, "Big Girls" [Sect Records]
10. Rivet, "Bear Bile Pt. 3" [Kontra-Musik]
Chris Miller
01. Tin Man & Donato Dozzy, "Test 07" [Absurd Recordings]
02. STL, "Amelie's Dub" [Smallville]
03. Tobias., "Instant" [Ostgut Ton]
04. Kassem Mosse, "Workshop 19 A2" [Workshop]
05. Efdemin, "Transducer" [Dial]
06. Voices From The Lake, "Velo di Maya" [The Bunker New York]
07. General Ludd, "Woo Ha" [Mister Saturday Night]
08. Actress, "Wee Bey" [Werk Discs]
09. Alex Israel, "A Man Of Qualities" [Crème Organization]
10. Deadbeat & Paul St. Hilaire, "Little Darling" [BLKRTZ]
Brandon Wilner
01. Bass Clef, "Faster Than the Speed of Love" [Public Information]
02. Soulphiction, "When Radio Was Boss" [Pampa Records]
03. Austin Cesear, "1 Year" [Proibito]
04. Dana Ruh, "Don't You Find Me" [Underground Quality]
05. Shan, "Chord Memories" [Running Back]
06. DJ Wey, "Giggles" [white]
07. Legowelt, "When The Spring Comes Again" [Crème Organization]
08. Alex Israel, "Colugo" [Crème Organization]
09. James Bin, "Love Is Infinity (I Will Not Die)" [Fake Music]
10. MGUN, "Sumtin" [Don't Be Afraid]