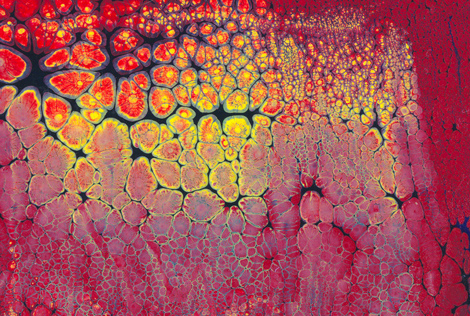 "Red Square" by Loci
[Idle Hands]
Bass Clef has always approached genre from a very different angle than his peers. The title of his 2009 album, May the Bridges I Burn Light the Way, was something of a mission statement capturing his daring abandonment of genre conventions. One unique quality of his is the playful inclusion of odd elements that are almost humorous — live shows featuring trombone and theremin — but taken quite seriously as modes of expression. Fascinatingly, it is these little winks and grins that make his music all the more captivating. This in mind, as well as his being a previous resident of Bristol, Idle Hands' eclectic and original niche provides the perfect place for him to stretch his legs after his recent LP for Punch Drunk, Reeling Skullways.

Bass Clef, "Dawn Chorus Pedal"
"Dawn Chorus Pedal" opens with a totally unaccompanied section of drums whose effect is heightened by the timbre of the kicks, cymbals, and congas, with a live sound echoing the South African dance music Cumbers has shown enthusiasm for in the past. A warmly swollen bass line uncurls languidly alongside eddying synthesizers, creating a sombre mood, if one full of spine-tingling optimism. Though tempting, it's hard to describe it as an acid track: the bass is a little too stable, rich, and clear; the drums a little too deliberately near and real, sounding as if each sample has been selected from potential cast of hundreds, and lovingly processed according to its unique character. One in particular comes to the fore mid-track — a kind of charismatic and confident hi-hat solo — before the preceding elements return, a simple yet gripping arrangement that reflects his love of live performance. "You Don't Know Don't You Know" takes a more abstracted form, perhaps as reminiscent of dubstep as anything else. Space is given prominence, with kick-drum rolls, weighty bass warbling, and reverbed percussion all taking place in the peripheral moments in between the gaps. Again, what's so refreshing and affecting is the mix of almost incongruent samples with a live-sounding finish, without undue tricks and digital effects. This is, true to form, unclassifiable and exceptional.