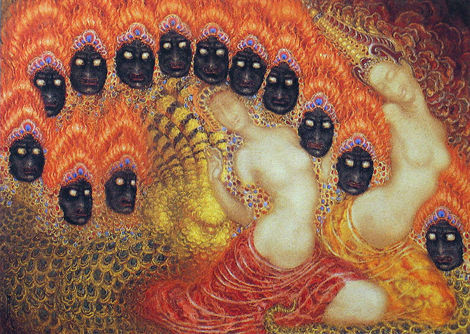 Mostly as a product of necessity, Mike Taylor's spartan production exercises have been suffused with analog gear, making the most of what seems to be a deliberately narrow arsenal of vintage sounds. Unlike so much music in this vein, though, his Disco Nihilist project successfully avoids the traps of uninspired retromania with rudimentary, contemplative constructions, anchored in frolicking beats, revealing a unique ethos within the U.S. electronic music tradition. Resolutely old-school tracks for Love What You Feel and Construction Paper have been confidently circling the decks for three years now, and the newest release on Running Back only confirms that his best years are still yet to come.
Audio clip: Adobe Flash Player (version 9 or above) is required to play this audio clip. Download the latest version here. You also need to have JavaScript enabled in your browser.
The Moving Forward EP really does exactly what it says on the tin: it's basically about relentless forward motion. "House Rent Boogie," is a cheerful early-90s jam, reminiscent of what was best in those days and not wandering far from its source of inspiration. What makes the track potentially powerful is how Taylor imposes friction, dragging some elements and pushing others, so that the whole composition seems like an endless, frenetic journey over and over again. When we come to the skeletal "Beatdown Drums," it becomes obvious he's not so much stripping the first track as squeezing the sweat out of every single element in it, distilling it to a raw Poindexter frenzy. Hi-hats begin to shimmer and grasp for harmonies, as if they are somehow running out of precious time, bass drum kicks imitate unstoppable coffin nails, and by the end of the composition — while unknowingly locked in his intuitive groove — we find ourselves in a different territory altogether, laden with rubbery toms.
On the flipside, "Film Grain" is muscular at first, saturated with commanding hi-hats. But slowly, after multiple melodic ladders, it blossoms into a deeply submerged and repetitive house elegance, building a tropical kaleidoscope of strings. It's fascinating how Disco Nihilist uses a similar, recognizable form throughout all these first three tracks, reducing them to essentially variations upon one another, easily pulsing in sync, with no evidence of computer-aided arrangements. In that sense, the last track, "Operator Select," comes off as a surprise. Much slower than its predecessors, it gradually burns a lightweight athletic beat with a hazy theme, leaving our last minute with nothing left but a lonesome acid gurgle. Only then, as the track loses its rhythmic grid, is the forward movement of the EP lost.