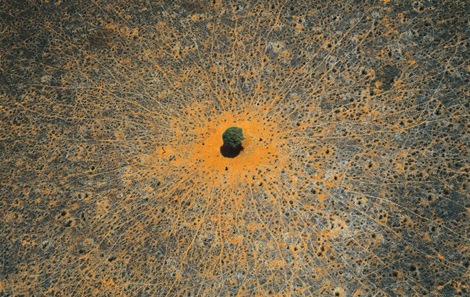 If you're like me, you're heading into Ellen Allien's latest album, Dust, with rather high hopes. While her recent singles have merited less and less of listeners' time and recent, CD-captured DJ sets have proven uninspiring at best, the album format is where she's shined consistently. Her 2003 electro-pop album Berlinette remains a highlight for many, and Orchestra of Bubbles, her 2006 collaboration with Apparat, ranks among my personal favorite albums of all time. Even Sool, a post-minimal treatise co-produced with AGF, managed to intrigue rather than bore with its abstract and reduced sounds. Dust, co-produced by Tobias Freund, integrates the sparseness of Sool with more song-based structures, but unfortunately pales in comparison to its predecessors.
Audio clip: Adobe Flash Player (version 9 or above) is required to play this audio clip. Download the latest version here. You also need to have JavaScript enabled in your browser.
Those expecting to hear obvious traces of Freund's influence will be disappointed. Rather, his production largely stays faithful to Ellen's vision and choice of sound design. Stylistically, Dust seems like a distillation of all the elements shared among Ellen's previous albums, but the songwriting and the quality of her arrangements just don't hit the mark. Ellen's straightforward techno productions are rarely her best, so it's perhaps not a surprise that "Flashy Flashy," with a pedestrian beat and a boring metallic hook, fails to to wow or stick in the memory. Also aimed straight at the dancefloor, "Ever" is a swirling, melodic mass that soon crumbles under its own lack of interesting ideas. "Our Utopie" seems hamstrung by its very basis — a simple bell pattern that quickly grows tiresome as it repeats and makes slight variations. "My Tree" does a significantly better job with a similar premise, its staccato piano notes subsumed by grainy bass groans that give way to a surprisingly lovely clarinet part (although it could've arrived a lot earlier). Freund's influence is most felt in the ascending modular synth sequence at the heart of "Dream," not to mention the more inspired and unpredictable drum patterning which help mark it as one of the best tunes the album has to offer.
Audio clip: Adobe Flash Player (version 9 or above) is required to play this audio clip. Download the latest version here. You also need to have JavaScript enabled in your browser.
Ellen also revisits the rock palette touched upon in previous work in more overtly song-oriented structures. She takes on the frontwoman role for "You," chronicling a personal journey with full, unaffected vocals and a coterie of guitar fingerpicking, strums and thrumming bass guitar. Yet it feels more like Ellen is writing her own Elastica tune instead of incorporating the guitar-led sounds into her own aesthetic as she did on parts of Berlinette. Case in point, "Sun the Rain" reaches for the same tools and feels improved by its spikey surroundings rather than ostracized by them. In spite of its unsubtle nature — not one of Ellen's stong suits at any point — it's a clear highlight and miles better than the tropicalia flavored "Huibuh" or the untenable kosmiche funk of "Schlumi." Given how well Ellen has worked within the pop and rock spheres in the past, her attempts to incorporate these sounds with her abstract tendencies on Dust fail to form a coherent, engaging whole. What's more, the album offers no major departures to point to as reason the album doesn't gel; it's just a banal frontage road with a couple bright spots next to her more successful, fully realized ventures.