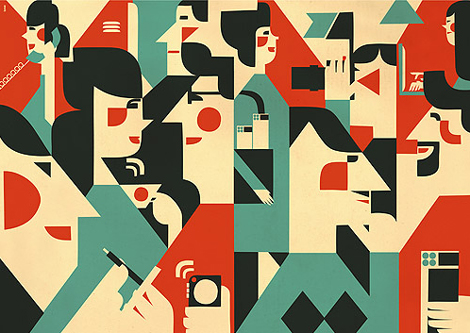 Illustration by Iv Orlov
This is Ital's third solo 12″ and at this point we've covered them all. Rare is a newcomer who is on such a serious roll, but Daniel Martin-McCormick is, of course, no new producer. He's been making records for a few years now as Sex Worker and as part of Mi Ami, all while digesting Mathematics and FXHE records with an apparently voracious appetite. Indeed, "Only For Tonight," in its wonderfully subtitled "Dubout/Saviour's Love Megamix" iteration, is assembled like a Mathematics record, an extended cut with very little in the way of rigid structure and myriad elements shifting focus throughout. Sampling Candi Staton's classic "You Got The Love," it builds to euphoric heights, propelled by what at times seems like 20 different synth lines. Though Ital himself says that he's not recording these tracks live it sure feels like it: the track's structure is almost bewildering with unexpected breakdowns and fleeting kick drums. It almost sounds like a 4 AM loft party highlight but assembled from half-remembered blurry parts the morning after, which just adds to the nostalgic, hedonistic feeling its soaring melodies evoke.
Audio clip: Adobe Flash Player (version 9 or above) is required to play this audio clip. Download the latest version here. You also need to have JavaScript enabled in your browser.
The B-side holds the "Original Instrumental Mix," which is much more focused on the percussion by removing not only the vocal samples but also many of the spacey pads and synths. Whereas the A-side has its head lost way up in the clouds, the B-side is firmly rooted on the ground with its stomping electro kicks, insistent cowbell and grime-covered bass line pushed up to the front of the mix. It's a solid version and is most likely the cut DJs will reach for, but it lacks some of the wide-eyed brilliance of the "megamix." Martin-McCormick might be coming from a noise rock background, but he's quickly established himself as one of the most interesting house producers of 2011. With three incredibly varied, odd, and beguiling 12″s under his belt, I can't wait to see what comes next.