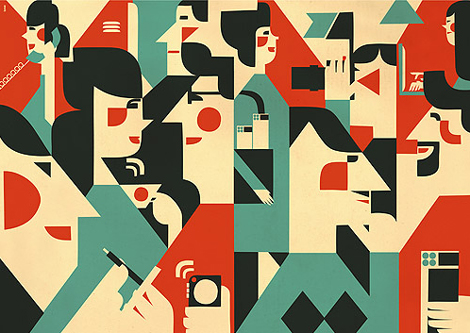 Illustration by Iv Orlov
Osunlade's Pyrography, his seventh and supposedly last full-length, is yet another worthwhile house album that has gone seemingly ignored this year. Perhaps this remix single commissioned by the Innervisions imprint will help to change that. "Envision," featuring a circular and hypnotic vocal hook, was one of the briefest and poppiest moments on the album, and here Innervisions label heads tease the syncopated stomper out lengthwise into something more strictly dance floor.
Audio clip: Adobe Flash Player (version 9 or above) is required to play this audio clip. Download the latest version here. You also need to have JavaScript enabled in your browser.
Admittedly, the differences between Âme and Dixon's reworks are slight, both taking the usual approach of bright chords and clean lines to remove the lighthearted, rollicking feel of the original. The difference is in their buildup: the duo use a lightly swung drum pattern and ticking chords to build momentum until those instantly recognizable whining synths crash through the gates, and then the track winds down the way it started. It's effective and immaculately produced, but for better or for worse not exactly breaking the mold. Contrarily, Âme's "acoustic" remix is more interesting, laying naked the surprisingly complex percussive interplay, but it merely fizzles out after reaching its climax. Quite a conundrum. Dixon's remix buries its foundations deep into the ground with a roving bass line and drums even more simplified than Ame's. When those synths come it feels less rapturous, though it's hard not to get swept up in the "second" climax that finally hits around six minutes in, and the track slowly fades out basking in its own afterglow. None of these remixes are either essential or outstandingly exciting, but they both do a fine job of stretching out what was a short burst of propulsive rhythm and catchy melodies into well-executed, irresistibly sleek tools.