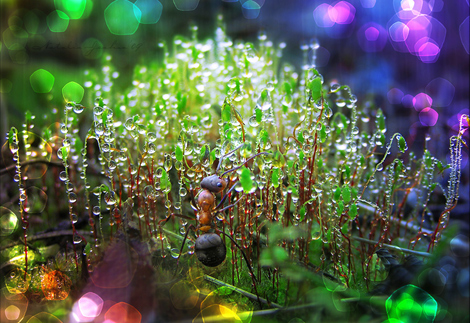 Illustration by Natalia Jeahans (sp?)
I'm not exactly sure how to peg James Blake. But if dubstep professes to be music made for dance floors, then the young British producer almost certainly isn't making it. His proudly unquantized beats (throbs of crunchy sound more than proper drum-hits) skitter in and out of the mix like confused cockroaches; his melodies, while warm, soulful, and usually ripped from records made in far simpler musical times, float over the proceedings like a minute-old ganja cloud — still pungently present, yet barely there. Despite sounding more than a bit like Untold, who's championed his productions as labelhead at Hemlock, refashioned as a sleazy lounge act, Blake brings a strangely anthemic quality to productions which otherwise would probably be too experimental (or just downright blazed) for club consumption. Indeed, his latest offering, The Bells Sketch for the seriously in-bloom Hessle Audio label, has already attracted the attention of adventurous jocks like Dub War residents Dave Q and Alex Incyde, who managed to move floors (while simultaneously weirding them out, in a good way) when they each closed out recent sets with the A-side. It's Blake's most sophisticated record to date, but that doesn't mean his dance floor credentials make a whole lot more sense.
Audio clip: Adobe Flash Player (version 9 or above) is required to play this audio clip. Download the latest version here. You also need to have JavaScript enabled in your browser.
What holds Blake's tunes together is the way his beat just stomps, the awkward rumble of an automaton bounding toward your defenseless village. "The Bells Sketch" has it in spades, but it's also rather pretty: plaintive chords, weepy vocal flourishes, and bass/treble interplay straight off The Chronic underpin the track's unwieldy movement, and what results is as much a dirge as a banger. As I mentioned before, I've only heard "The Bells Sketch" played out as a closer, and it'd admittedly be a tough one to drop mid-set. But the spooky uncertainty of the introduction would make it just as tantalizing of an opener. On the flip, "Buzzard And Kestrel" finds Blake a bit perkier and more rhythmic, recalling at times some sort of Flying Lotus/Alcachofa-era Villalobos collabo. Off-timbre, squelchy synths rush in during the track's final third, creating a moment that's almost surprising enough to warrant a spoiler alert in this review. All in all, it almost steals the show from the A. Mood-wise, "Give A Man A Rod" hazily splits the difference between the first two tracks but never manages to emerge from its bong coma. Despite this brief lapse in craft, The Bells Sketch makes for a standout 12″ — an oddity, sure, and not for any DJ faint of heart, but an extremely worthy listen from a far-out voice you'll want to give the benefit of the doubt.