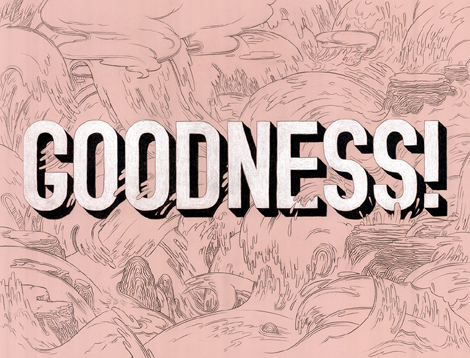 "Goodness" by Micah Lidberg
In his slow, nearly annual trickle of records, Boris Steffen has shown relatively little interest in how his tracks are received by a dance floor audience. It's arguable the Munich-based producer, best known as Jichael Mackson, has turned out more compelling music because he's freed himself from those expectations. At the very least his tracks are stranger for it; Steffen's records for Phictiv Records and liebe*detail through to Musique Risquée and Hartchef Discos have been heavily rhythmic but rendered through a cracked prism of oblique structures and abstract melodies. After nearly two silent years — three since his unusually soothing hit "The Grass Is Always Greener" — Steffen follows his single for Ilian Tape with another for Musique Risquée, Just In Time. Although uneven, it finds Jichael Mackson untamed and confounding as ever.
Audio clip: Adobe Flash Player (version 9 or above) is required to play this audio clip. Download the latest version here. You also need to have JavaScript enabled in your browser.
"Locus Pocus" has more in common with the aesthetics of mid-aughts minimal techno than the rest of Steffen's discography. While hinting at the dub sonorities that find their way into many of his tracks — mainly through the bent knee throb and heavily filtered upstroked samples — it hustles to the beat of an endlessly plucked pulse favored by scads of producers during minimal's dying days. But with Steffen behind the controls the nuances of its frantic, chugging loops and dessicated pings go some way towards redeeming the worn out trick — if not far enough. Familiarity never enters the picture on the flipside, however, as "Sugar Hill Mountain" tunnels through techno and house to arrive in uncharted territory. Light percussive touches contain a pearly, two pitch melody rolling over all in its path with a few distorted snags along the way. As more dreamy layers snowball inside, the percussion grows more persistent to keep up, pushing the track to a cliff's edge and triggering a huge, grinding breakdown stoner metal fans could admire. It's an entrancing experience that more than mitigates the mediocrity of "Locus Pocus," a fantastical sonic voyage that the bravest selectors will use to melt minds regardless of the setting.