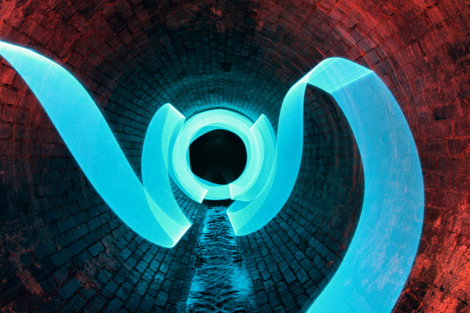 [Hyperdub]
In a city with a rich and diverse cultural heritage like Detroit, it's not difficult to understand how so many of its native electronic music producers have avoided being penned into a single genre like techno. Following in the footsteps of artists like Kenny Dixon Jr. and Anthony "Shake" Shakir, Theo Parrish and Omar-S, young turk Kyle Hall is the latest to throw off the yoke of listener expectations and create without concern for categories. Hall was raised by a creative clan who engulfed him in house music at an early age and fostered his innate talents with an education at the Detroit School for the Arts. Add to that unfettered access to a world's worth of music care of the Internet (something his predecessors could only dream of) and you've got a free-thinking, well-equipped producer for whom genre boundaries are as outmoded as landline phone service. So far in his relatively brief discography he's offered everything from delectable house melodies and grinding techno grooves to loose-limbed hip-hop beats and sprawling jazzy excursions. The genrebusters at Hyperdub proved keenly aware of his capabilities when they asked him to remix Darkstar's "Aidy's Girl Is A Computer" and positively prescient in nabbing him for his own 12″, Kaychunk/You Know What I Feel. It's easily his most accomplished release to date.
Audio clip: Adobe Flash Player (version 9 or above) is required to play this audio clip. Download the latest version here. You also need to have JavaScript enabled in your browser.
Varied as Hall's past releases have been from cut to cut, those inclined to categorize each would have little difficulty doing so. Yet his latest jams seem immune to definition, floating freely through the porous membrane of bass musics while retaining distinct Detroit flavors. Each element seems fully considered in its relationship with the rest of the song, allowing listeners to focus on single instrument and hear something new with each subsequent spin (eg. the kick drum, which seems to shift patterns every few bars or go missing altogether). Bustling snare patterns, widely reverberating snaps and periodic, pitched up shouts of "want it!" impart a nervous energy to "Kaychunk" that's somewhat alleviated when thick, colorful bass tone works its way through the din and ushers in sumptuous pads. Hall unspools ravishing synth vamps which move like silk fluttering in the wind, cloaking listeners in reams of melody. Don't be surprised if you end up yearning for more when they finally recede into the hazy chords.
Thankfully, B-side "You Know What I Feel" hits just as hard. Incandescent chords beckon listeners inside its head-rocking breakbeat frame before releasing an ascending keyboard riff — a gorgeous staircase to the stars that wiggles mid-note. With your head above the clouds, Hall strafes the horizon with stinging single pitches as he switches up the rhythms and prepares a bassy slide to let audiences down easy. His productions are so intricate but feel effortless to enjoy and never get tangled in their own complexities. They operate in a space that can only be called "dance music" yet feel immediately familiar and cry out for repeated airings. I can say without exaggeration that I've listened to Kaychunk/You Know What I Feel more than any other record so far this year, and its appeal is so great I can't foresee shelving it anytime soon. It's no wonder Planet E, Warp, and Nonplus have all added Kyle Hall to their release schedules; you should do similarly for your vinyl collection.