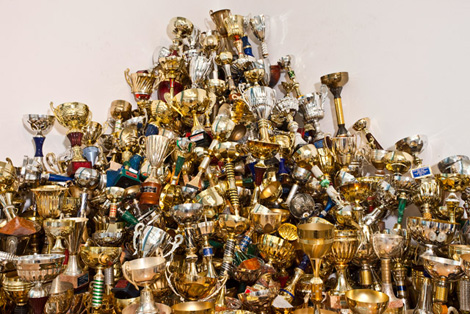 For Lee Jones, The Moose Mingles EP is a little like coming home. It's the UK-born, Berlin-based producer's first solo record for Aus Music since 2008, having put out nearly every release under his own name on Will Saul's imprint until then. There he developed his organic-flavored yet sample-stuffed sound which was most fully explored on the 2008 album Electronic Frank. Guitars, strings, and horns remain close at hand in his palette, but Jones' sound has grown more club-oriented if no less detailed in the intervening years while releasing for Upon.You, Cityfox, Watergate and Soundofspeed, and occasionally collaborating with Matthias Meyer, Patrice Bäumel, and Daniel Dreier. The Moose Mingles EP, then, is something of a return to form, hitting many of the same notes as past Aus Music releases with contemporary accents.
Audio clip: Adobe Flash Player (version 9 or above) is required to play this audio clip. Download the latest version here. You also need to have JavaScript enabled in your browser.
Opener "Moment" affects a remarkably familiar marimba pattern (think "Soon") in the midst of equally reminiscent tripwire guitars and vocals singing "moment" at different depths. A smear of disorienting tones and teeming bass bind things together, affording a hypnotic, almost Melchior Productions quality to the track — a quality which recedes somewhat after the sunny, post-breakdown key change. "Duvel" hews just as closely to past methods, breaking up a melange of melodic samples with a laser-fired bass line. Like "Moment," it's obviously labored over and ticks many of the right boxes, but takes few risks and finds Jones in a sort of holding pattern. Borrowing only the vocals, George FitzGerald's remix of "Moment" is pleasant but misses an opportunity shine. Its first half floats by on a lazy river of pads, only hitting the rapids once the pool drains and its chord stabs dive into empty space. Powered its busy percussion, Midland's remix of "Duvel" tunnels beneath the original, allowing the melodic elements to bleed together except for a clear, techy chord sequence.
Audio clip: Adobe Flash Player (version 9 or above) is required to play this audio clip. Download the latest version here. You also need to have JavaScript enabled in your browser.
Of the EP's four digital-only tracks, only the alternate mix of "Moment" (whose splashier hi-hats and warmer chords make a world of difference) and "Westworld" are worth having. Like so much of his most memorable work, the latter hearkens back to Jones' progressive, big-room material. Its main motif unfolds with grace and a wink, each pointed note falling perfectly in the ear and accompanied by terrifically dusty percussion and sensual sample snippets. A pity that it's relegated to non-physical status. A track this evocative and identifiable as Jones' own dispels the notion that you can't go home again. Yet as whole, The Moose Mingles EP suggests getting back into old routines years later isn't always easy or the best fit.