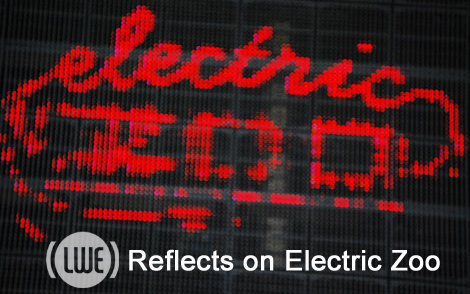 All photos by Sara Skolnick
This Labor Day weekend at Randall's Island, NYC, Made Events held its first Electric Zoo festival. LWE sent Chris Miller and Shuja Haider to scope it out. Electric Zoo instantly distinguishes itself as one of very few large dance music festivals in the Northeast. In spite of its disco and house pedigree, New York has not been home to an event comparable to Detroit's Movement Festival; one attempt in 2008, Minitek, was notoriously plagued by technical difficulties. Electric Zoo, on the other hand, neatly caged in over 50 acts. The lineup featured a number of artists on the cutting edge of New York's disco, house, and indie scenes, while some overseas acts rarely seen on these shores rounded out the weekend. The weather was perfect, and attendance was good. For the most part, sound was loud and clear, performers were easy to see, and everything was easily accessible. And while pizza and beer were available, so were falafel and coconut water. Was there a catch? Sort of.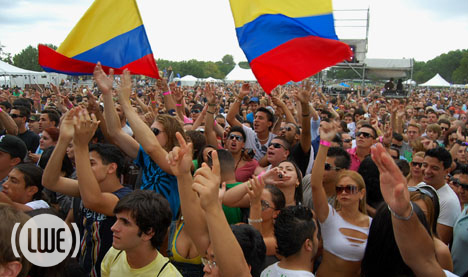 While we jumped at the chance to see so many underground and just-above-ground dance acts in one weekend, fans of trance and the kind of trash that has somehow become known as "electro" got to see plenty of their favorites too. Never mind that, at least to your humble correspondents, these sorts of music have nothing to do with decent house and techno besides the use of similar equipment. The problem here was in the scheduling. For instance, it is not unreasonable to assume that festival goers wishing to hear Lindstrøm and Prins Thomas might also want to catch Frankie Knuckles and Andy Butler, while those who intended to subject themselves to Armin Van Buren might also be inclined to witness Benny Benassi. Unfortunately, both pairs of acts were scheduled simultaneously, forcing the LWE crew to sometimes squabble over who got to see what, and to sometimes stand around waiting for an agreeable act to start. In the end, though, we managed between us to take in just about everything of interest to LWE readers. And we are glad we did. Here's how it went.
Saturday:

Answer: Just showing up is good enough: Seth Troxler
12:00 PM: It's odd to find a DJ as hyped as Seth Troxler opening Electric Zoo' Main Stage, playing to a vast, nearly empty field. Troxler shows a canny understanding of the situation though, focusing his set on the kind of melodic and/or vocal house that doesn't sound too awkward when no one is dancing. The Frankie Knuckles remix of "Blind" sounds great on this sunny afternoon, and serves as a preview for the Knuckles and Andy Butler set to come on Sunday.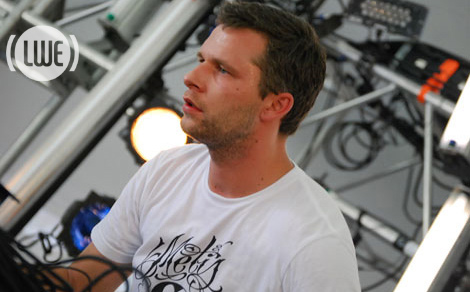 Martin Buttrich staring down those big banging chords
12:30 PM: Martin Buttrich, on the other hand, isn't quite as well prepared. He opens the Sunday School Hilltop stage with a pumping live set of his own material and his productions with Loco Dice. Although well put together, the energy level of his set is incommensurate with that of the sparse dance floor. Too bad; he might have torn the place up a few hours later.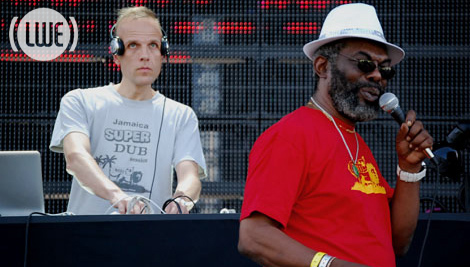 Mark Ernestus and Milton Henry conjuring dub spirits
2:00 PM: The grassy knolls of Randall's Island have begun to fill out. Your correspondents make their way back to the Main Stage, expecting François K and original dub poet Mutabaruka, as scheduled. Instead, we are surprised to see a gaunt, blond gentleman in a t-shirt emblazoned with the words "Jamaica Super Dub" setting up, with a dapper, bearded black man in a fedora and red, yellow, and green belt standing and smiling at the crowd. François c'est pas, this is Basic Channel/Rhythm & Sound don Mark Ernestus with Jamaican vocalist Milton Henry. Ernestus and Henry's set has less to do with techno than it does pure dub reggae, and the dread emanating from the Main Stage's imposing speakers prompts a rapid exodus from the fluorescent sunglasses set. Ernestus selects and engineers a wide array of dub classics, including the Congoes' massive "Congoman," a Lee "Scratch" Perry production well-known in the dance world through its Carl Craig edit. Henry sashays his way across the stage, signifying, crooning, and occasionally emitting a demonic groan; Ernestus drenches his voice with reverb and echo, tweaking it throughout for maximum effect. Most of Ernestus and Henry's set is played to about 20 listeners. For a performance by one of techno's most legendary figures, in the style of the first community practice of electronic music — the Jamaican soundsystem — this kind of turnout is disheartening.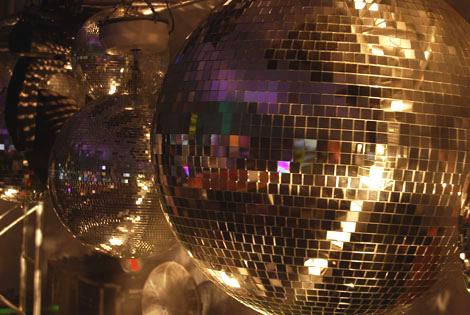 2:30 PM: The mirrorballs dangling over the hip young things in the Grove Discotheque tent make the whole affair look like a scene from Whit Stillman's Last Days of Disco, and the clean-cut boys of Holy Ghost! fit right in. Their selections happen to be excellent: Charles B and Adonis' glorious "Lack of Love" deserves to be heard more often, and the house and disco classics that follow, including Joe Smooth's "Promised Land," keep up the high standard. When their DJ skills are found wanting — the two occasionally seem to be in each other's way — their solid record collection makes up for it.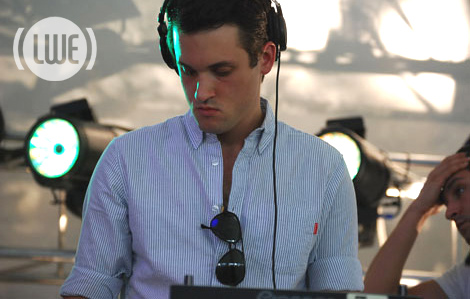 At least one looks interested: Holy Ghost! behind the decks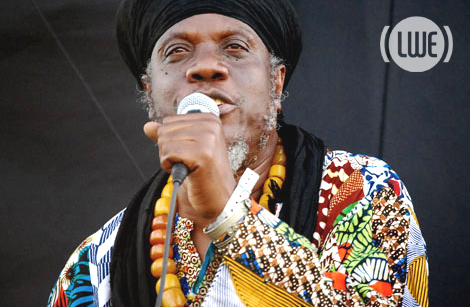 Mutabaruka lets the poetry flow
3:15 PM: François K and Mutabaruka have shown up, and take Ernestus and Henry's slot on the Main Stage. Surprisingly, K rifles through some dubsteppy Tectonic records until Mutabaruka's majestic entrance. Opening with his always-stunning literary masterpiece "Dis Poem," Mutabaruka drops some serious science. High-modernist poet W.H. Auden famously declared that "poetry makes nothing happen," but Mutabaruka flips the script. "Dis poem will not change things," he intones. "Dis poem need to be changed." His brilliant, politically charged verse works well with the dubbier grooves in his selector's arsenal, but some bizarre track selections become disruptive. One 'ardkore drum and bass choon takes everyone by surprise — especially Mutabaruka.
4:00 PM: DJ Mehdi, professional to a fault, rescues Holy Ghost! from a skipping record and begins to regale the growing crowd with a seemingly endless supply of screeches and swooshes.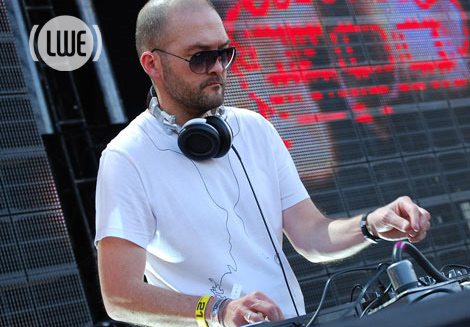 Ben Watt in action
4:45 PM: Buzzin' Fly head honcho Ben Watt, formerly of British popsters Everything But the Girl, takes to the Main Stage to mix up a selection of modern house and tech-house, building up speed after the dub stylings preceding him. As afternoon gives way to evening, Watt gets the Main Stage crowd going tastefully before trance takes over and "taste" seems like a distant memory.
5:00 PM: François K's second appearance, a solo set at the Sunday School Hilltop, upholds his tendency for pathological eclecticism. Though the breadth can get disorienting, he does play some of the best records aired on the Island that day, including Theo Parrish's latest, "Space Station."
5:30 PM: Ed Banger manager Busy P takes over from DJ Mehdi, getting on the mic at one point to scorn New York's supposed preference for trance. Your correspondents do not have long to scratch their heads and try to figure out what exactly the difference is supposed to be between trance and the trash Busy P plays before he drops a remix of Foreigner's "Cold As Ice." If only we were joking. Exit LWE.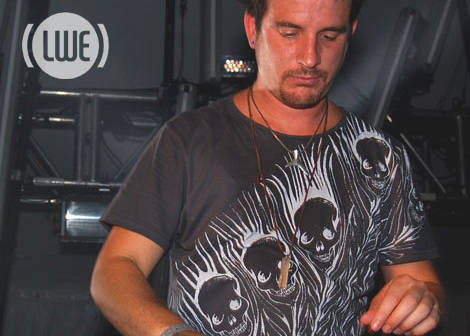 Baked to a crisp: Luciano adds another festival notch to his belt
6:30 PM: Luciano follows François K for a very Luciano set. If you've heard him play in the past couple years, or have checked out one of the last ten Cadenza releases, you know how he sounded. We try to get into it, but an underwhelming remix of Luomo's classic "Tessio" serves as a reminder of how much better it could have been. Luciano's set brings to light one of the festival's few technical problems, which mostly afflicted the Sunday School Hilltop. The adjacent Riverside Arena, site of lowest-common-denominator drivel for most of the weekend, has blared loudly enough that its murk can be heard nearly everywhere. A sense of dynamics in Luciano's set is lost; every time he cuts the bass, mindless thuds from next door obscure any subtleties.
7:00 PM: L.A. celebrity-DJ Steve Aoki begins a set composed solely of breakdowns. The occasional beat seems present only to prevent nausea.

Danny Tenaglia will be heard by any means necessary, including shouting
8:00 PM: It is hard to think of anything to say about Danny Tenaglia, other than that he is too loud. You can't blame him though, after what Luciano had to deal with. Apparently Afefe Iku's "Mirror Dance" gets a spin while the LWE crew is resting its ears, but Tenaglia's set does not stand out.

To be closer to his idol, he makes her wear it all the time
8:45 PM: Throughout the day, glassy-eyed cultists have been spotted wearing t-shirts, hats, and even papier-mâché masks made in the image or likeness of their rodent god. Deadmau5's set means a pilgrimage of the majority of the festival's population to the Main Stage for his gimmicky progressive-whatever. He closes by Rick-Rolling the crowd, which might have been trite in a timely way a couple years ago, rather than just trite. The strains of "Never Gonna Give You Up" echoing across the field are the best music heard from the Main Stage for the rest of the evening, as Armin Van Buren begins his set shortly after. We move to the Sunday School Hilltop, in search of techno.

Speedy J in slow-mo
9:30 PM: Speedy J enters, plays the same track for over an hour. Wait two minutes, kill bass. Wait 30 seconds, drop bass. Rinse, repeat.
Sunday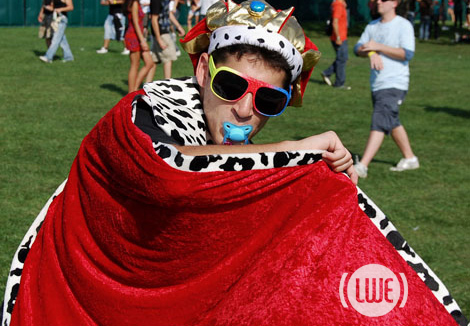 "Look away! I'm ridiculous!"
1:00 PM: Your correspondents arrive too late for Tom Middleton's Main Stage "Chillout Set" and head over to the Grove Discotheque to see Runaway's Marcos Cabral. Cabral is clearly a knowledgeable and proficient DJ; his set includes Pepe Bradock's "Deep Burnt" and comparable deep house jams. If only he had some dancers in front of him.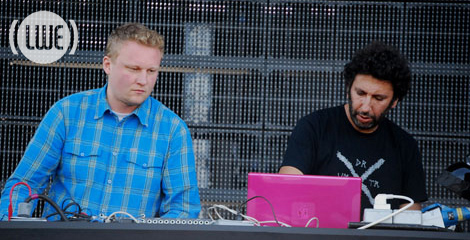 Château Flight cranking out a highlight set
1:15 PM: We head back to the Main Stage to catch Château Flight. Not certain whether to expect a live performance or a DJ mix, we are floored by what we get. The Parisian duo plays a deliberately paced live set of deep, well-constructed music, and have the shamefully few people here captivated. The sounds flow from Drexciyan electro to Innervisions-style deep house to Eno-esque ambience and back; the tracks are all new to us. Their approach is characterized by a tasteful use of software that is about musical content, not gimmicky effects. Already a highlight of the day, Château Flight has even the burly Main Stage security guard pumping his fist.

Junior Boy Jeremy Greenspan proves his worth on the turntables
2:00 PM: One LWE delegate pops back and forth from the Main Stage to the Grove Discotheque, to hear Jeremy Greenspan of the Junior Boys playing a rare DJ set. Greenspan is a more than competent DJ, whose housey set, including a dub mix of Farley Jackmaster Funk's "Love Can't Turn Around," offers clear insight into the music he produces as mastermind of the Junior Boys.

You can't see it, but his eyes are smiling as well: Prins Thomas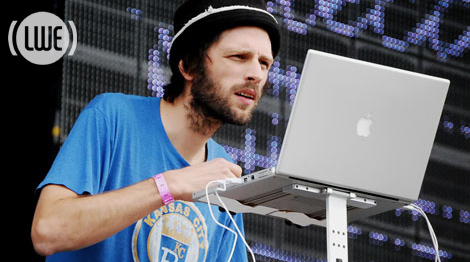 Lindstrøm searches for where to go next
2:15 PM: Lindstrøm and Prins Thomas have mysteriously opted not to play together, in spite of their shared billing, instead splitting their block down the middle. Thomas, betraying his prog-rock leanings with a Dungen t-shirt, opens with a DJ set; Lindstrøm follows with a live performance. At times Thomas leans more heavily on the indulgences that sometimes characterize the cosmic sub-genre than he does on the groovier disco-house he might have played at a later hour, but a lazy Sunday like this might be the best time for that sort of thing. Lindstrøm runs through live renditions of tracks from his acclaimed Where You Go I Go Too, as well as some deeper cuts; he gets surprisingly housey by the time he finishes.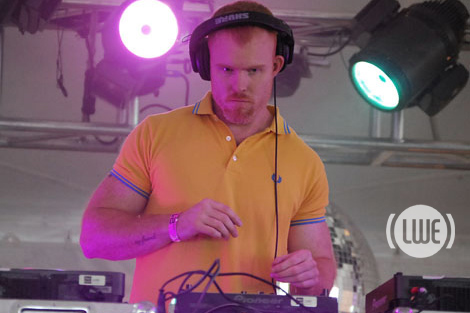 "This is my disco death stare," admits Andy Butler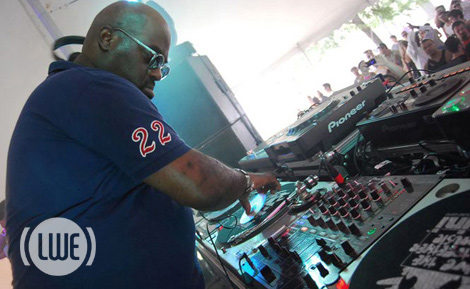 Doing what he does best: Frankie Knuckles at work
3:00 PM: With all the Chicago house getting caned in the Grove Discotheque, it's fitting that a veteran like Frankie Knuckles should fill the floor. He and Hercules and Love Affair's Andy Butler don't tag team; they break up their two and a half hours into alternating mini-sets. Ironically, it is Butler who sticks to more old-school sounds, navigating the boundary between funk and kitsch deliciously. Knuckles' sets are not quite as raw, and his tracks sound more contemporary. His deep house grooves are full of diva vocals, synth-flute solos, and so on, but they never get corny. "Strings of Life" is a surprise, but fits right in. Knuckles and Butler turn out to be a great team, playing some of the best music we hear all weekend. Not that we expected any less.

Matthew Dear debuting a new haircut, soon to be seen on techno hipsters everywhere
4:00 PM: Matthew Dear, billed as Audion, performs a live set, consisting of unreleased material, recent singles like "Look at the Moon," and bits of older hits like "Noiser" and "Mouth to Mouth." Slow and heavy, Dear's set fulfills a need for mind-warping techno at a festival mostly inclined towards house and and trance. The sound starts to get muddy about halfway in, which brings things back to reality, but the crowd keeps on dancing.
5:00 PM: Adam Beyer follows Audion with his trademark pummeling minimal techno. This does not hold our attention.

"Please, I need gum or something for my massive jaws to gnaw on!"
5:30 PM: Tom Middleton is back for a peak time set at the Grove Discotheque. He plays exactly the kind of music one would expect from a man wearing an 8-bit smiley face pendant. Lacking any nostalgia for the Second Summer of Love, LWE is a bit perturbed. We put up with Middleton's constant calls for dancers to make "T"s with their hands, but a Star Wars Cantina-esque rave track drives us away.

Steve Bug keeping busy
6:30 PM: We head to the Sunday School Hilltop to see Poker Flat and Dessous boss Steve Bug. As mentioned, the festival as a whole has not made techno its primary focus; we wonder what kind of a representative Bug will be. As it turns out, both Steve Bug and techno itself triumph at Electric Zoo. The effervescent Bug buzzes and flies behind the decks with infectious enthusiasm, offering one of the best sets of the weekend. Flowing effortlessly, he does not sacrifice musicality for speed, subtlety for propulsion. Donnacha Costello's recent "Miss Synclaviera" and Carl Craig's remix of Theo Parrish's "Falling Up" are characteristic peaks.

A thousand points of light: James Holden
7:00 PM: Nathan Fake and his boss James Holden occasion the only LWE excursions into the Riverside Arena. As befits this locale, their sets are plagued with bad sound and obnoxious visuals. Fake is surprisingly aggressive, while Holden tempers his out-there instincts in favor of a degraded populism. After taking a couple peeks, we decide to stick with Bug.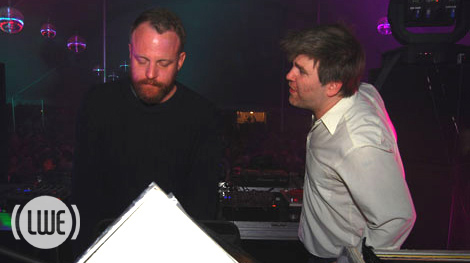 "I swear to god, Pat, if you don't play the 16 minute Patrick Cowley remix of "I Feel Love" I'm leaving this instant." Pat Mahoney and James Murphy with their Special Disco Version
8:30 PM: The triple threat of ATB, David Guetta, and Richie Hawtin on the other three stages has left the Grove Discotheque almost empty as James Murphy and Pat Mahoney begin their "Special Disco Version" DJ set. This is not lost on Murphy, but anyone expecting a spiteful reaction from the hardened cynic of "Losing My Edge" has misunderstood him. "Thanks for being here," says our gracious host. "I know there's a lot going on right now." Dancers willing to stick with Murphy and Mahoney are treated to a Paradise Garage-style mix-up of disco and house — or as Murphy puts it, "nice music" — that never resorts to the obvious. Sylvester's blissful "Over and Over" is given two airings, and is equally welcome the second time. Indeed, this timeless music is impossible to get sick of, and Murphy grins, raises his hands, and sings along like he is hearing it all for the first time. Mahoney, though comparatively reserved, more than holds his own as a DJ.
[Attention trainspotters: this set is the second time, after one of Andy Butler's mini-sets, that we hear a stomping track with a disco bass line and piano vamping, featuring a male vocal refrain consisting of the words, "the way you're making me feel." An obscure Chicago house jam? The latest DFA white label? It is an encouraging sign of the times that we can't tell the difference.]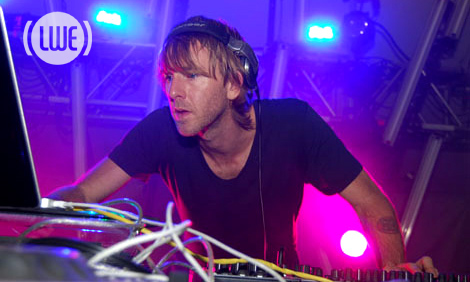 "Ooh, a free moment to check Twitter!" Richie Hawtin
9:30 PM: It has become a curious experience seeing Richie Hawtin play; one doesn't know whether to pay more attention to him or his Twitter feed. Hawtin closes out the festival at the Sunday School Hilltop, but like most of the other techno sets at Electric Zoo, his doesn't grab us. The tweets his Traktor patch is emitting claim he plays Alva Noto and Plastikman, but his cutting and pasting makes the tracks unrecognizable, and his set as a whole lacks the subtlety those names would otherwise imply. Returning to the Discotheque, we find that Electric Zoo is winding to a close. It's been a great weekend, but we anticipate improvement. Trance superstars get enough gigs, and many of the acts who played to empty tents deserve packed floors. With more discriminating programming, Electric Zoo could put New York on the dance festival map. We're keeping our fingers crossed for next year. (Review by Shuja Haider and Chris Miller)
"We love you LWE!"