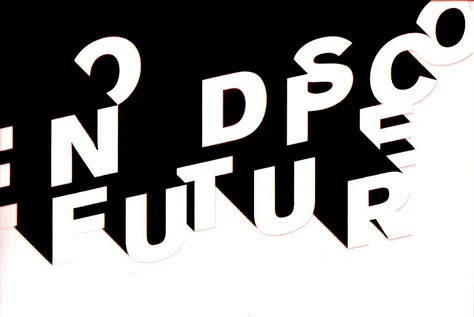 [Perlon]
In his work as Melchior Productions and various Aspect Music projects with Baby Ford and Tim Hutton, Thomas Melchior has consistently evoked a great deal of motion, thought, and feeling with relatively little grist. He helped define the micro-house era with his 2004 album, The Meaning on Playhouse by snatching sensual vocal slivers for his skeletal rhythms dabbed in melodic blush.
In the three years since, Melchior's output has taken a darker and more abstract turn, a change well represented on the aptly titled No Disco Future, his Perlon-released second album under more or less his own name. Therein he and collaborator Hutton trade sparse melodic optimism for more atonal and obstinate arrangements which pack the same full body blow as his cheerier back catalog.
Melchior excels at stripped down grooves which wear hypnotically into listeners' heads as their bodies jack. At times the motif of reiteration seems rather utilitarian at surface level, but the subtle textures and nuances he slips into tracks often require unabated length to worm their way into the brain. This makes No Disco Future's 10 tracks equally suited for a discerning dance floor and a pair of good headphones.
"Coming Up" is buoyed on its Pink-sampling refrain (so soused in dub suds it leaves ripples), but its underpinnings moan and crack like a finely tuned swing set, pumping away. The dense percussion battalion on "Prepare For Love" is warmed by descending melodic pads that conjure a rapidly setting sun, or Villalobos' "Ichso" with neater form. "Where's the Happiness" and "Out There" mesmerize with tight, sample-heavy loops over which Melchior wrings out writhing keyboard vamps that relish their own incongruous shape. He gets closest to the skinny deep-house aesthetic of his past releases on "Black Mother," grabbing odd ends of vocals and a subliminally familiar bass line.
Listen to "Where's the Happiness":
Audio clip: Adobe Flash Player (version 9 or above) is required to play this audio clip. Download the latest version here. You also need to have JavaScript enabled in your browser.
No Disco Future also challenges listeners expectations and pursues contradiction through varied tactics. On "The Hypnotist," Melchior conducts an exercise in cognitive dissonance: Its listeners are alerted every few bars of the "nice, warm feeling" they're enjoying, the joy of "people smiling", while battered by nudist percussion ticks and timbre. "Don Juan" giddily splices Latin-fired minimal percussion and accordion stylings with deep house vocals — the results are infectious without a chance of turning into a pop song.
But even on his most minimal and morose album, Melchior fits in two cuts whose sheer beauty are a shock in and of themselves. The solemn "Her Majesty" (co-written by Bruno Maman) lingers around a phased pipe organ refrain and eventually bursts into shimmering, dulcet swells. Melchior then contrasts his tuneful indulgences by injecting an overtly Casio sound just to show who's boss. Closing out the album is "Water Soul," a deep and haunting tune that embraces listeners in long, layered female vocal phrases and consonant piano and synth arrangements, making it more than a little hard to let go.
Listen to "Water Soul":
Audio clip: Adobe Flash Player (version 9 or above) is required to play this audio clip. Download the latest version here. You also need to have JavaScript enabled in your browser.
Thomas Melchior exhibits just how much he's learned over his two decades of artistry in No Disco Future without a single sign of creative fatigue. He executes a stylistic departure comfortably and completely without the stumbling blocks a new path could mean. And most of all, the album hangs together cohesively, affording listeners an intricate perception of whatever dance apocalypse he might see in store for us. Hopefully the world sticks around long enough for us to receive his next great statement.