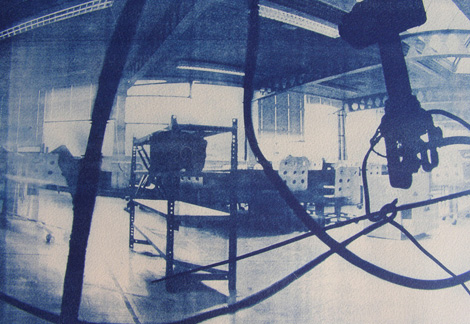 [Turbo]
Whatever impression you might have of Tiga's label Turbo, drop it: it's probably out of date. That's because, especially over the past few years, Turbo has been entirely unpredictable, revealing a streak of genius and diverse A&Ring you might not expect from Tiga's own music. The label's latest comes with a stamped label in a plain white sleeve, and as you might have guessed, it's a slice of unforgiving warehouse techno.
Audio clip: Adobe Flash Player (version 9 or above) is required to play this audio clip. Download the latest version here. You also need to have JavaScript enabled in your browser.
There's scarce info about Milano available on the Internet — it would appear he's based in Montreal (who's to say it's not a Tiga alias?) — but "The Fall" speaks for itself. Instead of the hurtling-down-tunnels feeling so much modern techno seems to aspire towards, "The Fall" flows fluid and viscous like it's bobbing along a riverbed. Anxious chords keep the watery surface permanently disturbed, and all bets are off when the track's acid motif enters in, rubbing itself raw as it eagerly defines a melodic counterpart to the track's rhythmic thrust. Before you groan, this isn't your typical 2011 acid retro move: the synths here are smooth and glossy, influenced more by French electro by way of Gesaffelstein and Brodinski than Armando.
UK grime-cum-dubstep-cum-techno producer Untold is tapped for a remix, and delivers one not unlike the stiff, arch tracks he ended the year with on Clone. His mix pins a boxy thump onto the track, but unlike the grey and workman-like "Little Things Like That," the original's acid lines still squeeze through the cracks for an oddly pretty, singsongy final product that sounds little else like any other Untold — like he's playing with modal jazz scales instead of simple chords. A little bit of mystery, a solid track and an unusual remix: whoever he is, Milano's off to a good start.