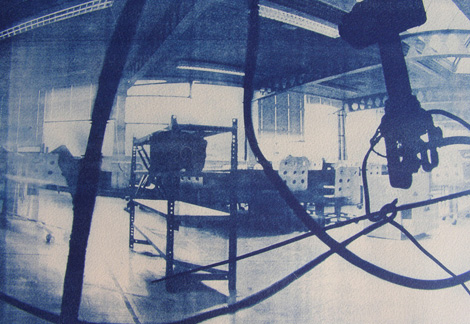 With Vakula having firmly established his faultless Shevchenko label via three killer self-penned releases, he throws over control of number four in the catalog to Edinburgh's Linkwood. No stranger to effusive, late night house maneuvers, Linkwood provides three tracks full of his signature blend of disco, house and boogie that also serve as lighter relief from the moodier strains of Vakula's own productions for the label so far.
Audio clip: Adobe Flash Player (version 9 or above) is required to play this audio clip. Download the latest version here. You also need to have JavaScript enabled in your browser.
Heavily filtered chords distorted to the point of abstraction lead the charge on the title track, forming a sort of nucleus for the other musical elements to group themselves around. These gradually emerge in the form of insidious, occasionally fingered bass notes, off-beat high hats and ascendant, sharper sounding chords periodically appearing in the mix. "Between Me & You" could easily be a remix of "Secret Value," its sounds and melodies sounding so closely linked it's hard to remember which track is which. If it is a remix, then "Between Me & You" is the dub, its tone slightly darker, more intense, signposted by the obvious Echoplex-like delays.
"Ignorance Is Bliss" takes a different approach, paring back the filtered rhythms and imbuing itself with the spirit of an early 90's Strictly Rhythm release, its rising bass line sounding for all the world like it was beamed in directly from a George Morel or Aly-Us track. Wooden blocks sound off in a call and response echo to each other in the distance, while arching, mournful strings crest over an abyss of swirling vocal ahhh's and subtle organ chords. Music that gives you a space to inhabit puts you deeper under its spell, something that these three expansive productions all do with ease. Another clear win both for Linkwood and Shevchenko.