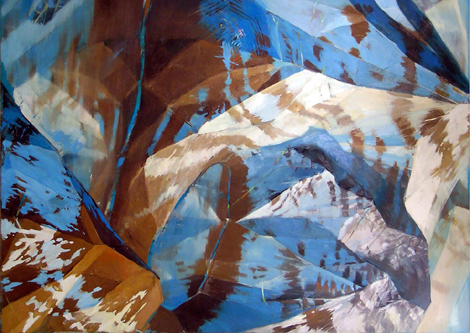 Painting by Christopher Russell
The Shifted project has been an outlet for some of the dingiest, most gray-scale techno this side of Dettmann's early work, a rather well-timed "Berghain" take on a re-emerging UK techno tradition. But since that first EP on Mote-Evolver, Shifted has been slowly opening up his sound, and his Pacific Blue side project is yet another interesting look into the mind of a prismatically mysterious artist. An open secret (much like Shifted's own identity), Pacific Blue has been paraded as a slightly more house-oriented project, and I guess that's somewhat accurate.
Audio clip: Adobe Flash Player (version 9 or above) is required to play this audio clip. Download the latest version here. You also need to have JavaScript enabled in your browser.
Get a few bars into "Industry Part 1," though, and I don't think you'll find it to be Rush Hour material. Like the title and distinctive Silent Servant-created artwork would suggest, there's some color in this music, but it's pretty much just one color: "Industry Part 1" hops along a highly mechanical shuffling beat, making the most out of a single iridescent chord stab that slots between the slamming piston of a rhythm section. The flipside (Part 2) takes the same elements and rearranges them like dominoes, putting the chord stab at the tail end of overcooked snares that descend maniacally, letting even more swing and syncopation into Shifted's world of rigid darkness.
Both of these tracks feature literally one chord (the same chord), making them on one hand fascinating experiments in restraint, on how to make the most of pretty much nothing — melody out of monotony, color out of monochrome. On the other hand, he's also making no-frills bangers that sound pleasingly unconcerned with futurism and innovation, just with jack — even if his idea of jacking is a little different than the norm. There is something a little house about it all, maybe: the cymbals in the background of both tracks hiss and bleed like they're taken from analog tape, a vintage deep house touch which helps to explain why these tracks made entirely out of freezing-cold steel and aluminum manage to feel so warm. It's a single full of deceptive tricks, always made up of less than it sounds, and it's a fun detour any way you look at it.