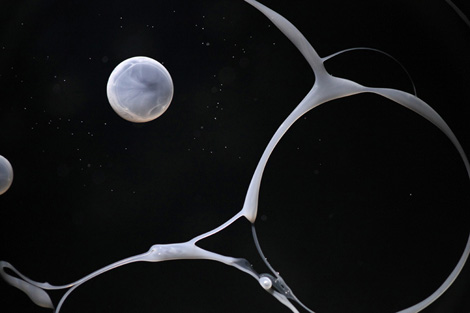 Artwork by Davy Evans
If you missed Petar Dundov's sophomore album earlier this year, his own words will probably catch you up faster than reading any review. "What is particularly interesting is that when you have two elements playing in sync, a third element appears out of nothing," the Croatian told Beatportal about Ideas From The Pond. "Every song carries this concept, and that is the main idea behind this album." More accurately, it was close to the only idea; a make-up which imbued the hyper-melodic Ideas with a wonderful sense of congruence and simplicity. Lily Wasp, his third single in a busy year, takes a slightly different tack, but without losing any of the hypnotic beauty that made Ideas so engrossing.

Petar Dundov, "Lily Wasp"
Rhythm is more prevalent this time, Dundov stepping back somewhat from synth interplay. Rather than spiraling up or down, for instance, "Lily Wasp" pushes buoyantly forward. In concert with springy bass, its keening LFOs and washy, Jarre-like atmospherics have a certain understated tension — ominous, even. If I had to criticize Ideas, I'd point to the lack of such moods — it's an almost cloyingly idyllic long-player. Which was all part of the concept, of course, but it's a treat to hear Dundov go deep again. On the flip, "Triton" is similarly tense, traversing a forest of shadowy synth shots. There's not much to lock onto; everything moves on before it can be properly apprehended. And yet, the track's murky, psychedelic folds prove enveloping, twisting and closing in upon themselves for near 11 minutes. Along with "Lily Wasp," it reiterates that Petar Dundov is about more than just rippling arpeggios and dazzling intensity, something most of us probably needed to be reminded of.