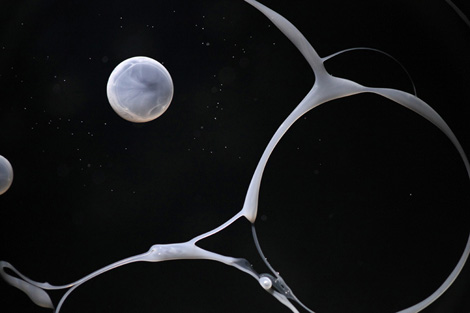 Artwork by Davy Evans
In the early to mid 00s you could rest assured that if you were packing some Mathew Jonson into your bag then at some point in the night you'd be getting due recognition from the dance floor. His sinister, winding techno largely comprised repetitive, simplistic/intricate melodies that burrowed deeper and deeper into your brain and sounded like little else out there at the time. Released mostly on Itiswhatitis and Wagon Repair, his tracks from that time still stand up against anything produced today, a fact exemplified by his latest release on the newly reinvigorated Itiswhatitis. With Jonson now at the controls of the label, he's chosen a couple of lost treasures to mark the new era that are classic Jonson.
Audio clip: Adobe Flash Player (version 9 or above) is required to play this audio clip. Download the latest version here. You also need to have JavaScript enabled in your browser.
"Panna Cotta" typifies his biggest releases, taking a similar approach to tracks like "Folding Space," "Followed by Angels," "Typerope," and "Freedom Engine" with its endless, fractured arpeggiation. The melody line is complex and spread out over several octaves, falling and rising upon itself ad infinitum. It is matched at points by a bass line that fits snugly around its every note, heightening the tension of the track and giving it an old-school electro feel. "Passage To The Other Side," then, is the slightly darker, more intense cut with the melody being marked out by the bass and accented by eerie, falling chime sounds. Unsettling pads, which have been a big part of Jonson's sound add that further dimension to the track, and work to provide contrast to the straight-forward groove. Despite the new release from Mathew Jonson not being so new and sounding like much of his other work, these tracks are sure to prove just as effective as they were when he first sent them out on promo CDs almost 10 years ago. Paving the way for a new era of Itiswhatitis, it will be interesting to see what Jonson and the label have in store for us next.