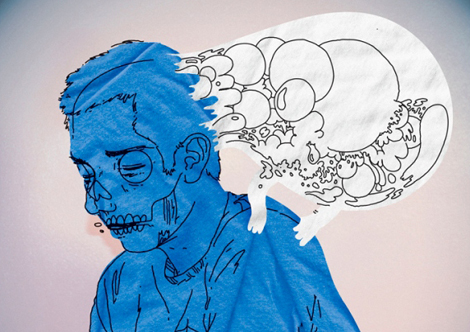 Illustration by Billy Agerstrand
Despite the Berghain and Panorama Bar mixes being fairly new titles in a commercial format that is close to twenty years old, they have nonetheless in a short time become indispensable. The success behind the series is directly linked to the success of the club itself, namely that of the DJs who compile and mix them are residents of said club and provide the best clubbing soundtracks in the world right now. The third installation in the Panorama Bar succession is placed in the care of Prosumer, whose focus here isn't on profiling new and exclusive tracks (though there are of course some of those Ostgut Ton exclusives on here), but rather putting together a solid mix that pays no heed to release dates.
Audio clip: Adobe Flash Player (version 9 or above) is required to play this audio clip. Download the latest version here. You also need to have JavaScript enabled in your browser.
It is one of those keenly tipped exclusives that kicks off the mix, Steffi's forlorn "Sadness" immediately creating a nostalgic atmosphere via its bitter-sweet piano house tristesse. While it's a beautiful track to start with it does feel tacked on to the mix, with DJ Duke's "Heard," which follows, not sounding like the smoothest transition and feeling like the mix has started all over again from this point. Things flow more smoothly from here with another of the exclusives, Hunee's incredible "A Leaf For Hand In Hand" seamlessly blended in, its loose percussion swinging around fluidly over the tubby Juno bass line and rising house chords. Through tracks like this, which lovingly eschew an old school vibe, coupled with the fact that the majority of the tracks on the mix are actually quite old, Prosumer pulls off a mix that is all at once steeped in history but still sounding box fresh.
That is in no small way helped along by the current resurgence in Chicago house and vintage synth sounds proliferating releases. His impeccable taste pulls together little known gems from Morgan Geist, Jeff Mills, Uwe Schmidt and DJ Iz with such ease you feel like he could have just been hanging out at home one day pulling records off his shelves and decided to record his efforts. Romanthony's "House of God" also provides a strong point of the mix, the deeply religious feel to the track a clear pointer to the opinion many hold that house music is indeed a spiritual thing. Under his Circulation guise Joshua Michaels' "Sincerely" slides in right alongside with its mirage-like, summery melodies and fired up vocal samples. It provides not just one of the highlights of the mix but also proves to be an axis, as it unfortunately gives way to the only contentious moment on the CD, Lil Silva's "Pulse Vs. Flex," a track so out of keeping with the vibe of the rest of the mix, it becomes an unwanted focus on repeat listens. UK bass music has been creeping into house and techno sets for several years now and having heard Prosumer drop "Let Me See What U Workin' With" in a the middle of a similarly styled set recently I know it can work, however here it just doesn't.
Audio clip: Adobe Flash Player (version 9 or above) is required to play this audio clip. Download the latest version here. You also need to have JavaScript enabled in your browser.
The taste of the garish-in-comparison track soon fades though with J.T. Melody's "Prove It" warming things up again, before Prosumer heads into slightly harder territory and a fantastic run to the finish with the pulsing, hallucinatory "L.T.B.C.Y.B." from Uwe Schmidt's i alias, the mono-synth workout of T.S.O.S' unreleased "Over And Over" and Jeff Mills' banging "Let's Swing It" under his one time alias Servo Unique. Smoothing out those harder edges, Prosumer finishes with the sublime, Fingers Inc.-sampling "Love Injection" from Mike Dunn's QX-1 moniker, providing a fitting end to a mix that gives an accurate account of Prosumer's tastes and abilities as a DJ. Panorama Bar 03 may not be immediately arresting, but like any great mix (or album for that matter) it sinks in deeper and deeper each time you hear it.