Every year (or thereabouts) since 1998, the Red Bull Music Academy has set up shop for a month of music collaboration, lectures, and events in honor of a handful of lucky budding musicians that applied to the program. Year in and year out the Academy seems to become more visible, thanks mostly to the archive of long, interesting lectures from some very interesting musicians, engineers, and related music bigwigs. Their website has also slowly become more of a presence due to an increase of writing and features, as well as the RBMA Radio which streams podcasts and exclusive mixes. RBMA takes place in a different city each year, and the tone of the whole production seems to take on each city's identity, from the choice of guest lecturers to the types of events staged. This year, they made kind of a big deal about being in New York, and the arrival of the RBMA was pretty hard to ignore from both the online hype machine and ads plastered all over the city's subway system and streets.
While the thought of applying to the academy has never occurred to me, I was intrigued to see how RBMA would interact with the rather strong patchwork of scenes and parties we have here, and thought I might get somewhat closer to knowing what exactly the RBMA is all about. This, then, is not a guide to the Academy itself but rather a view from the outside — a collection of thoughts about how the RBMA might impact your city if it comes through. Suffice to say, while it seems like RBMA might be a juggernaut of corporate money and influence about to steamroll through your city, just exactly how the RBMA affects you and your scene depends exactly on how much you choose to be involved with it.
The Academy
I was invited down to the Academy's rather posh digs in Chelsea for a tour to give me a better sense of what it's all about. The academy participants are essentially split up into two two-week terms, and over the course of those two weeks all that's really required of them is to attend all the lectures. Other than that, the focus is collaboration: they want participants to work with each other and make music together in order to learn new techniques and operate a bit outside of their comfort zone. Red Bull sure makes this enticing: there are a handful of small studio spaces where students have access to top-of-the-line gear, as well as "studio hands" to guide and advise them. When I visited, Four Tet was one of said studio hands.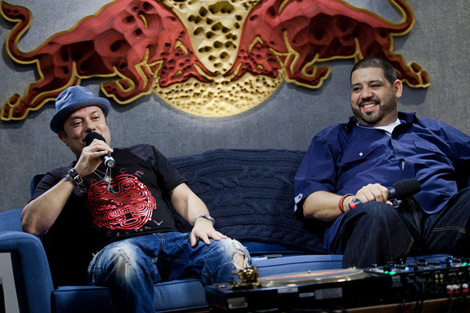 Masters At Work
It's quite a generous situation, especially considering the only real benefits to Red Bull is an extension of their brand, and indeed, the logo and drink is rather inescapable at all of the events. The lectures this year are of the usual high quality, with New York icons like Rakim, Philip Glass, François K, and Masters At Work dropping knowledge alongside the likes of Richie Hawtin and Stephen O'Malley. The ability to meet these larger-than-life figures in the flesh and pick their brains makes the RBMA a pretty extraordinary opportunity for anyone with even a cursory interest in (predominantly) electronic music. Coupled with the access to some incredible studio spaces, the Academy sure seems like an exciting couple of weeks.
Events: An Overview
Of course, the other thing RBMA seeks to provide its participants with is the opportunity to play a show somewhere in the host city. Thus, the many events that take place over the Academy's tenure (and I counted around 30) allow participants to both see a lot of great music as well as perform some themselves. But what does Red Bull know about putting on parties in New York? It's one thing to function as a classroom — it's a wholly different beast when the RBMA tries to interact with the city as a whole.
Festivals in New York — at least, the ones worth going to — tend to avoid the "three days of non-stop music in one location" structure and instead present a series of related events in different venues over the course of two weeks or so. Looking at the imposing calendar of RBMA events taking place in May, it certainly felt like a festival à la Unsound New York, but not one that any individual could approach in anything other than piecemeal fashion. I noted the handful of events of particular interest, sadly realized that I would have to miss the most exciting event (The Bunker with Andy Stott and Atom™), and set about getting ready.
Events: The Bad
The first event I attended was a party at a dim sum restaurant under the Manhattan Bridge with Gerd Janson and Metro Area on the bill. While exciting on paper, it was easily one of the worst parties I've been to in a long time. Just getting in the door was a total shitshow, with lines stretching along the sidewalk and through a Chinatown mall, zero signage, conflicting information about where one should go for guestlist, and lots of standing around looking befuddled. Once inside I needed a drink without taurine, but the expensive, shitty beer did little to put me in the party mood. The lackluster sound didn't help, especially since the music wasn't very good to begin with. I'm not sure who was opening for Metro Area, but hearing peak-time, dumbed-down party music at 11 pm is a pretty grim start for an evening. Metro Area had to basically start from scratch, and to be sure their set was a breath of fresh air, but it lacked a certain dynamism. Compounded with the pretty weird vibe, things were not going well. Then the cops came.

Metro Area
At some point I had given up on the dance floor and instead elected to stand back and chat with friends, so when the music stopped and the cops arrived, it took me a while to notice. I'm not sure how long they were there for; and when they left the music came back on, albeit much softer than before, but this kind of thing should just not happen when you're an organization with the means of Red Bull. For such a high-profile event taking place far, far from the underground, it's a bit inexcusable. Either way, the music started back up, and Bok Bok played some good music, but I just didn't have the heart to stay much longer. I heard the next day that Gerd Janson played an exceptionally short set anyway, so it's not like I missed a whole lot.
Off to a rough start, but the next party was at the Ace Hotel (again in Manhattan) and featured the Dope Jams guys squaring off against the boys of Mister Saturday Night. Both parties are among my favorites in all of New York, and I'm no stranger to pulling double-duty and going to both parties on a single Saturday night. But I'm not really sure what the point of this event was, though, since it was totally closed off to anyone without guestlist and took two very distinct parties completely out of their environments. The reason the Dope Jams parties were so good was very much due to the store itself (may it rest in peace), their sound system, and the anything-goes mentality. Likewise, the Mister Saturday Night parties are carefully considered top to bottom, and everything from the loft spaces to the friendly doormen to the always-up-for-it crowds make the party what it is. Removing all of those things from the equation and just having the DJs do what they do goes nowhere towards approximating what makes those parties so great.
To be sure, the music was typically good, and it was somewhat funny to see Francis, Paul, Justin, and Eamon playing in a posh Manhattan hotel, but it felt like a very pale imitation of the real thing. If this was meant to give RBMA participants a glimpse of New York's current house scene, it definitely missed the mark, and there really is no way of knowing what the point of it was. It wasn't a complete mess like the Metro Area show, but why put on a poor version of two very successful New York parties in New York?
Events: The Good
Lest you think it was all doom and gloom, things started to get much better as the events moved into more typical venues and toned down the ambition. Giorgio Moroder, fresh off a slew of renewed interest thanks to Daft Punk, played his first DJ set ever at Brooklyn's newest club Output in collaboration with Deep Space. I had been to Output many times before this show, and this was easily the most packed I've ever seen it — enough that it got pretty uncomfortable by the time Moroder started up. Either way, Benjamin Damage and T. Williams (both academy participants) played some very serviceable house to warm the room up, and then François K took over. Deep Space, Kevorkian's long running Monday party, is often held at Cielo, but the move to Output worked out fine, as the Funktion One systems at both clubs rank as the best in the whole city, if not the country.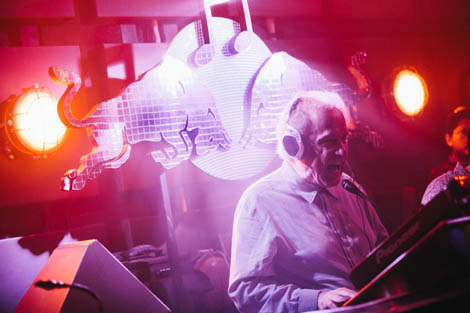 Giorgio Moroder
Kevorkian got on the mic (as he's wont to do) and informed the crowd that he was going to play strictly older favorites: "No 21st century!" Naturally the 21st century crept into his set care of acts like Space Dimension Controller, but his sets are always enjoyable, and regardless of what might be going on around you, hearing Rhythm & Sound and "Windowlicker" that loud on such a good system is always a treat. Moroder, helped by a younger DJ friend, mostly launched through his storied back catalog, hamming it up for the crowd during anthems like "Love To Love You Baby" and "The Chase."

Alva Noto and Ryuichi Sakamoto
Taking a week off to reflect, I was able to approach the next event with fresh ears — Alva Noto and Ryuichi Sakamoto at the Met. Such an event offered none of the structural problems that had plagued some of the shows thus far, and the elevated setting certainly made it one of the classier nights for techno geeks this year. I had high expectations, given that the duo's albums for Raster-Noton have stayed very close to me since first being exposed to them in college, and thankfully nothing about the night disappointed. The duo were in fine form, with excellent visuals that steadily got more interesting and involving, and the truly exceptional music one expects from Noto and Sakamoto. A highlight of the whole group of RBMA events, the two played off of each other to an exhilarating effect, and the moments when the whole of the Met auditorium was submerged in sub bass and Sakamoto's piano rang out with shades of triumph and melancholy were unbeatable.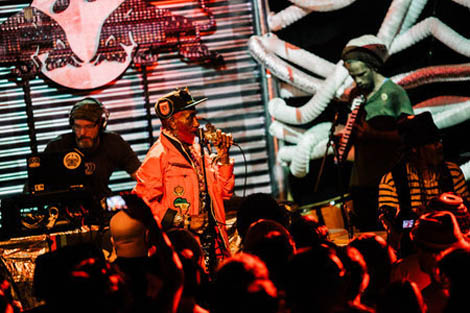 Pass the Gates show
New York has always been a hotbed of dub music, and so the "Pass the Gates" show at Le Poisson Rouge looked to explore dub in its many incarnations and mutations over the years. The Future Times boys opened things up nicely with live mixing from Peaking Lights, and then it was on to some memorable performances and collaborations with some serious dub heavyweights. The highlight was undoubtedly seeing the Congos rekindle their recent collaboration with Sun Araw and M. Geddes Gengras, working through their work together as well as classic Congos sides ("Fisherman," "Ark Of The Convenant"). Lee Perry was joined on stage by Adrian Sherwood for another memorable pairing of mixing board skills, and confirmed the night as yet another success.
The closing party was back at Output and was a big dance-music cap to the whole 2013 Red Bull Music Academy. The main room featured a L.I.E.S. showcase, and the newly opened Panther Room welcomed the likes of Mathew Jonson and Kerri Chandler for non-stop house and techno bliss. Professor Genius and Jahiliyya Fields provided some early live sets of evocative, punishing dance-music refractions, and Shawn O'Sullivan went even further with a set of modular techno that tested the boundaries between techno and sinister noise music. Willie Burns and Marcos Cabral provided strong DJ sets while Bookworms and Legowelt captivated the packed club with live sets that were equal parts tripped out and peak time. In the Panther Room, Mathew Jonson brought the heat as only he knows how, filling the room with melodic synth lines and crisp percussion — very much in contrast to what was going on at the L.I.E.S. showcase sonically, but no less engaging.
Conclusions
Along with many of the latter RBMA events, the closing party at Output went a far way towards redeeming Red Bull's ability to pull off a successful, well-planned event in my eyes, making those lesser earlier events all the more strange. I heard nothing but positive reports from friends who attended some of the earliest of the RBMA events ("Drone Activity," the aforementioned Bunker collaboration), so it's hard to fully judge the Academy based on their events. Given their access and means, the sheer fact that they got all of these artists on board is not necessarily impressive in and of itself, but the events that did work went rather well. It seems, though, that the less Red Bull tried to interact with the city and scene that is already here, the better things worked out. When the Academy comes to town, its hard to shake the feeling that the conversation it initiates with the host city is anything other than one-sided.
And yet what of the Academy when it leaves? For the most part, the Academy itself is transformed into offices for the larger Red Bull corporation, with only the larger main studio kept around as a functioning studio. Corporate influence surrounds us, especially here in the USA, and it can be hard to reconcile the faceless corporation with the positive work that seems to be going on at RBMA. No one wants their culture snatched up and appropriated by corporate interests, and yet what Red Bull presented New York with during 2013 was a truly incredible experience for young, talented musicians, and a handful of interesting events for the greater public. That not all of those events worked out shouldn't really come as a surprise — a great music experience will always resonate stronger than a disappointing one, so on the whole, and as an outsider, the 2013 edition of the Red Bull Music Academy struck me as a definite success.
As for the bigger questions of whether dance music really needs the money and production values that come from influences so much larger and well-connected than itself, RBMA raises myriad questions for every one it tries to solve. It has definitely had its sights set on something much larger than just dance music, so for now all we can really do is relegate it to the realm of (mostly) harmless and (surprisingly) generous monolith and see what the future holds. Despite my endless skepticism and cynicism, from what I've seen over the course of the past month, the future of the relationship between dance music and the RBMA could be a bright one indeed.