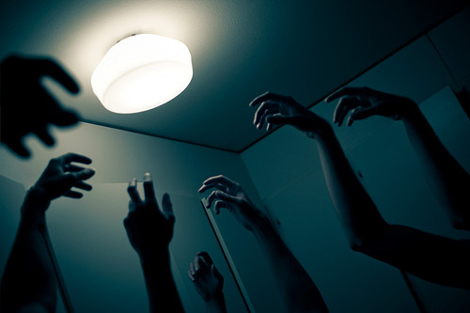 [M-Plant]
The conceptualization of science fiction through techno is nothing new, especially not for Robert Hood. As far back as his first albums, Internal Empire and Minimal Nation, Hood has posited the existence of other worlds, alternate realities, and supposed futures. His latest long player, Omega returns to this recurring theme, postulating a post-apocalyptic world of decay and decrepitude in which one man works to find a cure for a plague that has rendered any human survivors zombies. The basis of inspiration for the album comes from the 1971 movie Omega Man starring Charlton Heston, an adaptation of Richard Matheson's 1954 novel I Am Legend. In keeping with the waste and burned out, outlaw society depicted in the film, Hood's tracks are charged with a bleak, mutant desolation. However, where the B-grade Heston flick is soundtracked by a copacetic, funk/jazz accompaniment that sounds every ounce a part of the decade it was made in, Omega the album is cut through with an urgent, futuristic score that profiles the ideas contained in Omega Man rather than the style it was made in.
Audio clip: Adobe Flash Player (version 9 or above) is required to play this audio clip. Download the latest version here. You also need to have JavaScript enabled in your browser.
Hood captures his dystopian vision expertly; from the narrated intro "Alpha (The Beginning)" and tone-setting "The Plague (Cleansing Maneuvers)" through to the aptly titled "Omega (End Times)," he builds the music around his ideas. Much of the album sounds like it is written from an impersonal viewpoint; that is to say that tracks like "Think Fast" and "Towns That Disappeared Completely" feel like they are the theme music of the conceptual plague itself. There are moments that feel more like human expression: "Are You God?" reverberates with a searching, thoughtful tone, and "The Workers Of Iniquity" also carries with it a certain sense of being hand wrought. The bulk of Omega, though, feels like music is being produced by the stark, febrile world it depicts. On "War In The Streets" you can hear the crackle of digitally rendered fires burning, pulsing war cries of zombies bent on destruction, and on "The Family Watches" the staccato chime makes the synths seem to be transmitting in Morse code.
Audio clip: Adobe Flash Player (version 9 or above) is required to play this audio clip. Download the latest version here. You also need to have JavaScript enabled in your browser.
Hood's minimal techno remains every bit as vital now as it was when he started making the tracks that coined the term. On the surface this album could come across like some of the more unforgiving sketches of what has come to be known as Berghain techno, though deeper meditation on Omega reveals that within the walls of Omega is a heart and moreover a funk. That funk is sometimes all that belies the human construction of these tracks, so good is Hood at conveying the bleak nature of the album's themes. And it is that funk that separates Omega from being strictly a concept album to one that will also remain in plenty of record crates for a long time to come.