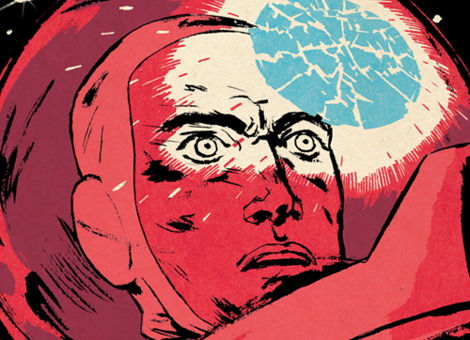 Illustration by Patrick Leger
Although his name has been bubbling away in a hot-pot of quality labels for several years now, more recently Ryo Murakami's releases have really been pricking ears, with impressive turns on Quintessentials, his own label Pan and Baud all contributing to a spike in awareness of the Japanese producer. His latest for Belgian do-no-wrong label Curle Recordings further cements his reputation with two stunning cuts of deep Detroit flavored house and an equally remarkable interpretation of the title track by Fred P.
Audio clip: Adobe Flash Player (version 9 or above) is required to play this audio clip. Download the latest version here. You also need to have JavaScript enabled in your browser.
Murakami pulls out all the vintage stops in his analogue soaked tracks, "In Chain" and "Feel It" both dappled with classic drum machine sounds, wrapped in a loving fold of rich bass and streaked with lush strings and pads. On "Feel It" Murakami re-samples his own pads, leaving them raw and rough cut around the edges, in stark contrast to the almost careful, gentle chord hits that slot in among an array of slowly pulsating string arrangements. The prioritizing of the higher frequencies in "Feel It" give the track a dreamy feeling of it becoming unmoored, of floating heedlessly. Although similarly ethereal, "In Chain" has more of a direct groove to it. The spatial chatter between the low toms and clipped rimshots hollow out a cavernous area that is at first filled by delicately flowing keys, then further augmented by slowly evolving chord stabs and accented percussive hits. You're already well under the spell of the persuasive groove by the time the rolling, softened bursts of bass keys hit, which emphasize the hypnotic swell of the track. Fred P's remix of "In Chain" focuses its immediate attention on the chord stabs, placing them in closer proximity to the dance floor but without losing all the rich feeling the original established. In fact, Fred stays very true to the original, using many of the same sounds, but tweaking them subtly and re-shuffling other parts around. However it is those stabs that drive his remix, giving it even more of a grounded feel than Murakami's version. A stunning record that has fast become one of my favorites of 2011 and one that will keep me looking out for further works by Ryo Murakami.