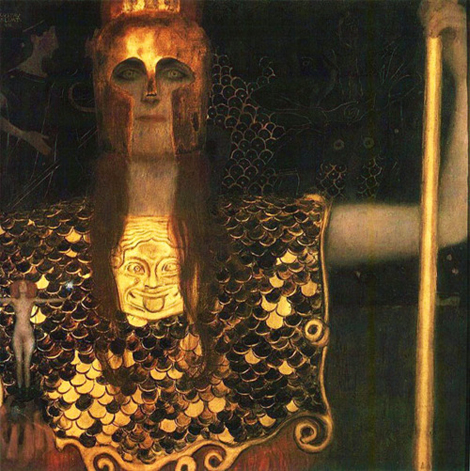 Painting by Gustav Klimt
[Fabric]
"Sandwell District is dead" — except when they're not. Since their watershed moment a couple years ago — which is tough to define, but probably around Feed-Forward — Sandwell District has come to embody much more than just a label. The notion of a collective à la Basic Channel seems particularly apropos, as the label's 30-odd releases recycled themes and remixed itself like "Lyot" or Quadrant before it — information was scarce, but close listeners and label devotees could quickly draw up a map of what versions of "Variance" existed where, and where exactly you heard that pattern on "Speed + Sound" before (SDSMP1 A2, for those playing along at home). Increasingly, Sandwell District referred to itself with a "we" instead of an "I," muddying the waters between the artist and label fields so as to bring both into question. And yet Sandwell District the live act has always been somewhat strictly Function and Regis, relegating Silent Servant to somewhat of a third-wheel status, despite undoubtedly contributing the lion's share of the label's aesthetic.
Unfortunately, Silent Servant is also undoubtedly the best DJ of the triumvirate, and the long-rumored Sandwell District Fabric CD is sorely missing his touch. Of course, it's not entirely fair to rate a CD by two artists based on the absence of somebody else, but would I be missing that person if the CD were truly as satisfying as I want it to be? Perhaps it's that the mystery is gone — Fabric 69 is a relatively straight-forward techno mix, there are very few exclusive/new tracks and all artist and label names are present and accounted for. I don't think we're all that superficial, though — surely it was, at the end of the day, the music and not the mystery that we loved about Sandwell District.
Audio clip: Adobe Flash Player (version 9 or above) is required to play this audio clip. Download the latest version here. You also need to have JavaScript enabled in your browser.
No, Fabric 69 is unfortunately a victim of expectations. Sandwell always seemed to operate in big strokes, with a good deal of pomp and circumstance accompanying many of their releases (and even some of their Tumblr posts), each feeling indicative of something beyond just the music contained therein. Don't get me wrong: Fabric 69 is not a bad mix. Regis opens with a stunning, expertly plotted nine-track sequence of his remixes and Sandwell-affiliated names, moving quickly through sinister atmospheres and setting the stage wonderfully. It switches gears with Mary Velo's "Detune," an excellent slice of swinging, chord-driven techno that feels like the first track to really get played out, but by the midpoint of the mix you'll probably feel that not a whole lot has happened since then and the momentum doesn't really shift much.
Audio clip: Adobe Flash Player (version 9 or above) is required to play this audio clip. Download the latest version here. You also need to have JavaScript enabled in your browser.
The "big" tracks, the ones that really stick out, are almost exclusively tracks that you certainly know (by Carl Craig, Plastikman) or tracks that get played to death (Untold's "Motion The Dance"). The rest tend to be nice but rather forgettable — either because they're mixed through so quickly that they don't leave an impression, or because they mostly seem like somewhat bland Sandwell imitations. Even Mark Ernestus' Shangaan remix, a personal candidate for one of the finest tracks in recent memory, seems to sit uncomfortably in the mix — a splash of color and spacious tones in a sea of hard-hitting techno.
The mix closes with Function's great "Voiceprint (Reprise)," which I claimed earlier this year is a natural closer, and certainly a mix that starts with "Voiceprint" and ends with its techno reprise is sensible and destined to resonate on a thematic level. Fabric 69, however, is missing something in the route from point A to point B — the aggressive, situationist provocation that runs through Regis and Function's career has been softened, and the coherent, narrative brilliance that marks Sandwell's catalog is absent. You never get swept up by Fabric 69, rather you plod along like a club night where the music is pretty good but the endorphins just don't materialize. Regis and Function have been almost supernaturally on-form as of late as producers, which makes the CD's disappointment all the more peculiar and disheartening.