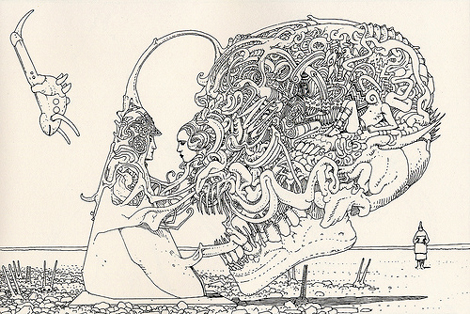 [Perlon]
Despite his dubstep pedigree, Sam Shackleton's association with Perlon really hasn't raised many eyebrows. "Blood On My Hands," his seminal 9/11 anti-anthem caned by Cassy and eventually remixed to mindblowing effect by Ricardo Villalobos, introduced the minimal scarf-wearing set to the British producer's tribal, ethereal take on bass music. By the time Shackleton returned Villalobos' favor with his labyrinthine, original-besting take on "Minimoonstar" for Perlon in 2008, the technoid wing of dubstep — thanks in no small part to the Shack's beefed-up Muslimgauze breaks — had already burrowed itself so deeply into techno that Shackleton actually felt like a logical and hardly controversial addition to Zip's and Markus Nikolai's fabled roster.
Audio clip: Adobe Flash Player (version 9 or above) is required to play this audio clip. Download the latest version here. You also need to have JavaScript enabled in your browser.
I have one complaint for the most prestigious record label in European house and techno, and it's a somewhat fussy one: while I honestly can't name a bum Perlon release off the top of my head, I can't think of one from the last couple of years that's transcended the label's quality standards and freakish consistency to offer truly surprising music. Shackleton, sort of by default, seems the hired gun most likely to muss up our expectations, but Three EPs — Shackleton's Perlon-fronted debut LP — hardly shakes off the label's reduced-yet-enhanced aesthetic. But can one honestly boil down such jaw-droppingly definitionless beat science to a "subtle tweak" on an established formula? Shackleton's productions have often mined a primordial, unknown quadrant of the human psyche (though when Skull Disco wound down at the end of last year, his under-pitched excursions sounded fatigued and overly dependent on stereotypically near-eastern flourishes). Going two or three steps beyond our usual conception of deep, not to mention leaping ahead of Shackleton's "Rusty Nails" white label remix for Moderat, Three EPs shelves dancing skeletons and the light at the end of the tunnel for a more open-ended exploration of whatever unnamed terror lurks just beyond our comprehension.
Like Zomby on One Foot Ahead Of The Other but with a somewhat smaller bag of skunk, Shackleton eschews separate and distinct album tracks for a kind of multi-part exploration of a single arrangement — hand drums and digital cymbals, nauseous organs, and a whole host of disembodied voices wade with greatest care through various incarnations of purgatory. And then there's his bass: powerful yet surprisingly plaintive and unpredictable, it nimbly charts one of the strangest melodic courses you'll hear on anything remotely resembling dubstep. When he's on point with these elements, he's unbelievably on point. "It's Time For Love," maybe the most subtly impressive moment in Shackleton's discography thus far, finds multiple, incongruous melodies swirling around each other without quite resolving — an inscrutable arrangement that adds up to surprisingly tender moment. "Skull disco" indeed: despite ripping my cranium nearly to shreds, its expertly nuanced percussion keeps the track from drifting into the fog. The triplet feel of giant toms on "Let Go," a moment reminiscent of the Villalobos and Andrew Gillings collaboration "Andruic & Japan," thrusts manic, jazzy drum and bass interplay into moments of slow-motion levitation. When warbling, shroom-brained singers yell "Ay ay ay" over the track's rapidly-shifting rhythms, you can't help but wonder how Shackleton had the foresight to include your precise thoughts at that moment in his mix. Though generally keeping his tempos in the unrelenting range currently favored by buzz producers Untold and Joy Orbison, his somewhat slower compositions like "Moon Over Joseph's Burial" and "There's A Slow Train Coming" feel fresher, meaner, and more mystic than they have before.
Audio clip: Adobe Flash Player (version 9 or above) is required to play this audio clip. Download the latest version here. You also need to have JavaScript enabled in your browser.
The bass continuum has filled to the brim with wild, expansive productions as averse to genre affiliation as they are to a consistent downbeat. While the rosters of Hyperdub and Hotflush have churned out some albeit excellent wackiness, Shackleton here has thrown down the gauntlet to a scene he was instrumental in forging: eschew the bog standard, sure, but don't let the prospect of supermassive subwoofers and the purple stuff break your ultimate focus. Like its closest referent in techno, Villalobos' Perlon triple pack Thé Au Harem D'Archimède, Three EPs just skirts the rabbit hole by combining way-out compositional ideas with exceedingly impressive control over his tools. But I'd encourage Shackleton to continue tightening his gaze. The spoken word samples in a track like "(No More) Negative Thoughts" seems distracting at first blush, and familiar spiritual that bubbles up through "Asha In The Tabernacle," while melodically adventurous, can feel at odds with the seriousness of the musical endeavor. Despite these minor quibbles, I'd be hard pressed to think of music more on-point and new from any electronic producer these days (save, perhaps, Moritz Von Oswald). It's precisely the sort of quality we've come to expect out of a Perlon release while sounding very little like what we've come to expect out of dance music.