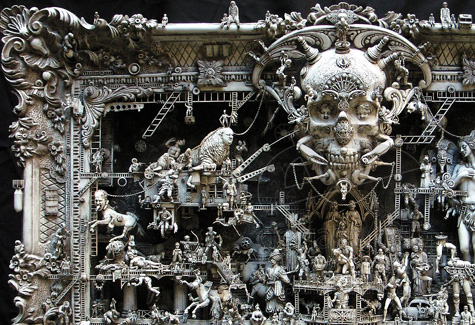 Artwork by Kris Kuksi
With an album as critically lauded and widely admired as Shed's debut, Shedding the Past, it's expected that DJs and fans alike would clamor for an EP of remixes. The only question remaining is, what took so long? Of course, simply enjoying Ostgut Ton's consistently top notch releases has always been more rewarding than second guessing; this well considered "Remixes" platter is certainly worth the wait.
Audio clip: Adobe Flash Player (version 9 or above) is required to play this audio clip. Download the latest version here. You also need to have JavaScript enabled in your browser.
I can scarcely think of more capable hands to remix Ostgut's most rhythmically ambitious artist than Martyn, a rising star of dubstep and techno's shared territories, and the recently resurgent Surgeon. The latter coerces "The Lower Upside Down" to bang harder at the behest of a brisk 4×4 kick and astringent hi-hats. And by shuffling original arrangements and supressing ethereal pads under an array of abrasive filters, Surgeon exorcises the despair in "The Lower" on dingy dance floors. Although Martyn's stepping drum patterns retool "Another Wedged Chicken" for dubstep DJs' purposes, the goopy, oscillating progression and shine of trembling cymbals remain at its core. If anything, his remix is more buoyant than the original: The stodgy vocals reciting the title carry listeners over each lunging measure, and warped eddies appear from nowhere, ensuring no one escapes its bucking rhythms too quickly. "Remixes" could have filled out a 2×12″ collection easily, but Surgeon and Martyn made the most of their revisions and mark Ostgut Ton's first foray into dubstep as a rousing success. Are there more in the pipeline? Stay tuned.