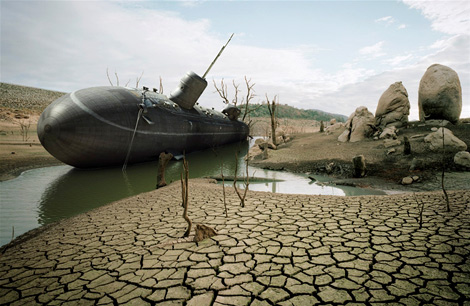 Back in the summer of 2007, Chris Mann began his review of the Soul Jazz Box of Dub with the following statement: "Most compilations are like group photos: someone always has their eyes closed." I find this usually tends to be true, and never more so than on Mule Electronic's Enjoy The Silence Vol. 1. This collection of ambient music by house and techno producers ranges from excellent to completely boring, with typically impressive names falling into both camps. All in all, it is a pretty dull release, despite a few strong moments.
Audio clip: Adobe Flash Player (version 9 or above) is required to play this audio clip. Download the latest version here. You also need to have JavaScript enabled in your browser.
Koss kicks things off rather lamely with "Endless Flight," a dreary piano piece consisting of little more than a melodramatic chord progression. Things shape up a bit with Strategy's "After Mometaths," a vaporous and fully ambient number that's very pretty, if a little unfinished sounding. On "Approaching India," Benjamin Brunn appears sadly out of form, half-heartedly noodling on his favored Nord Modular. Thomas Fehlmann gets things back on track with "Scheiben," an elegantly murky soundscape with bits of fleeting melody. On "In Smoke We All Become Birds," Minilogue set transparent breakbeats against a sooty breeze, forming one of album's strongest tracks. Retreating from his usual home at ~scape, Jan Jelinek keeps the momentum going with "Stripped to Realmode," a song that manages to be both glitchy and soothing.
Audio clip: Adobe Flash Player (version 9 or above) is required to play this audio clip. Download the latest version here. You also need to have JavaScript enabled in your browser.
Always the wild card, DJ Koze appears with "Lords of Panama Rendered," a trippy experimental piece that sounds playfully antagonistic in such somber company. But Lawrence fumbles the momentum with "Sunrise," a beatless track as uninspired as its title. Probably the best track here is DJ Sprinkles' "Music Is A Controllable Desire You Can Own." Like its title, it's really just a reduced version of "House Music is a Controllable Desire You Can Own," off his album Midtown 120 Blues, but its locomotive piano chords and snowy New York glow make it a very worthwhile reprise. Enjoy the Silence is weakest in its final stretch. Takuwan's "Aika-Laiva" is totally forgettable, and in fact very hard to notice in the first place (unfortunate for a debut track), while Watanabe's "A Source of Light" and Vince Watson's "Serenity" would sound more in place on a volume of Pure Moods.
Audio clip: Adobe Flash Player (version 9 or above) is required to play this audio clip. Download the latest version here. You also need to have JavaScript enabled in your browser.
Several solid tracks aside, Enjoy the Silence seems to miss the point that good ambient music should be more than just pretty sounding. Most of the artists here seem completely out of their element, which they are: producers like Koss, Lawrence and Strategy are great at wispy techno, but without a beat they sound adrift. Anyone seeking quality material along the same lines (and by some of the same artists) would do well to track down last year's tragically overlooked Diaspora: Cottage Industries 5, or My Favorite Things Vol. 2, another comp due next month on Mule.