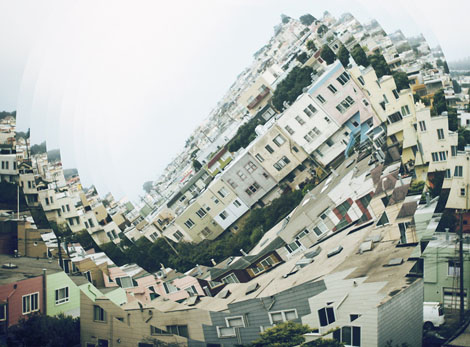 Image by Nicolas Kennedy Sitton
[Rush Hour Recordings]
Although I've never been, I remember reading someplace that Amsterdam is a funk-and-soul kind of city. If this is true, it definitely seems to bleed through into the house scene. Where The Hague and Rotterdam are frequently characterized by nu-Italo and rigid, corrosive electro, Amsterdam — particularly the Rush Hour stable — trends toward the lighthearted and colorful, nodding to 1980s boogie and synth-funk. Rush Hour's Amsterdam Allstars features a cross section of the city's talent, and while that funky warmth pops up quite a bit here, the results are comfortably diverse.
Audio clip: Adobe Flash Player (version 9 or above) is required to play this audio clip. Download the latest version here. You also need to have JavaScript enabled in your browser.
Most of the city's usual suspects make appearances. San Proper opens things in beatdown house mode, running ambient crowd noise underneath a wooden, stomping groove. Juju & Jordash continue their strong year on the raw, spaced-out jack track "Bleached Roots." Dexter's energetic "Zamba" mixes streamlined organic percussion with a frenetic synth line, while the upbuilding shuffle of Tom Trago's "Once Upon A Time In Amsterdam" manages to be both slinky and driving at once. It's reassuring to hear the regulars contributing tracks that don't immediately sound like throwaway material.
Audio clip: Adobe Flash Player (version 9 or above) is required to play this audio clip. Download the latest version here. You also need to have JavaScript enabled in your browser.
Nevertheless, the compilation's brightest spots come from producers with either an unpredictable streak or a bit more to prove. Cult hero Newworldaquarium seems to release about a track a year, so his "Liberty Hot" will undoubtedly be a main draw for many. It doesn't disappoint, placing a tweaked porn sample (about as tasteful as such a thing can be) amid a stepping groove in his inimitably loopy style. With "In No Time," rising star Maxi Mill makes his first appearance since his To The Next debut. Like that release, the track showcases his limber, intuitive abilities, ebbing and flowing through a number of different sections. Boris Werner's "How Far Can I Go" is comparatively cold and ethereal, but pleasantly so, marked with sweepingly romantic strings that remind me of vintage Kompakt. Amsterdam Allstars presents a wide swath of artists, like any city-survey compilation should. Naturally, tastes will vary as to who comes out on top, but with solid efforts from all tiers — established, eccentrics, and young guns alike — the collection does the Dutch capital proud.