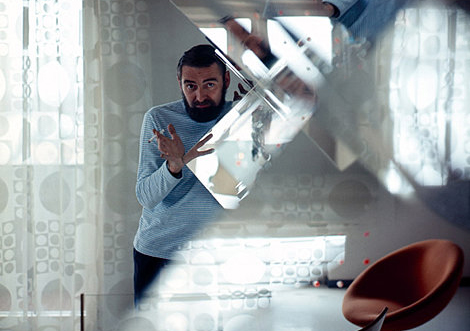 When an artist releases music that is unexpected after a long history of doing the unexpected, there is something poignant about their career trajectory. Aaron Funk, best known as Venetian Snares, has never been one to repeat himself. For the past 10 years he been relentless in his pursuit of any unturned stone in breakcore, leaving his fans to sort it out. His last major release for Planet Mu was the toxic armageddon called Filth, an album that integrated his most degenerate and awful thoughts into a mutant take on dubstep. Two years later, he resurfaces on his longtime label with Cubist Reggae, four tracks of throwback dub reggae that is strangely pretty at times, although it retains the angular and sharp sounds of the artist's signature sound.
Audio clip: Adobe Flash Player (version 9 or above) is required to play this audio clip. Download the latest version here. You also need to have JavaScript enabled in your browser.
"Ever Apparent All Being Shoulder" opens the record, loping along on a Jamaican-inspired rhythm formed with characteristic reggae sounds of the style finely chopped up, the edges of the fragments are left sharp as they're flung about. A breathy vocal pours out slowly throughout the track, inverting the uplifting and bright vocals of it's origins. On this and "Where You Stopped The Heaviest," the traditional dub palette are clear and manipulated through familiar delay delay effects, tempo shifts, and cavernous reverb. Yet both tracks feel largely spare and dry, as if they were made for a sterile room rather than the usual reggae listening environments.
"The Identification Circles Levitate" is where Venetian Snares begins to fully corrupt the dub influences to reflect his twisted outlook, its wave forms left angular, it sounds sliced apart at a microscopic level and slammed back together in a way that resembles slow breakcore. This descent into machined sound is completed on closer "You Discovered The Secret and Juiced It For All Its Majesty," where all semblance to reggae and dub is eradicated in favor of classically manipulated flange effects and razor sharp percussion over a bed of synth pads and choral vocals. In a way, Cubist Reggae can be heard as a dissection, with Funk showing how a specific set of sounds can be picked apart and left sounding like another style entirely. His many experiments may not always hit the mark, but the moments that do are startling and stay with you.