As making money off of recorded music inches closer and closer to complete impracticality, most producers are forced to DJ and play live or at the least tour more than they might otherwise. The result is an even more crowded landscape overstuffed with DJs, sometimes a good thing for the punters — now overwhelmed with choice — but also making it even harder for a DJ to stand out, overloading the spectrum with mediocre people who probably shouldn't be DJs in the first place. It makes a good DJ set all the more impressive, which is why for my chart of the top performances of the year so far — gathered from my hometown of Vancouver and extended travels to UK, Germany, and beyond — is constituted exclusively of DJ sets. While the amount of live PAs and live sets is also growing in a bid for artists to set themselves apart in a more obvious and direct way, with more creative ownership — and indeed, other highlights of the year include Machinedrum's live set in Berlin and dEbruit's ethno-funk stormer in Vancouver — the five DJ sets below are particular examples of the kind of strong and singular performances that only come from years of practice, honing the ever-elusive art of DJing.
Photo by Andrew Gordon Macpherson
Ikonika at Waldorf Hotel, Vancouver, January 14
I went in expecting a night of solid present-and-future "bass music," the kind of set where you're guaranteed a killer helping of original material, some new dubplates, and well chosen deep cuts. What I got was one of the most blistering and impressive sets of the entire year — or rather, one that would set the bar high for the year — an amazing whirlwind through Ikonika originals, older dubstep, classic house, jacking acid, and some other stuff I'm not even going to try to classify. Her set was perfectly formed but spontaneous enough not to feel rehearsed: pitch-perfect blends, steady development and a strong percussive backbone that remained no matter how squelchy or bleepy her selections became. Her set was only more ambitious as time went on, incorporating hard-to-mix tracks like Starkey's recent flirtations with orchestral bombast or her near-psychedelic rerub of The-Dream's "Shawty Is A 10." That she could mix the really old with the really new and have it feel far more futuristic than any all-dubplate set could have been is a real triumph in itself. It was the kind of night where, when it finished on the dot at 2AM (welcome to Vancouver), everyone else in the room was just as stunned and speechless as you were.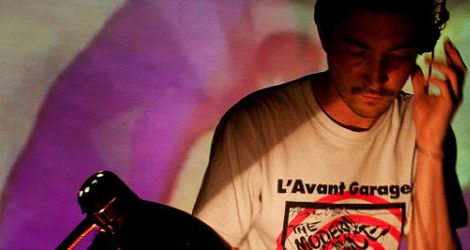 October & John Osborn at Watergate, Berlin, June 22
While this wasn't exactly billed as a partnership, the TANSTAAFL duo are rapidly becoming a package. But that tends to happen when you put two good friends at the headliners of your night. Bristol's perennially underrated October headlined the night, coming on at 2 and playing an distinct and effective set of smooth deep house, the more soulful end of tech house, classic and disco-leaning stuff, all mixed in with his own quirky brand of darkly-tinged production and some brand new bits from his Bristol homeland. The ever-reliable John Osborn played an eccentric set spanning from Morphosis to recent iterations of "UK bass" to classic house, a wide range that was fully seized on when the two had an impromptu back-to-back once October hopped on the decks again at around 6am. What more could you ask for than two criminally overlooked British house titans going head to head at one of Berlin's best clubs? By the time the sun rose, the curtain covering the panoramic window on Watergate's bottom floor was constantly pulled back and forth, as if no one could decide if the music these DJs picked match the gorgeous sunlight outside or needed the dark of a decadent club, a testament to their virtuosic variety.
Pearson Sound & Appleblim at Plastic People, London, May 20
Six hours at one of the world's most renowned clubs shared between one of the UK's most ingenious and unpredictable under-the-radar DJs and arguably the hottest name going in bass music at the moment, how could this night not be good? It was a leisurely-paced night, with Appleblim and David Kennedy switching spots every few tracks. Appleblim broke the ice with some soul and disco before the two really joined forces, recklessly switching between classic baiting, deep cut digging and of course, choons, a beautifully vibrant set whose energy only grew as Appleblim and Kennedy switched spots at an increasing rate, perfectly working a crowd who lapped up each selection as genres and tempos seemed to shift willy-nilly. Probably the best thing about the night was the complete freedom the DJs seemed to have: where Pearson Sound might normally be expected to play a certain kind of set full of a certain kind of material, let loose with a DJ like Appleblim for an entire night we were treated to a whole other side of the London prodigy, and it was a flattering one at that. Honorable mention goes to Kennedy's also stellar b2b with Loefah at the Hessle Audio launch party in London, where they went tune-for-tune with some of the most blatant (and potent) anthem bashing I've heard in some time. Both of these nights revealed Pearson Sound not only as capable a DJ as he is a producer but also one that flourishes in these kind of back-to-back partnerships, two of the most memorable sets I've seen this year.
Photo by Dariowaty
DVS1 at W2, Vancouver, April 29
The closing party for Vancouver's much-loved (and ridiculously large) W2 venue was bound to be a bit of a gong show, but something around 2000 people poured into the former museum and warehouse space for a rather large-scale four-room party to celebrate the venue's short but storied lifespan. The star was undoubtedly the techno room, rammed for the entire night to uncomfortable extremes. By the time Minneapolis techno rising star DVS1 came on, the room was ripe for a beating which is precisely what he delivered. While Vancouver's licensing and venue laws meant this was not going to be anything close to a life-changing marathon 12-hour set, DVS1 still managed to play for several hours, subtly increasing the heat until the room felt like it was going to explode under the pressure of his volatile, house-influenced techno selections. It was unrelenting, and a treat for a city that doesn't usually get this kind of rising star techno experience. Preceding a long European tour later in the year that's bound to make DVS1 into the proper techno "big name" he deserves to be — and his booking fees skyrocket — it's also probably the last time Vancouver would get to witness something like his set, which made it all the more special.
Newworldaquarium, Timbuk2, Bristol, June 11
If you're familiar with Jochem Peteri's original productions, you might have expected a three hour DJ set from him to delve deep into his sleepy, sub-aquatic house style; I know I did. But that's not at all what his three-hour peak time set delivered, and it was all the better for it. Instead, Newworldaquarium played a breathless three hours of rigorous techno, but it was more fluid than stiff. Peteri worked the oddly tunnel-shaped room with a DJ set that felt as smooth as melting butter even at its most rigid — perhaps the result of his playing on a laptop rather than a vinyl set — with a precise momentum that rarely ever hiccuped or even spiked. Rather than conventionally beatmatch and blend his tracks, it felt like each one turned liquid and morphed into the next in some dazzling display of DJ decks synthesis. This reviewer only recognized a select few tracks, a good sign for any DJ, especially when the material was as consistently interesting as Peteri chose. It didn't have quite the same energy as some of the best techno sets I've seen this year — DVS1 (above), Marcel Fengler, Levon Vincent — but it instead chose a rather unique route that's maybe more in line with the style of Peteri's productions than I first realized. The kind of set where you walk away with your brain gently massaged into a fine mush rather than completely drained and rattled.