01. Matthew Dear, "Don & Sherri"
[Ghostly International] (buy)
Audio clip: Adobe Flash Player (version 9 or above) is required to play this audio clip. Download the latest version here. You also need to have JavaScript enabled in your browser.

Picking my favorite track from Asa Breed was no small task, but "Don & Sherri" emerged as the winner because it combines all of Matthew Dear's varied facets in one brief tune. He unabashedly revels in the weird (both aurally and lyrically), he knows a great hook when he hears one and he's not afraid to go balls out to make an impact. I tense up every time during the short breakdown, just waiting for that unforgettable chorus to lay me flat once again. That's the kind of feeling I demand from my favorite music, and MD and "Don & Sherri" delivers.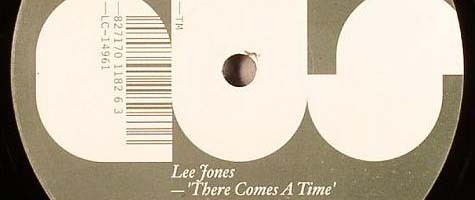 02. Lee Jones, "There Comes A Time"
[Aus Music] (buy)
Audio clip: Adobe Flash Player (version 9 or above) is required to play this audio clip. Download the latest version here. You also need to have JavaScript enabled in your browser.

Lee Jones reprised the stunning quality of my favorite My My track, "Propain," with the achingly beautiful Aus Music release, "There Comes A Time." He packs in hovering tones that soothe, lithe rhythms to set the pace, peculiar crackles to keep dancers and DJs on their toes and acid chirps for everyone's delight. Even Prins Thomas, the tune's flipside remixer, couldn't do the tune any better. Hopefully we get more bombs like this in 2008.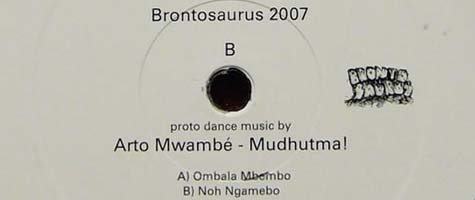 03. Arto Mwambé, "Noh Ngamebo"
[Brontosaurus] (buy
)


Audio clip: Adobe Flash Player (version 9 or above) is required to play this audio clip. Download the latest version here. You also need to have JavaScript enabled in your browser.


Easily my favorite track in 2007 from a previously unknown producer, Arto Mwambé's take on deep house reflects his surroundings (Burkina Faso, if his Myspace is to be believed) and a heavy respect for artists like Moodymann and Ron Trent. On "Noh Ngamebo" his percussion jangles like bells around a cow's neck, while the piano chords, fizzing arrangements and sensually shifting bass line split the difference between the best of Chicago and Berlin. Highly recommended for those who pine for soul to overtake minimalism in modern deep house.
04. Âme, "Enoi"
[Innervisions] (buy)
Audio clip: Adobe Flash Player (version 9 or above) is required to play this audio clip. Download the latest version here. You also need to have JavaScript enabled in your browser.

The constant evolution of Âme is wonderful to pay witness to; fittingly, "Enoi" catches them halfway between nu-deep house roots and a dynamic, experimental future. Frank and Kristian fill the club with bizarre vocal snippets and bombastic foghorn blasts and still make room for highly nuanced percussion patterns, tense melodies and a bass line on the edge of fuzzing out. To paraphrase their own album art, Âme, I Luv U!
05. Henrik Schwarz, "Walk Music"
[Moodmusic] (buy)
Audio clip: Adobe Flash Player (version 9 or above) is required to play this audio clip. Download the latest version here. You also need to have JavaScript enabled in your browser.

"Walk Music" marks Henrik Schwarz's return to releasing his own material after a seemingly endless string of prime cut remixes. As with many Schwarz productions, it's meticulously constructed from choice timbres, and in its more muscular 2007 form, it's solid enough to move more deeply-inclined dancefloors. And though it was largely ignored upon its release, "Walk Music" stands as one of 2007's best tracks and a high point for Henrik Schwarz himself.


06. Tiger Stripes, "Hooked"
[liebe*detail] (buy)
Audio clip: Adobe Flash Player (version 9 or above) is required to play this audio clip. Download the latest version here. You also need to have JavaScript enabled in your browser.

Mikael Nordgren knows how to start quite a fuss with relatively little, as evinced on "Hooked." Shying away from his meatier stylings, Nordgren pounds simple deep house patterns into the floor as a flirty, twinkling pattern that shows dancers the steps. 2007 was a big year for Tiger Stripes, and while his "Voyager" may have sold more copies, "Hooked" likely won more hearts.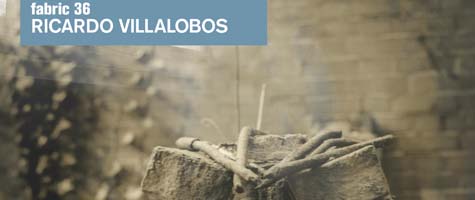 07. Ricardo Villalobos, "Primer Encuentro Latino-Americano"
[Sei Es Drum] (buy)
Audio clip: Adobe Flash Player (version 9 or above) is required to play this audio clip. Download the latest version here. You also need to have JavaScript enabled in your browser.

We've all heard someone described as the guy/gal who "brings the party." Ricardo Villalobos, my beloved Chilean techno muppet, is definitely one of those people; and on "Primer…" he manages to stuff an entire festival into his cheerful house structure. Rousing almost to a fault, it has the potential to get clubbers arm in arm, chanting along with unintentional but no less heartfelt South American pride.
08. Cobblestone Jazz, "W"
[Cocoon Recordings] (buy
)


Audio clip: Adobe Flash Player (version 9 or above) is required to play this audio clip. Download the latest version here. You also need to have JavaScript enabled in your browser.


The highlight of Cobblestone Jazz's debut album first appeared on the already tremendous Cocoon Compilation G, and wow, what a highlight. "W" cuts straight to the chase, launching off the back of a deep and spring-loaded bass line, kept moving by shimmy and shake rhythms, vocodered whispers and reaching the peak with its step-like progression of broad ambient planes. Almost makes you wonder why the Cobblestone boys bother with the jammy stuff (though that has its place too).
09. Ben Westbeech, "Hang Around" (Wahoo Main Mix)
[Brownswood Recordings] (buy)
Audio clip: Adobe Flash Player (version 9 or above) is required to play this audio clip. Download the latest version here. You also need to have JavaScript enabled in your browser.

Georg von dem Bussche and Steffen Berkhahn (aka Dixon) craft an effortless deep house monster here, its hard, pacing motif a perfect platform for Westbeech's buttery pipes. Even better, they pull an Âme and utilize every inch of speaker for overwhelming swells. I've played this one more times than I dare admit and I still can't get the lyrics out of my head. Oh wait…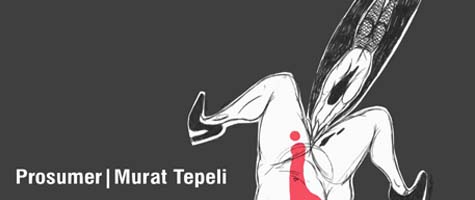 10. Prosumer & Murat Tepeli, "What Makes You Go For It?"
[Ostgut Tonträger] (buy)
Audio clip: Adobe Flash Player (version 9 or above) is required to play this audio clip. Download the latest version here. You also need to have JavaScript enabled in your browser.

When audiences ran from mechanical minimal into the beefy arms of deep house I expected to hear more tunes covering the range of human experiences. Only "What Makes You Go For It?" dared to really try, and I have a great deal of respect for Prosumer and Murat Tepeli for it. They paired vintage gear sounds with a jealous tale sung beautifully by Prosumer, ending with the most memorable line of the year: "Will you tell your friends about me/or will you tell your friends about a fuck?" A great prelude to their excellent forthcoming album.
Honorable mentions:
11. Len Faki, "Odyssee II" [Podium] (buy)
12. Gaiser, "Withdrawal" [M_nus] (buy)
13. My My, "Fast Freeze" [Cocoon Recordings] (buy
)
14. Paul Kalkbrenner, "Altes Kamuffel" [BPitch Control] (buy)
15. Melchior Productions Ltd., "Her Majesty" [Perlon] (buy)
16. Al Usher, "Here Today" [Misericord] (buy)
17. Andy Stott, "Massacre" [Modern Love] (buy)
18. Justice, "D.A.N.C.E." [Ed Banger Records] (buy)
19. Simian Mobile Disco, "I Believe" [Wichita] (buy)
20. Marc Romboy vs Chelonis R. Jones, "Helen Cornell" (Stefan Goldmann Macro Version) [Systematic] (buy)
21. Beck, "Cell Phone's Dead" (Ricardo Villalobos Entlebuch Remix) [BPitch Control] (buy)
22. Burial, "Archangel" [Hyperdub] (buy)
23. Etienne Jaumet, "Repeat Again After Me" (Âme Remix) [Versatile Records] (buy)
24. Shackleton, "Blood On My Hands" [Skull Disco] (buy)
25. Brendon Moeller, "Space" [Third Ear Records] (buy)
26. Substance & Vainqueur, "Reverberation" [Scion Versions] (buy)
27. Len Faki, "My Black Sheep" (Radio Slave remix) [Figure] (buy)
28. Motorcitysoul, "Space Katzle" (Sydenham Blacktro Penetration) [Aus Music] (buy)
29. Kraak & Smaak, "No Sun In the Sky" (Henrik Schwarz remix) [Jalapeno Records] (buy)
30. Efdemin, "Just A Track" [Dial] (buy)
31. Escort, "All Through the Night" [Escort Records] (buy)
32. Len Faki, "Rainbow Delta" (Jerome Sydenham remix) [Ostgut Tonträger] (buy)
33. Metazoo, "Sigh" (2000 and One remix) [Cray1 Labworks] (buy)
34. Stereotyp, "Keepin' Me" (Fauna Flash remix) [G-Stone Recordings] (buy)
35. Matt John, "Soulkaramba" [Bar25] (buy)
36. Harri & the Revenge, "Lunar Tune" [Five20East] (buy)
37. Solomun & Stimming, "Feuervogel" [Diynamic Music] (buy)
38. Osborne, "Outta Sight" [Spectral Sound] (buy)
39. Jichael Mackson, "The Grass Is Always Greener" [Musique Risquée] (buy)
40. Stimming, "Funkworm" [Diynamic Music] (buy)
41. Kalabrese, "Not the Same Shoes" (ft. Kate Wax) [Stattmusik] (buy)
42. Mark August, "Old Joy" [Connaisseur Recordings] (buy)
43. Dusty Kid, "Tsunamy" [Systematic] (buy)
44. Chaim, "It Never Ends" [Love Minus Zero] (buy)
45. Pigon, "Promises" [Dial] (buy)
46. dOP, "Allo Boom Boom" [Circus Company] (buy)
47. Fabrice Lig, "X-Slaves Who Changed The World" [Versatile Records] (buy)
48. Agnès, "Controversial Advantage" (Ripperton's Game Set & Match remix) [Resopal Red] (buy)
49. Naughty, "World of a Woman" [Moodmusic] (buy)
50. Aril Brikha, "To Begin" [Poker Flat Recordings] (buy)